Joseph E. Brown Hall
Introduction
Joseph E. Brown Hall (commonly referred to as Joe Brown hall) is located on the north campus of the University of Georgia. It was built in 1932 and named after the 42nd Governor of Georgia. Brown was governor during the civil war and was a supporter of succession. The hall was originally built to serve as a boys' dormitory, it is known as one of the university's haunted buildings. For a time the university's music department was located there, it now houses the University's Department of Germanic and Slavic studies and the comparative literature department.
Images
View of Joseph E. Brown hall from the courtyard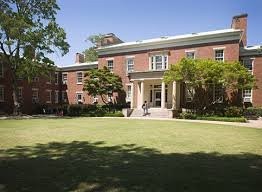 Portrait of Joseph E. Brown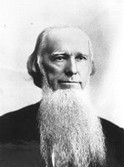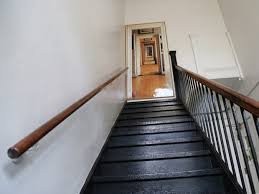 Backstory and Context
Joseph Emerson Brown (April 15, 1821 – November 30, 1894) was born in Pickens County South Carolina and raised in the mountains of North Georgia's Union County. Brown capped off a solid middle-class education in private academies with a year at Yale Law School in New Haven, Connecticut (1845-46). Following his graduation, Brown moved to Canton, Georgia, where he served as headmaster of the academy at Canton. While in Canton, he studied law, and in 1847 he opened a law office in Canton. Brown quickly prospered as a lawyer and businessman. In 1849 Brown was elected to the Georgia state senate and shortly became a leader of the Democratic Party in Georgia.
Brown was the 42nd Governor of Georgia in 1855-1865, he became a strong supporter of secession. When The Confederate States of America was established, Brown repeatedly spoke out against Jefferson Davis. The first disputes over controlling and equipping Georgia forces were ominous, for the Confederacy could hope to win only by a centralized, unified war effort. Soon the disputes escalated, and in April 1862 Brown directly and openly challenged the new Confederate draft. Despite a lack of support by the state supreme court and the legislature, Governor Brown tried to exempt state military forces.
The Confederacy collapsed in April 1865. Governor Brown was arrested and briefly imprisoned in Washington, D.C. Paroled, he backed U.S. president Andrew Johnson's Reconstruction policy and received a full pardon in September. He supported President Andrew Johnson's Reconstruction policy and became a member of the Republican Party for a time. Then as a Republican, Brown served as chief justice of the Supreme Court of Georgia for two years after which, he resigned to become president of the Western and Atlantic Railroad. After Reconstruction, he rejoined the Democrat Party and was elected to the U.S. Senate in 1880. From 1880 to 1890 Brown served in the U.S. Senate until poor health forced his retirement. He died on November 30, 1894, in Atlanta, Georgia.
The Joseph E. Brown hall on the University of Georgia campus was built in 1932 and opened as a boy's dormitory. It was divided into seven compartments to resemble private dwellings and was to house 140 residents. The building still has showers in the 2nd-floor bathrooms as well as two kitchens on the 1st floor. The building is infamous as one of the university's haunted buildings and its' story is included in the Haunted North campus walking tour. In 1972 student Stanley Haddock committed suicide in the building over the winter break. The staircase that once led to the boy's room is now a dead end and is commonly referred to as "The Stairs to Nowhere." For a time in 1974, most of the music department faculty was housed in this hall. It is now serving as the hall of the department of Germanic & Slavic Studies as well as Comparative literature.
Sources
Boney, F. N.. "Joseph E. Brown (1821-1894)." New Georgia Encyclopedia. 08 June 2017. Web. 24 April 2019.

Swyers, Victoria. "The Haunted Halls of UGA: Spookiest Spots on Campus." The Red and Black, 15 Apr. 2019, www.redandBlack.com/culture/the-haunted-halls-of-uga-spookiest-spots-on-campus/article_af61fec0-d727-11e8-9608-bb1bcb546196.html.

"Several Departments Move." The Red and Black, 1 Oct. 1974, p. 5. Georgia Historic Newspapers, gahistoricnewspapers.galileo.usg.edu/lccn/gua1179162/1974-10-01/ed-1/seq-5/#index=9&rows=12&proxtext=Joseph e. brown hall&sequence=0&words=Brown E Hall Joseph&page=1.

Willis, Ken. "Stanley Was a Quiet Fellow." The Red and Black, 9 Mar. 1972, p. 4. Georgia Historic Newspapers, gahistoricnewspapers.galileo.usg.edu/lccn/gua1179162/1972-03-09/ed-1/seq-4/#index=0&rows=12&proxtext=Joe brown hall suicide&sequence=0&words=Brown Hall Joe suicide&page=1.