Hobbs Park
Introduction
Early in the morning of August 21, 1863, tragedy struck the small city of slavery-free Lawrence. William Quantrill and more than 450 pro-slavery men charged into the city on horseback and began burning everything in sight. At least 183 Lawrence citizens were killed and only one of Quantrill's men was killed in return in a truly despicable act of revenge. However, the same fires that leveled the city also forged some incredibly resilient people, including John Speer. Speer lost two of his sons in the attack but still managed to find the strength to help put out the fires, deliver a detailed report of the attacks to Topeka, and rebuild his house. That same house can be found today in Hobbs Park, forever a symbol of true strength and defiance of those who wish to suppress liberty and justice for all.
Images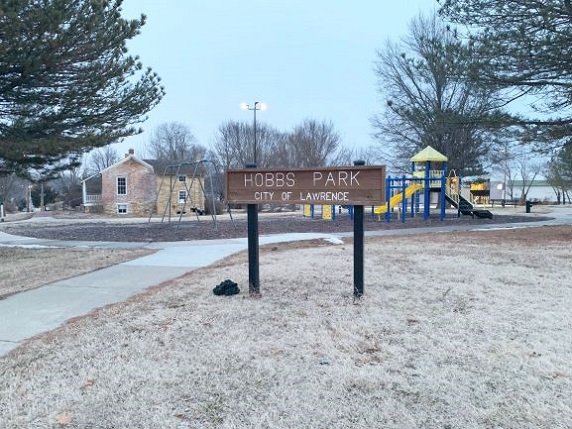 A different view of the park, including the playground and shelter.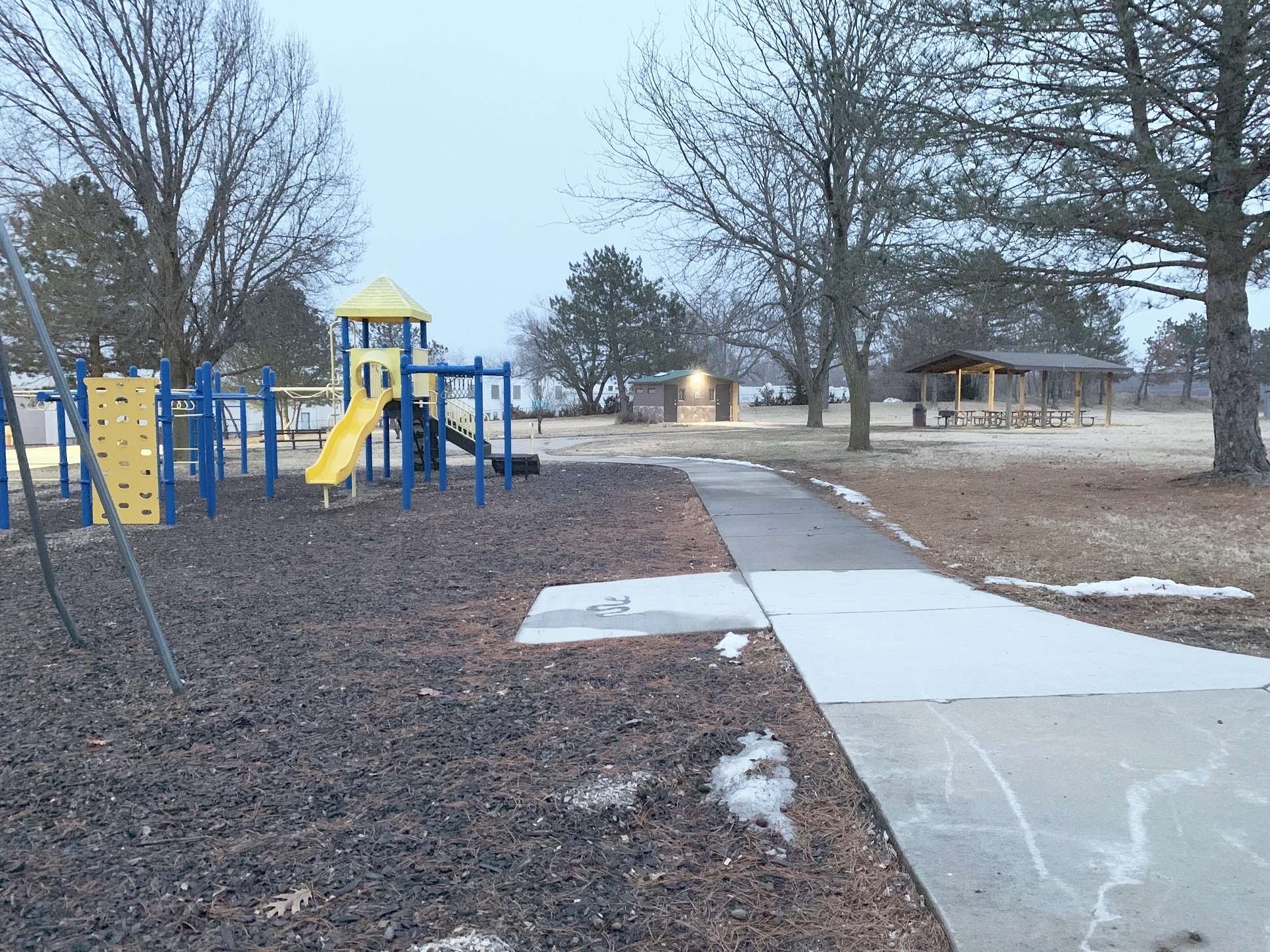 The street view of John Speer's house.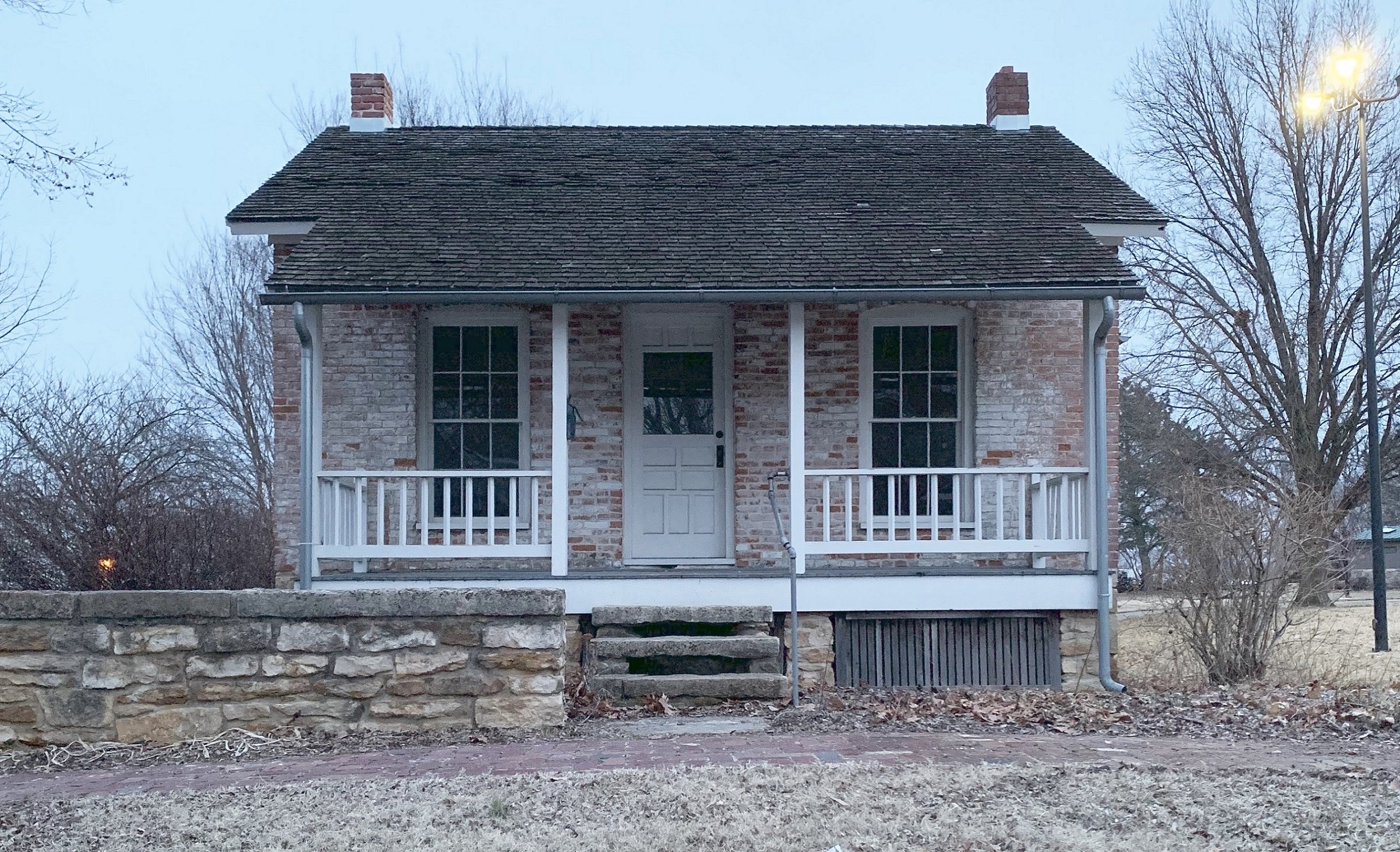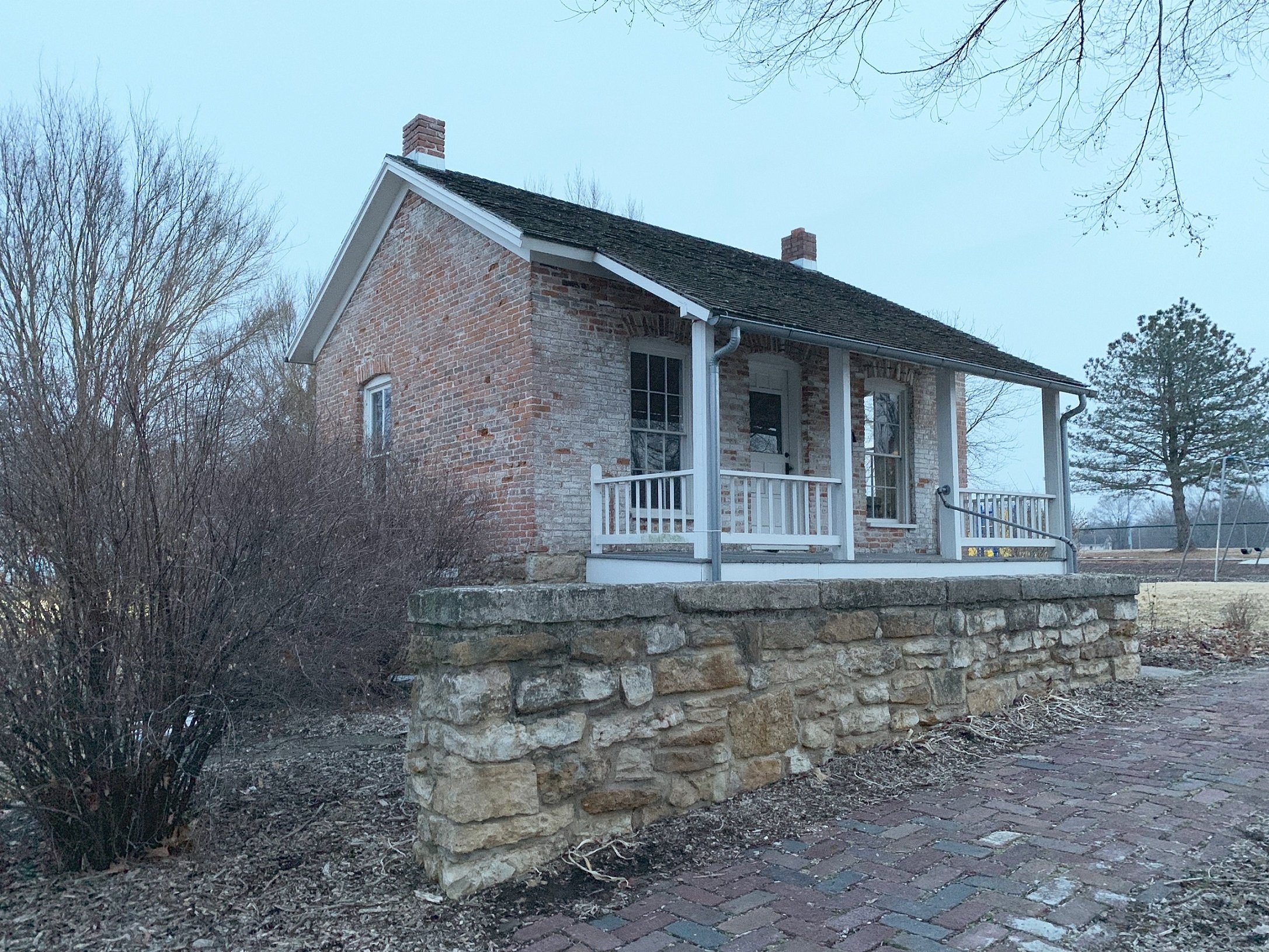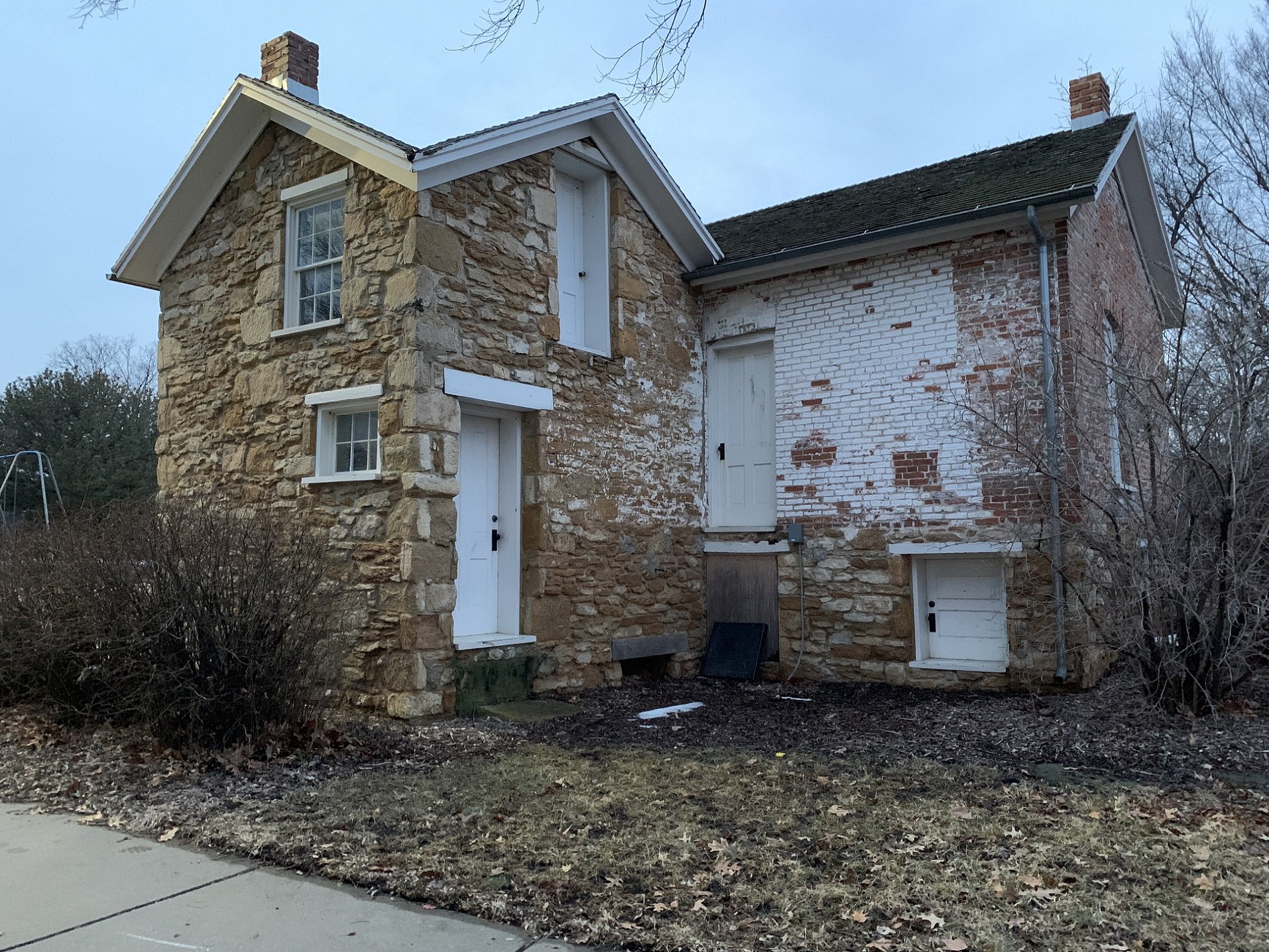 The seating at the baseball stadium.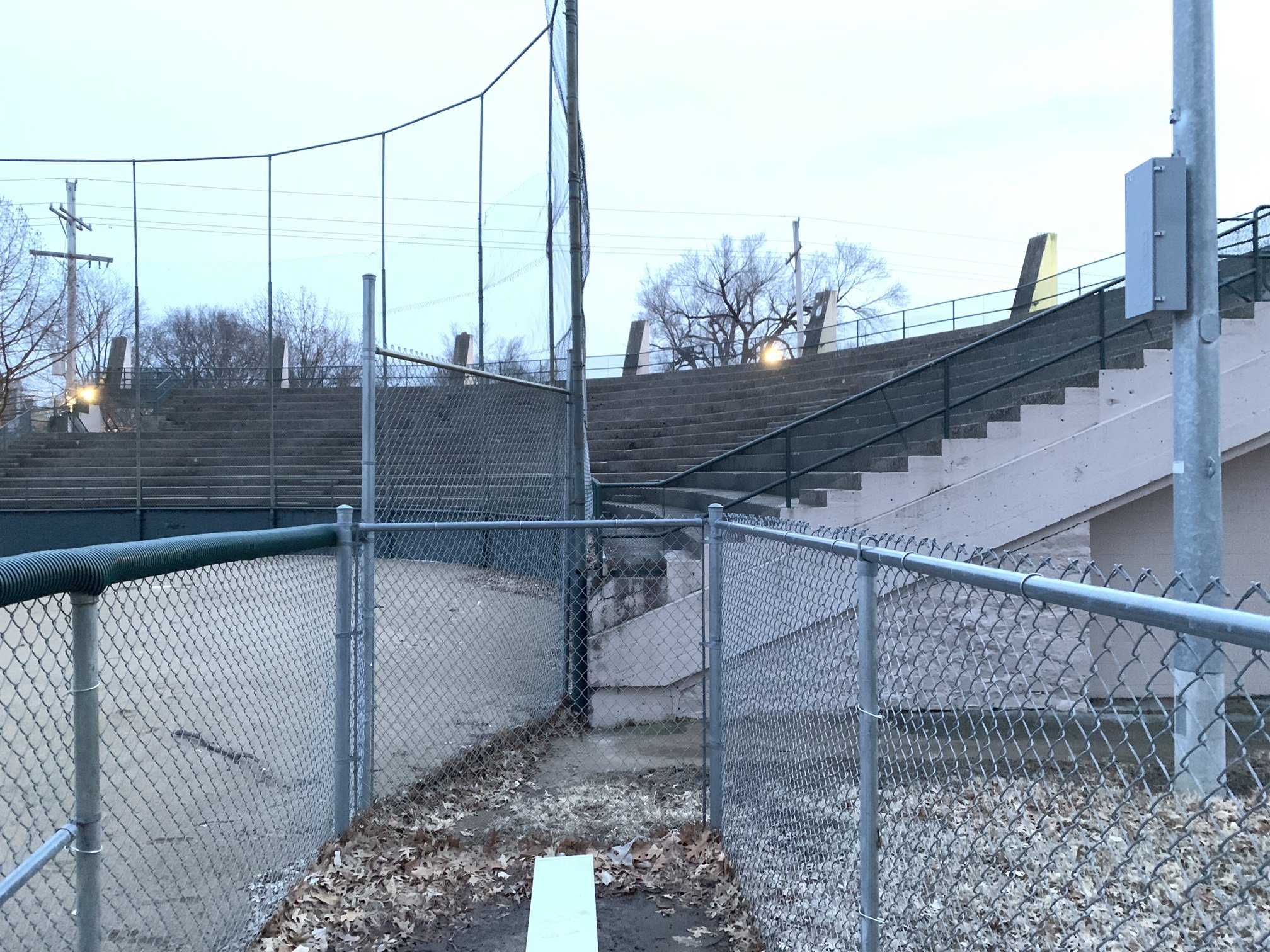 The view from the top of the baseball stands.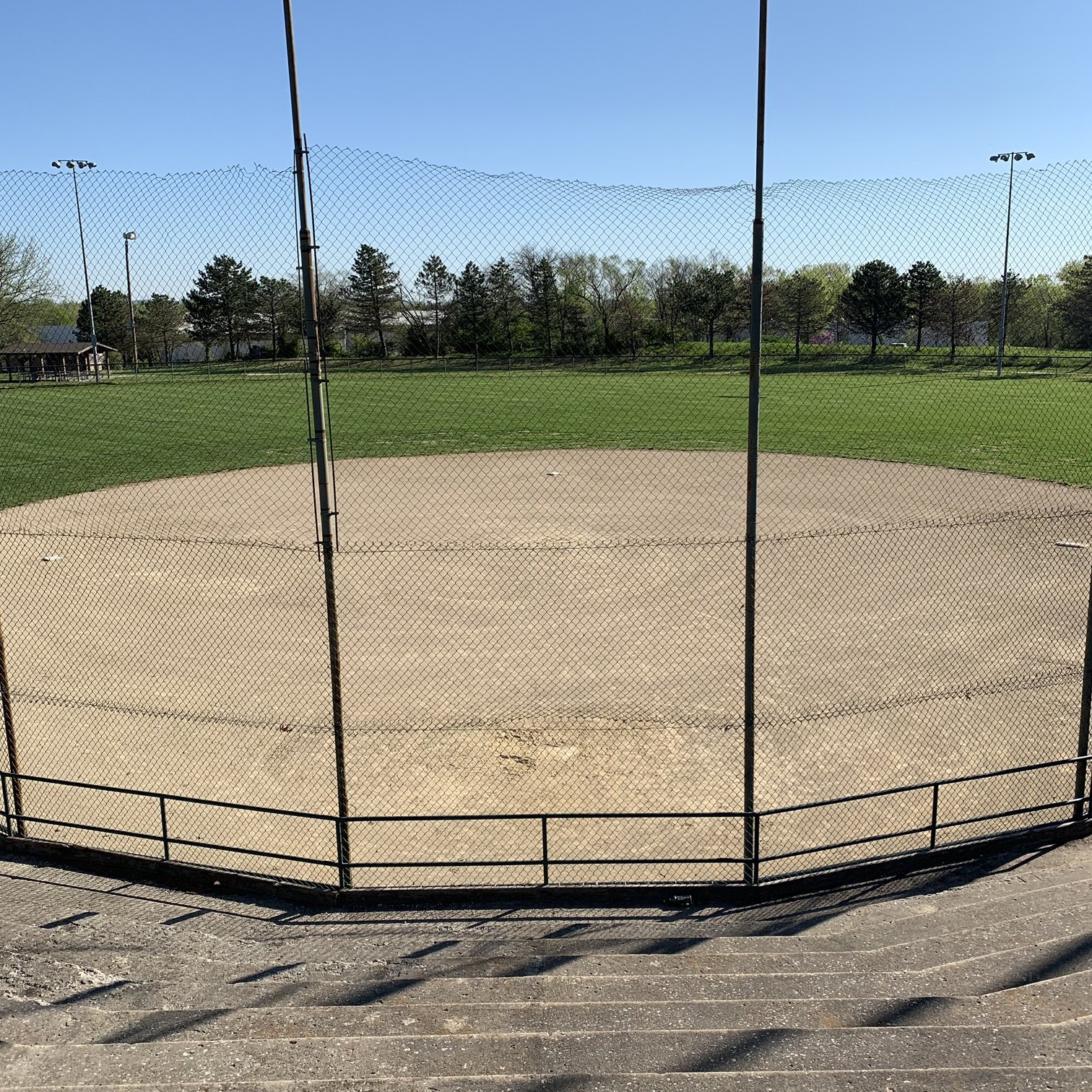 The contributors to the mural.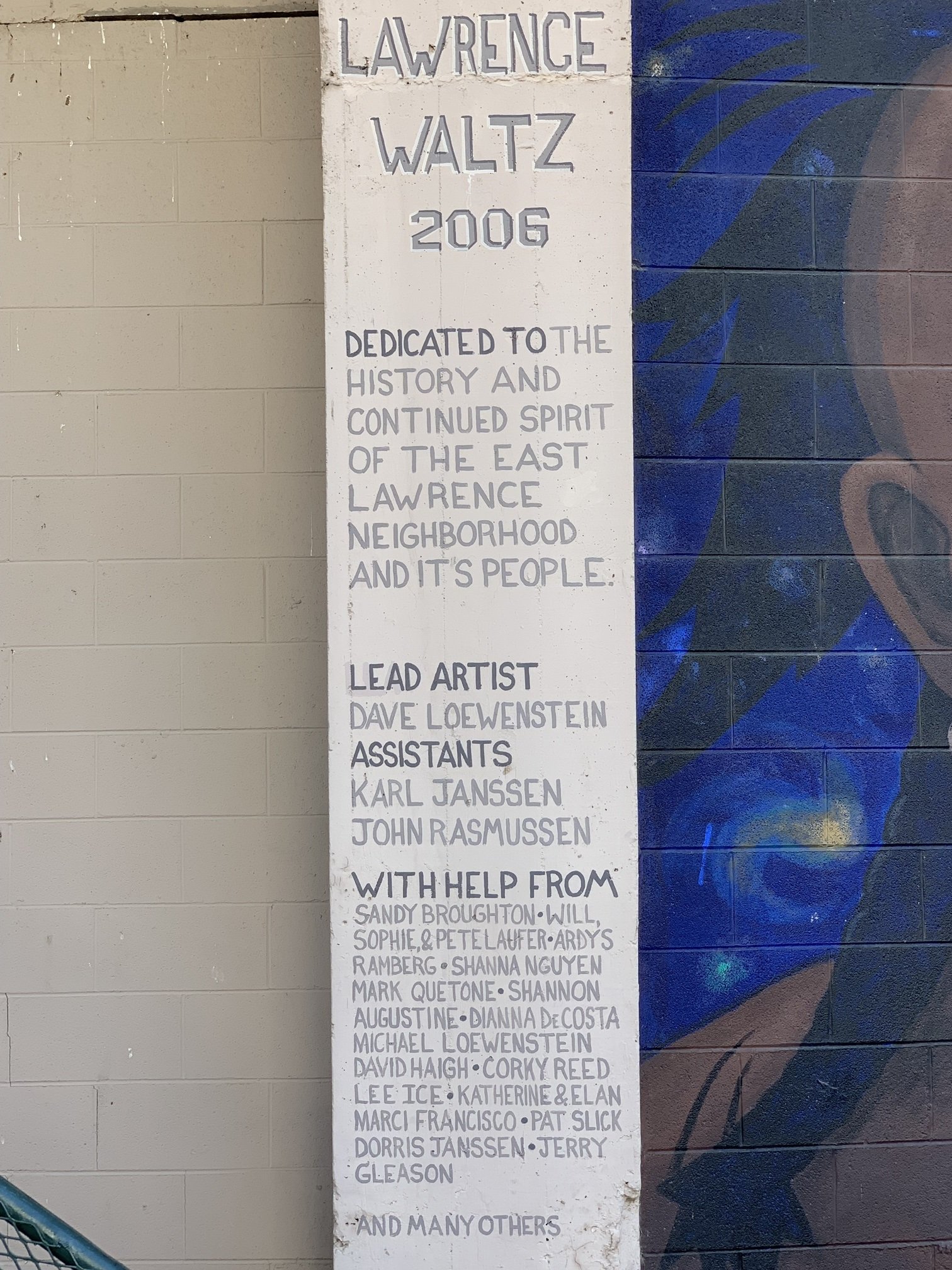 The first panel of the mural that depicts the Native Americans' land being invaded by white settlers.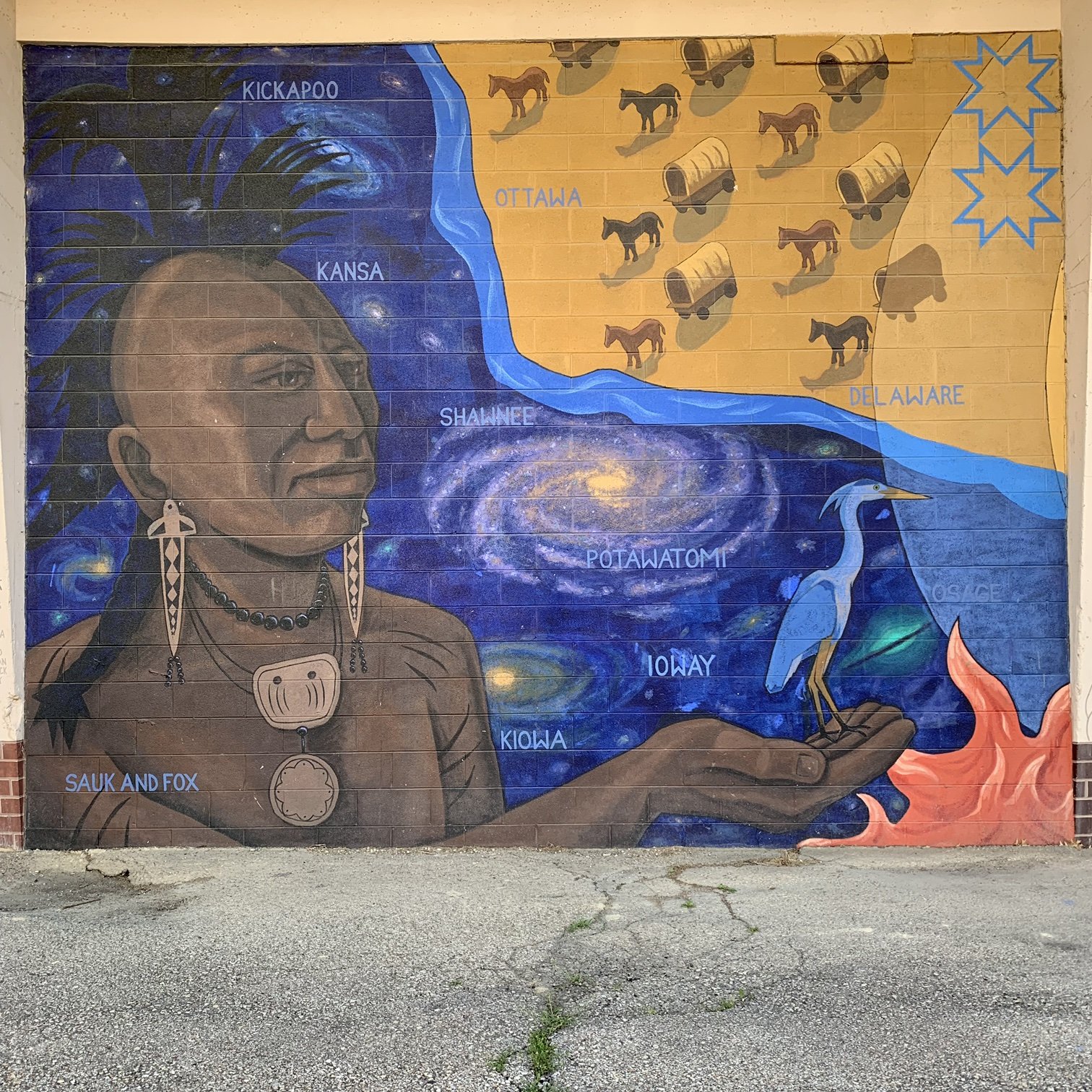 Panel of the mural that includes Quantrill's raid and John Speer printing his newspaper.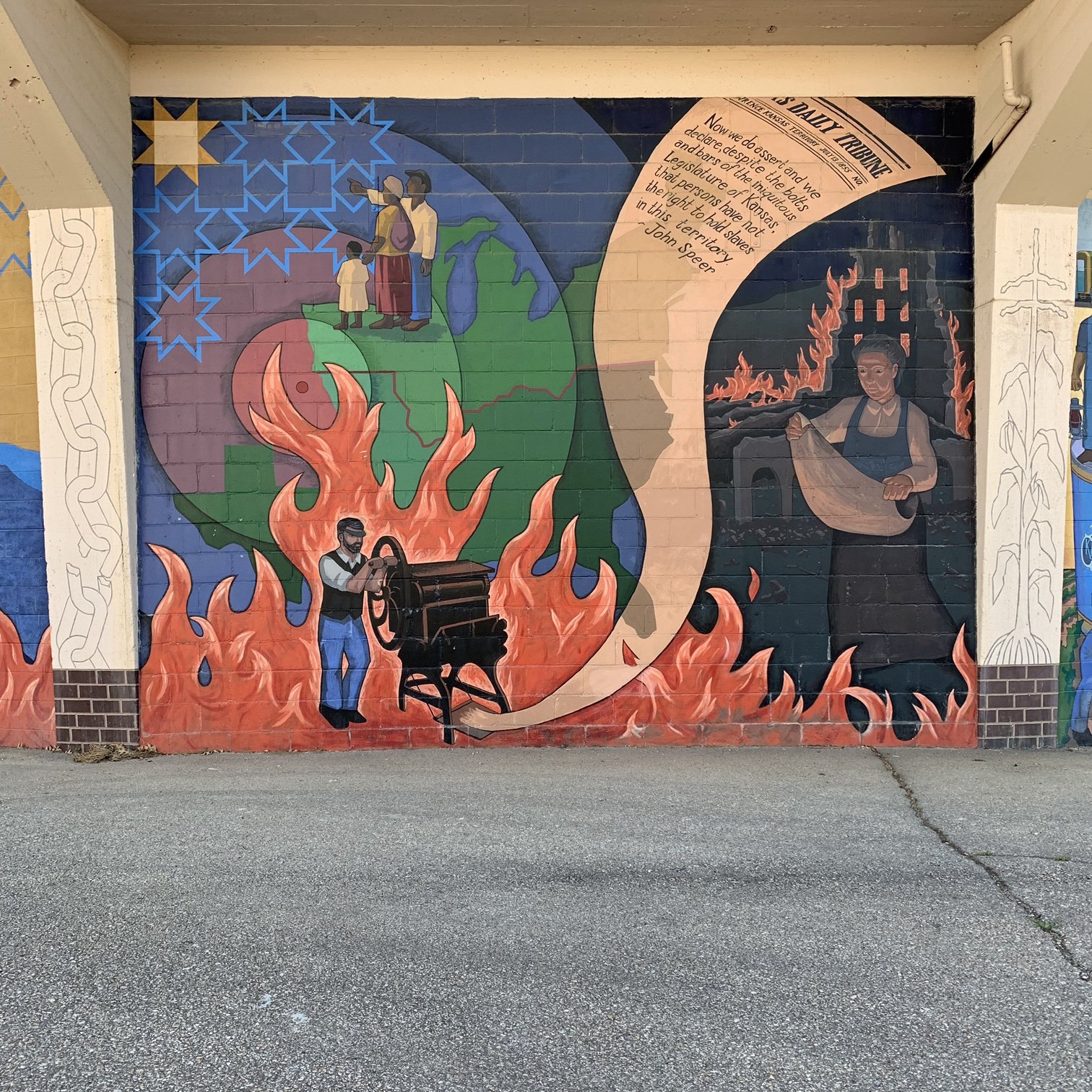 Panel of the mural with a quote from Langston Hughes's poem, Youth. A young Langston Hughes is also painted on top of the garage.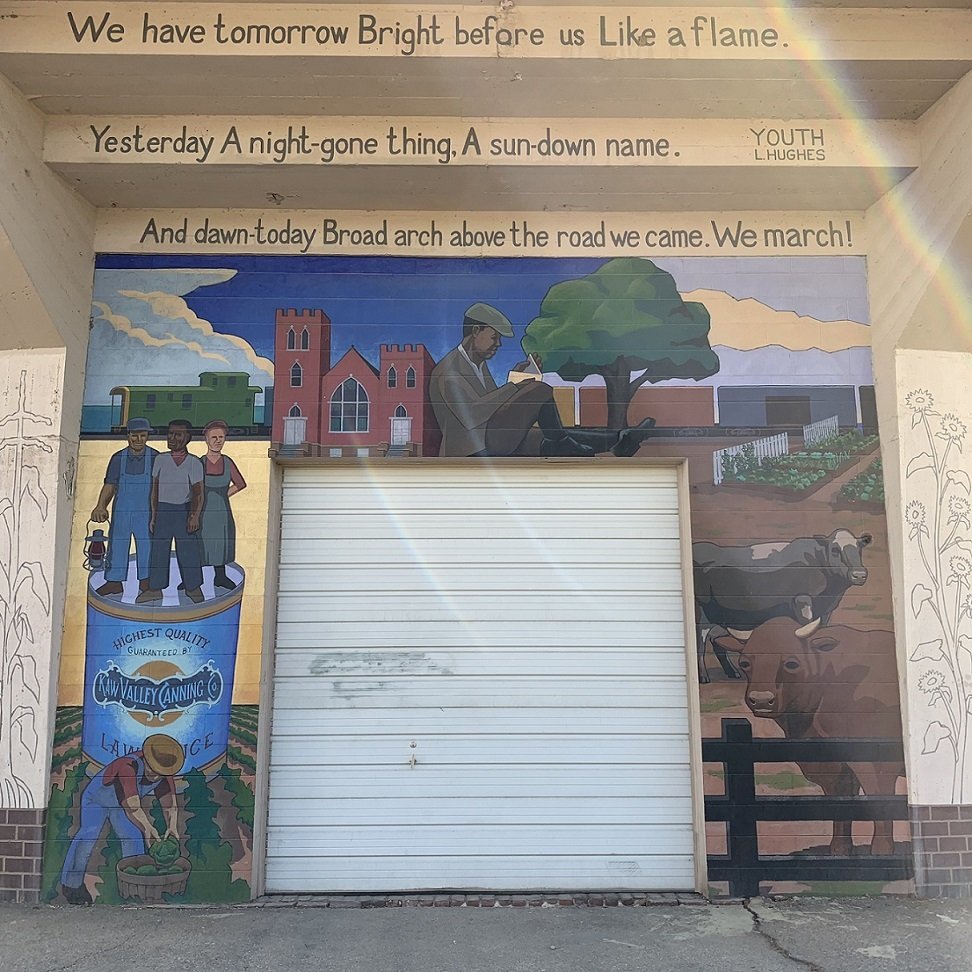 Panel of the mural including various human rights activists.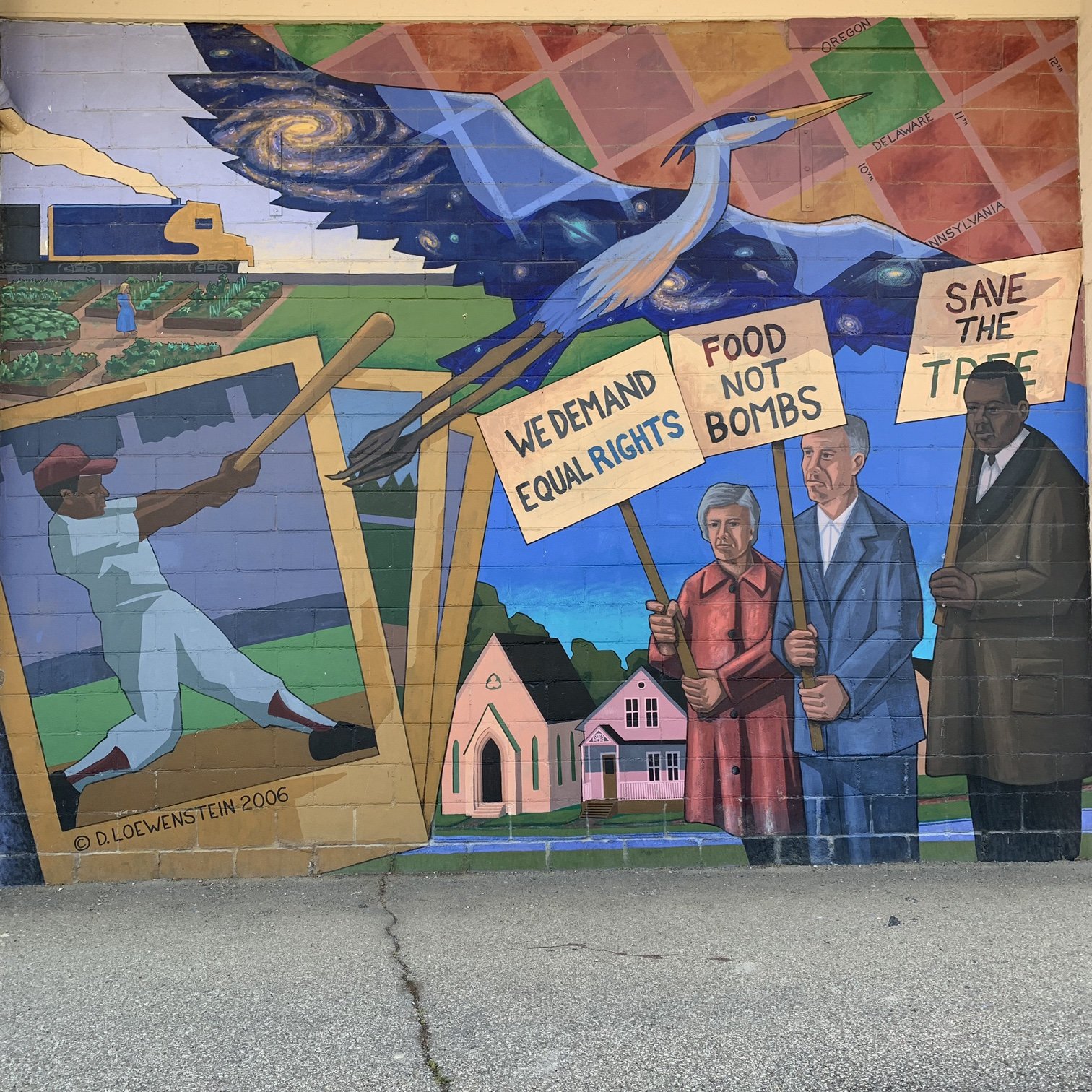 The final panel of the mural which describes a peaceful and diverse modern-day Lawrence.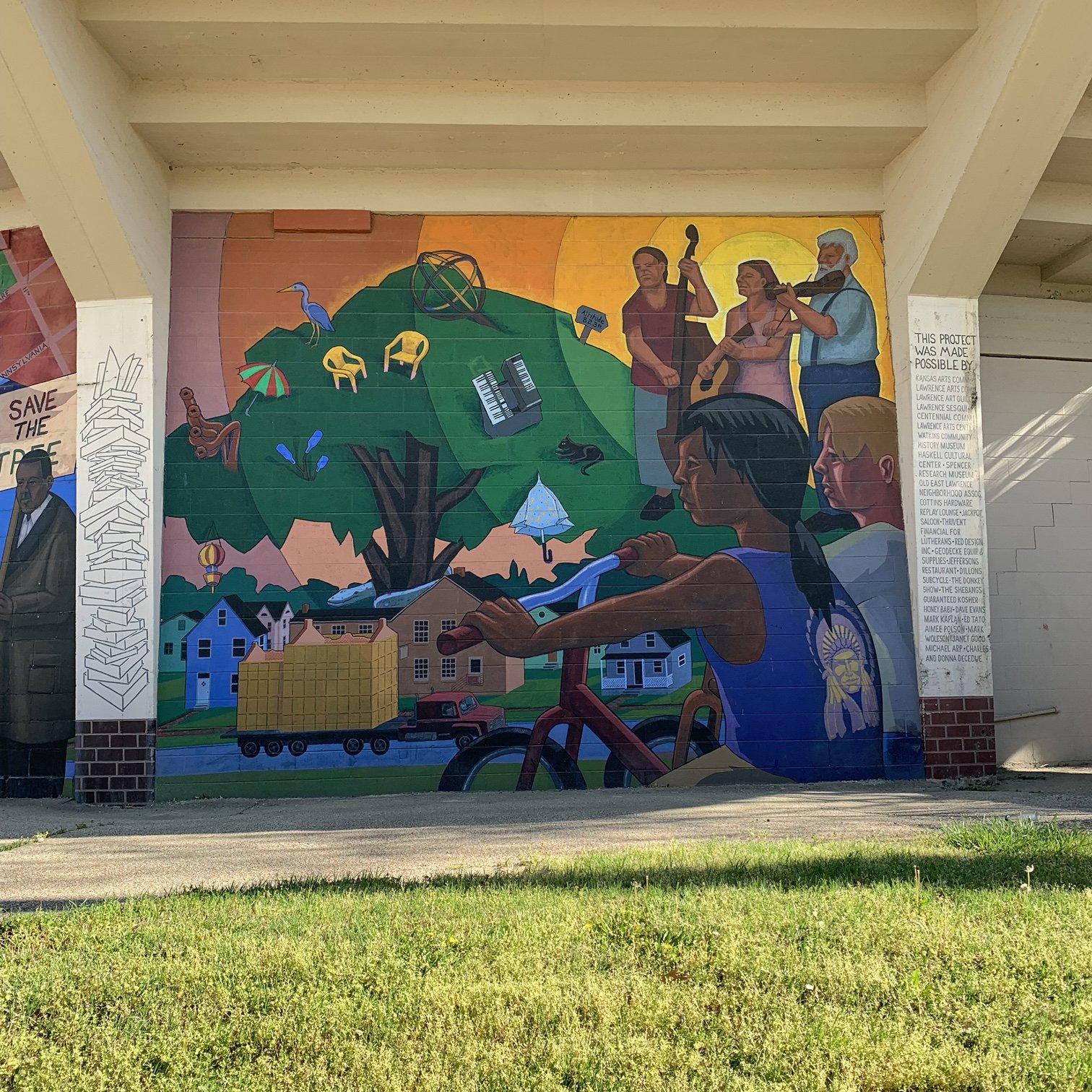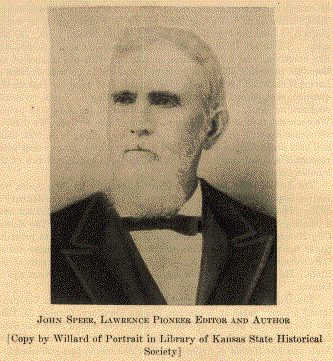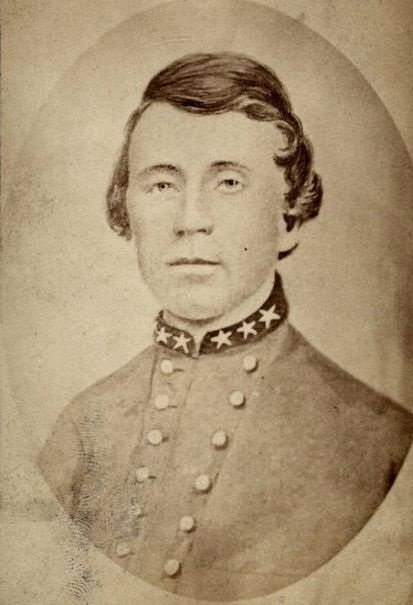 This is a picture of the survivors of Quantrill's raid 60 years after the event. It is taken in front of Strong Hall at the University of Kansas.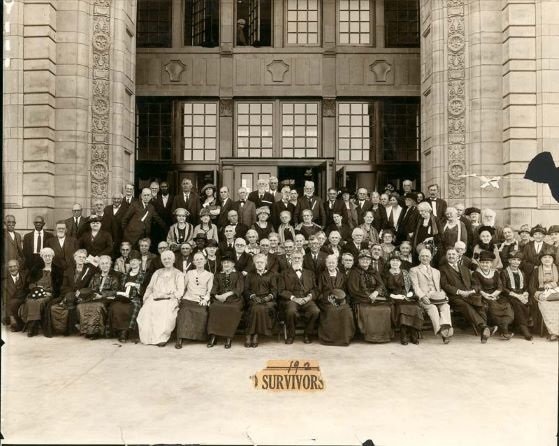 Backstory and Context
Hobbs Park is a beautiful little park and is a standout feature in a relatively quiet part of Lawrence. The park itself is named after Myra and Earl Hobbs who donated $70,000 dollars for a city park to be built. The park contains a basketball court, a baseball field and a small playground. It is also possible to rent out the shelters for social gatherings. On the back of the baseball stadium walls is a mural dedicated to the history of Lawrence as well as the Native Americans and those who have fought for justice. The mural also depicts Langston Hughes writing poetry, John Speer, and Quantrill's raid, one of the most gruesome events in Lawrence history.
Quantrill and his men attacked Lawrence during the middle of the civil war. The raid was in response to a series of abolitionist hostilities in Western Missouri but in particular, they wanted Senator James H. Lane. He was the Brigadier General in the Union Army and head of the Kansas forces who ordered the raid on Osceola, Missouri two years earlier. Lawrence also advocated strongly for Kansas to be admitted to the Union as a free state, making it an attractive target for Quantrill. On Friday at 5:05 a.m., the bushwhackers stormed the defenseless city. Their 15 trained soldiers were on the other side of the Kansas River and the 40 soldiers they did have were still in training. For four hours the men from Missouri burned and looted everything in sight. There is no official death toll, but it is likely that more than 180 people were murdered. However, the survivors were only made stronger as a result of the massacre. One of the most important survivors being John Speer.
Speer grew up in Pennsylvania and then moved to Lawrence with his wife and eight children in 1855. He published one of the first Kansas newspapers, the Kansas Pioneer. He decided to stay in Lawrence because it was one of the only cities that would let him publish a paper that was anti-slavery. Throughout his life he was strongly against slavery and used his position to fight for racial equality. He was later promoted to be the tax collector for Kansas. Speer also played a vital role in the founding of both the University of Kansas and Baker University and was instrumental in local government, always fighting for the rights of African Americans.
Speer lost two of his sons, John and Robert, in Quantrill's raid. His house and his office were both burned to the ground. In spite of this tremendous loss, Speer worked diligently to help put out the fires and to rebuild the city. Just four days after the attack, he went to Topeka to publish an extensive report on what had happened. He then returned and rebuilt his house at 909 Pennsylvania Street, about 300 yards Northeast of its current location in Hobbs Park.
To this day, Hobbs Park remains a beacon of hope and a symbol of perseverance in the fight against injustice. Aided by the mural and the house of John Speer, the park contains a rich history of fighters who never gave up in spite of the often-violent opposition and continues to inspire people to never give up when fighting for what is right.
Sources
Michaelis, Patricia. "Quantrill's Raid in Kansas Memory." Kansas History, vol. 36, no. 3, Sept. 2013, pp. 198–209.
Dillard, Leona M. "Massacre Without Tomahawks." Midwest Quarterly, vol. 38, no. 3, Spring 1997, pp. 295–302.
Armitage, Katie H. Lawrence: Survivors of Quantrill's Raid. Arcadia Publishing, 2010.
"Hobbs Park." City of Lawrence, Kansas, https://lawrenceks.org/lprd/parks/hobbspark/. Accessed 22 Apr. 2019.
"Murphy-Bromelsick House." City of Lawrence, Kansas, https://lawrenceks.org/lprd/parks/mbhouse/. Accessed 22 Apr. 2019.
Kansas and Kansans Ch. 18. http://www.ksgenweb.org/archives/1918ks/v1/ch18p1.html. Accessed 22 Apr. 2019.
William Clarke Quantrill - Kansapedia - Kansas Historical Society. https://www.kshs.org/kansapedia/william-clarke-quantrill/12178. Accessed 22 Apr. 2019.
Reunion of Quantrill's Raid Survivors in Lawrence, Kansas - Kansas Memory - Kansas Historical Society. https://www.kshs.org/index.php?url=km/items/view/557. Accessed 22 Apr. 2019.
First Newspapers in Kansas Counties, Part 1 of 4 - Kansas Historical Society. https://www.kshs.org/p/first-newspapers-in-kansas-counties-part-1-of-4/12857. Accessed 22 Apr. 2019.
John Speer Papers - State Archives - Kansas Historical Society. https://www.kshs.org/archives/40506. Accessed 22 Apr. 2019.
Additional Information