Marian L Coleman School
Introduction
Marian L Coleman School, located at 300 E Blue Springs Ave, was built in 1927 for the African American school children. This is a masonry vernacular building. In 1925-1926, Orange City was bonded to build two schools, one for each race. Mrs. Marian L. Coleman was retiring as principal of Orange City Elementary school for African Americans. Se contributed the following story of the school's growth to the first edition of "Our Story of Orange City". For many, many years, a school has been in this vicinity for our Negro children. However, in the year 1923, the Orange City School with three teachers teaching grades one through eight was located on the west side of highway 17-92, near Blue Springs Avenue. In the year 1925-1926, a new school was built for our students located on the beautiful shady area of five acres, given by the late Dr. Frances Dickinson of Orange City. For many years, this school taught grades one through eight, but as the enrollment began to drop, the school discontinues grades seven and eight and became an elementary school, having only two teachers employed - later becoming a one teacher school. Later, because of small enrollment in surrounding schools, Osteen and Enterprise students were consolidated with the Orange City Elementary School, thereby increasing the enrollment again. In 1957, another teacher was added, also a part time secretary, custodian and speech therapist. During the early 1960s, enrollment increased considerably, thus causing a crowded situation in this school. So during the end of the 1962-1963 school year and the summer months, two modern classrooms were added, thereby discontinuing the overcrowded classrooms for the 1963-1964 school year. Another teacher was added, giving four classrooms, four teachers, two lunch workers, along with part-time personnel, also a cafeteria as the auditorium was being used as a classroom. In the early 1960s, the school was renamed. It became the Marian L. Coleman Elementary School, after the principal who had taught and given so many years of her service to the school and community. This principal retired at the close of the 1963-1964 school year. Marian L Coleman served 35 years working in this community. Orange city celebrated the event with a reception at the school at which leading citizens and officials spoke in appreciation of Mrs. Coleman's service. Today the building is the Coleman Headstart Center. Continue reading the back story that may answer some of your questions of how it went from school to become a Headstart Center.
Images
Orange City Colored Elementary School, today used as the Head Start Program.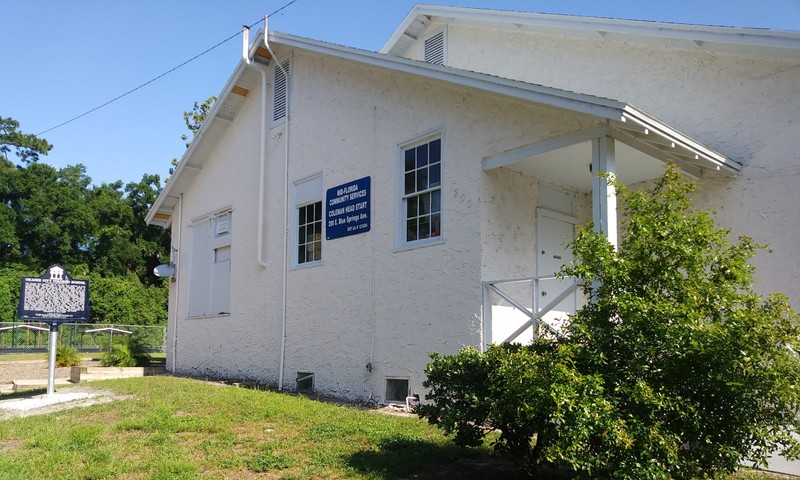 Orange City Colored School Plaque, front side.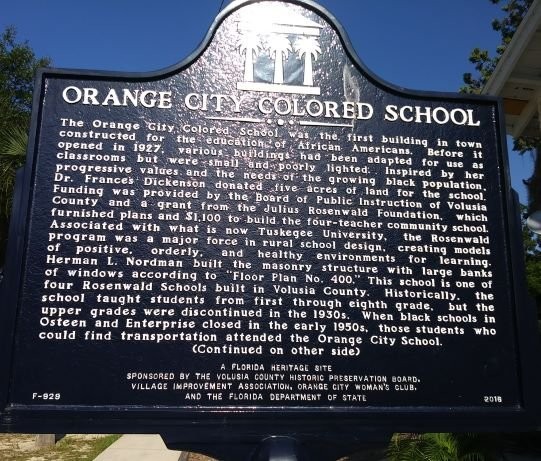 Backstory and Context
The Marian L. Coleman Elementary School over the years has participated in various community and county activities. During all these wonderful years, the Orange City Town Council, many other organizations, friends - some now deceased - and members of the Orange City Public School (white), also the many northern visitors, were such splendid neighbors and such an aid to the school and children! Whatever the cause or effort put forth, these friends were really wonderful.

After students completed the sixth grade at the Coleman school, they were transported to Southwestern (formerly Euclid) Junior-Senior High School in Deland. After finishing high school, many of them continued their studies further by entering Volusia County Community College and Bethune-Cookman College, both at Daytona Beach, Florida A & M University in Tallahassee, Florida Memorial College in St. Augustine, Stetson University in Deland, and many other outstanding colleges.

In 1984, the Marian L. Coleman School became the Coleman Headstart Center, a federally funded program in Orange City.
The center has health, dental and nutritional, emotional, social and physical programs as well as educational lessons for children who need a little extra help getting started at school. In the 1999-2000 school year, the center is at capacity with approximately 70 children attending.
Sources
2000, Village Improvement Association, Inc., Orange City Women's Club