Merchants and Manufacturers Building
Introduction
The Merchants and Manufacturers Building is a large historic structure that is now a part of the University of Houston-Downtown campus. It was designed by Austin architecture firm Gieseke and Harris in the Art Deco style and built in 1930. Commonly known as the One Main Building, it houses a number of administrative departments including the offices of financial aid and academic advising. The campus library and bookstore are located here as well. When construction of the building was completed, it was the largest structure in the city, featuring 600,000 square feet of space, 40,000 window panes, and, remarkably, 14 miles of floor space. It was intended to house a variety of businesses under one roof including restaurants, stores, private and general offices, distribution and warehouse areas, and even clubs. It was added to the National Register of Historic Places in 1980.
Images
The University of Houston-Downtown has owned the former M&M Building since 1974. Allen's Landing is located on the left.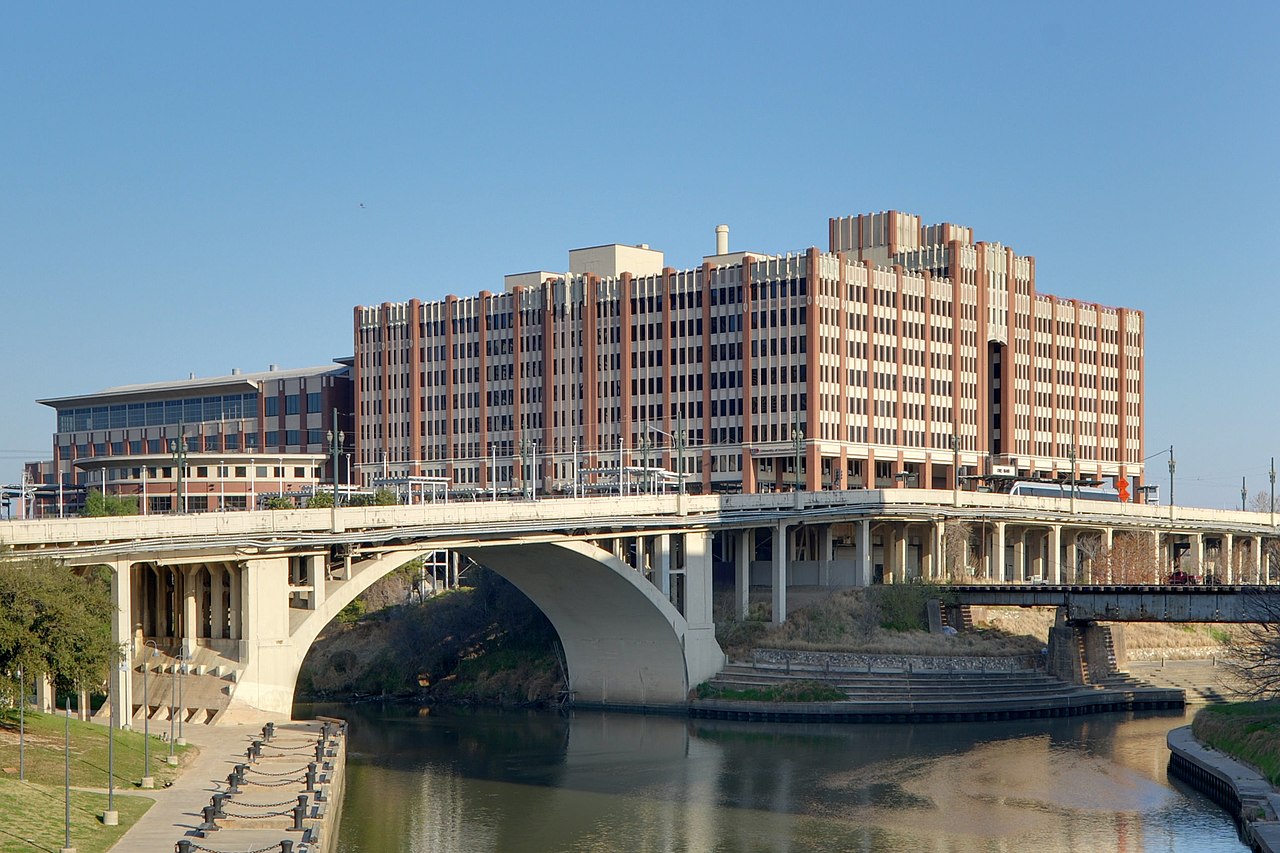 Backstory and Context
The idea for the M&M Building, as it was often called, originated with two prominent Houston businessmen, Rex D. Frazier and J.R. Creek. They hoped it would become a large center of commercial activity, similar to a modern-day shopping mall. It had an automatic telephone recording service, a parcel post system, and was conveniently located next to railroads, Main Street, and the river. It was also built next to a place called Allen's Landing, which is officially recognized as the site where Houston was founded.

Unfortunately, the Great Depression forced many tenants to close and as a result, the M&M Building failed to live up to its full potential. It went into bankruptcy and was sold in 1934. However, it continued to house oil suppliers, wholesalers, shops, and a number of offices. After World War II, oil millionaire H.H. Coffield bought and updated the building. New tenants moved in including offices of electronics, motorcycle, and airline businesses. Despite these efforts, suburban sprawl drew business activity out of downtown and once again, tenants were forced to move out of the building.

In 1967, South Texas Junior College moved into four floors of the building, thus marking the start of the building's transition to a center for higher education. Finally, the University of Houston bought the building in 1974 and has remained here ever since. It took until 1988 for the university to occupy the entire structure.
Sources
Commander, Dr. Allen. "Merchants and Manufacturers Building." National Park Service - National Register of Historic Places Nomination Form. September 17, 1980. https://atlas.thc.state.tx.us/NR/pdfs/80004130/80004130.pdf.

"One Main Building." University of Houston-Downtown. Retrieved from WebArchive on April 29, 2019. https://web.archive.org/web/20051226193347/http://www.uhd.edu/news/anniversary/onemainhistory.htm.

Photo: Wikimedia Commons
https://en.wikipedia.org/wiki/Merchants_and_Manufacturers_Building#/media/File:Merchants_and_Manufacturers_Building_(bayou_view)_Houston.jpg

Additional Information