Linn Run State Park
Introduction
Linn Run State Park is a Pennsylvania State Park located in Westmoreland County, Pennsylvania. It is bordered by Forbes State Forest. While it used to be described as a "waste land", it is now thriving as a second growth forest. The park was once clear cut, and a railroad ran through it, until the Commonwealth gained the land in 1909, and Linn Run Park was created. Thus began the process of restoration, and once again the park is thriving. The park is currently a beautiful and popular state park, that offers many activities to partake in, in the park, and the surrounding areas.
Images
Here is one of the many streams at Linn Run State Park. It is not deep, as it runs over rocks. However, it is a beautiful attraction. (Image from tripadvisor.com)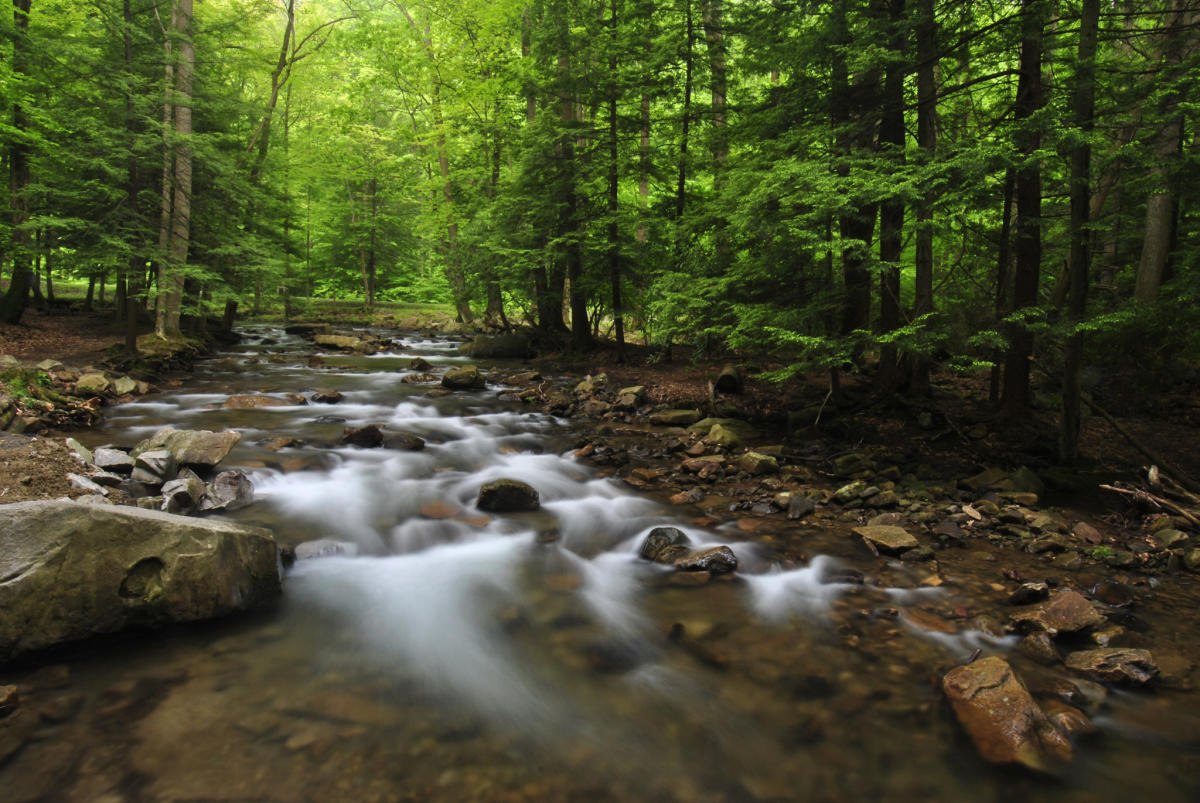 A waterfall at Linn Run State Park, with a small bridge overtop. It is beautiful place to take pictures and falls along the trail. (Image from tripadvisor.com)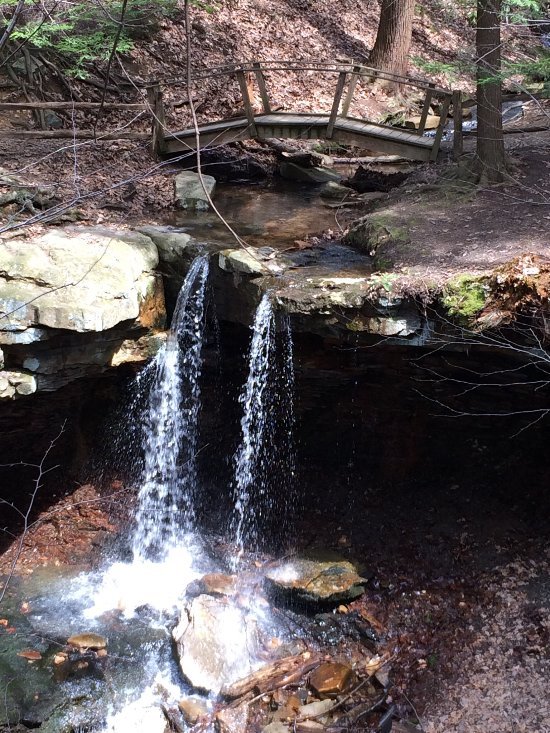 There are ten rustic cabins available for public use, year round. In the spring, fall, and winter, people can rent a cabin for a week or half week, and in the summer people can rent a cabin for a week. (Image from tripadvisor.com)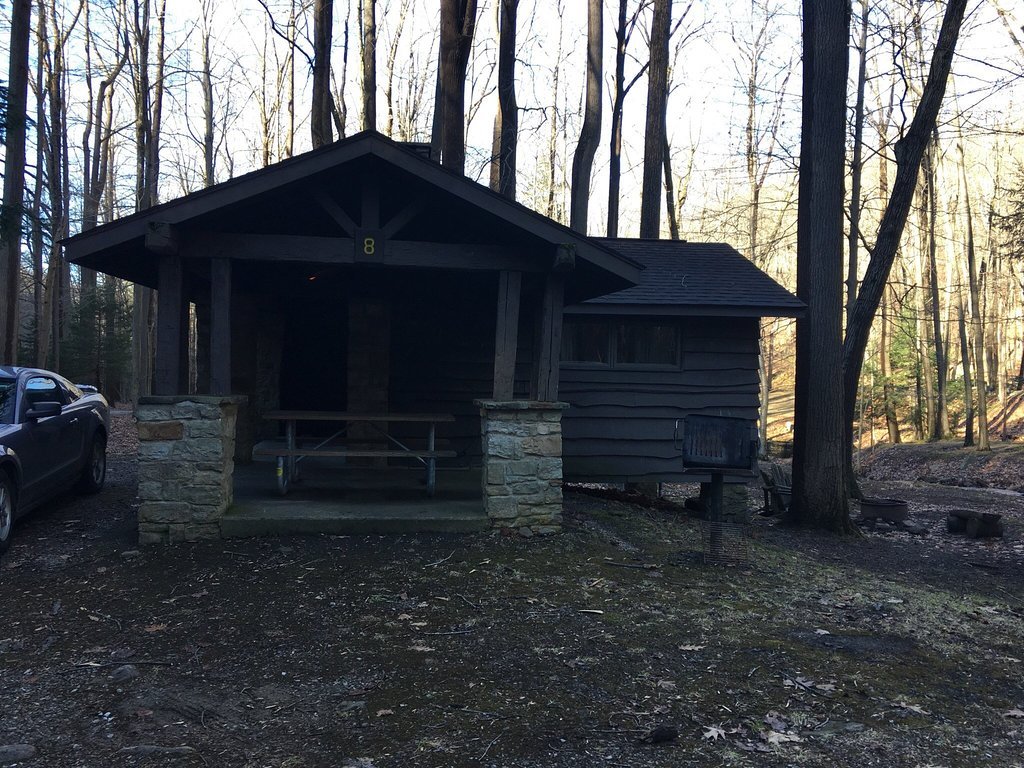 Many picnic areas are offered along the trails and throughout the park. This is a picture of the Adam Falls Picnic Area. (Image from tripadvisor.com)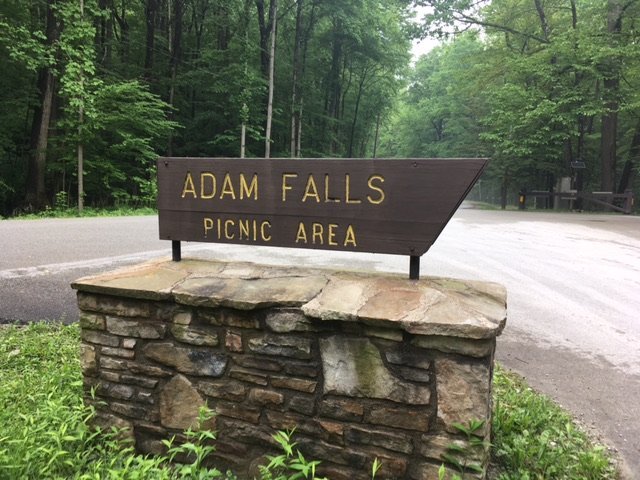 Backstory and Context
Linn Run State Park is located in the heart of the Laurel Mountains, the land ranging from 1,300 feet to 2,800 feet above sea level. In 1909, the Commonwealth of Pennsylvania acquired this land, making it the first major public purchase of denuded forest land in the Ohio River Basin. The Commonwealth had a vision of how amazing the land could look. They saw through with this mission and now have a beautiful and popular state park.
About fifteen years prior to the acquisition of the property, there were no trees or wildlife there. The original forests were clearcut in the nineteenth century. Large sawlogs were cut down and sold for lumber, while smaller logs were used to reinforce the mine shafts in coal mines. The bark of Hemlock trees, supplied a source of tannin, that was shipped to tanneries for leather production. Lumbermen took all of the wood from this park, and treetops were the only thing they left behind. The railroad that ran through the park and hauled products to market, would ignite the dried treetops, and this was the source of many severe wildfires. Once the Commonwealth purchased this land in 1909, Forester John R. Williams reported about 60% of the reserve of being burned since the lumbering had been finished (DCNR). The wildlife was devastated, and white-tailed deer were even imported to the land. However, over the past 110 years, the park has rebuilt itself and now is a beautifully functioning state park.
While its natural resources were previously exploited, the land now flourishes with rich forests, wildlife, and recreational opportunities for visitors. In the 1930s and 40s, the Civilian Conservation Corps and the Works Progress Administration worked on the park and developed Linn Run into what it is today. The WPA is known for constructing cabins and other buildings on the site, and the CCC landscaped the logged area and constructed utilities (Living New Deal). With the help of these two organizations, Linn Run State Park is a beautiful blossoming park.


Linn Run is 612 acres and bordered by Forbes State Forest, thus it offers over 50,000 acres of land for outdoor recreation. Beautiful in all seasons, t
he park
is a great place for picnicking, hiking, and cabin rentals. Snowmobiles are permitted on the roads near cabins, and access to Forbes State Forest snowmobile trails is near the cabin area. Horseback riding is also available but only in designated areas (VisitPA). The park offers over 6 miles of hiking trails. Some of the trails are the Adam Falls Trail, Flat Rock Trail, Grove Run Trail, and the Iscrupe Trail. Other activities offered are biking, fishing, hunting, and watching the wildlife. One exciting activity people also do here is ride the "natural water slides" at Flat Rock.
Linn Run State Park has gone through a lot over the past years, to be where it is today, as a beautiful park off of the Lincoln Highway (Butko). It grew from a burned down railroad to a beautiful state park that many people visit. Linn Run State Park started its rehabilitation process in 1909, and is currently thriving with wildlife and many activities to participate in.
Sources
"History of Linn Run State Park." History of Susquehannock State Park. Accessed 15 March, 2019. www.dcnr.pa.gov/StateParks/FindAPark/LinnRunStatePark/Pages/History.aspx.


"Linn Run State Park." VisitPA. Accessed 15 March, 2019. https://visitpa.com/pa-state-national-parks-forests/linn-run-state-park


Walker. "Pennsylvania State Parks." Parks of the Interior Region in Alaska. Accessed 15 March, 2019. www.stateparks.com/linn_run_state_park_in_pennsylvania.html.


Butko, Brian. The Lincoln Highway Pennsylvania Traveler's Guide. 2nd ed., Stackpole Books, 2002.

Noon, Barry R., et al. "Conservation Planning for US National Forests: Conducting Comprehensive Biodiversity Assessments." BioScience, vol. 53, no. 12, Dec. 2003, pp. 1217–1220.

Dilsaver, Lary M. "Geographical Record Note Research Perspectives on National Parks." Geographical Review, vol. 99, no. 2, Apr. 2009, pp. 268–278.

"Linn Run State Park – Rector PA." Living New Deal, livingnewdeal.org/projects/linn-run-state-park-rector-pa/.


Additional Information