Former Cloverdale Creamery
Introduction
Built in 1938 as part of the expanding dairy business of the Bauhofer family, the Cloverdale Creamery remained open as a restaurant and traditional soda fountain until 2001, long after the dairy itself had been sold in the 1970s. Joseph Bauhofer Jr., who owned and operated the Creamery for most of his life, continued delivering milk until 1994, when he finally retired at the age of 84. The establishment was a popular gathering place for old and young. The structure, which remains intact today, is an excellent example of the Streamline Moderne style of Art Deco architecture, popular from the 1930s into the 1950s. The old-fashioned soda fountain counter and seats were removed and installed at the nearby historic Fremont-Centerville Train Station in the early 2000s.
Images
Present-day exterior of Cloverdale Creamery, now Boogie's Pet Store, with much of its Art Deco flavor intact. (Courtesy of Roadside Architecture, link below).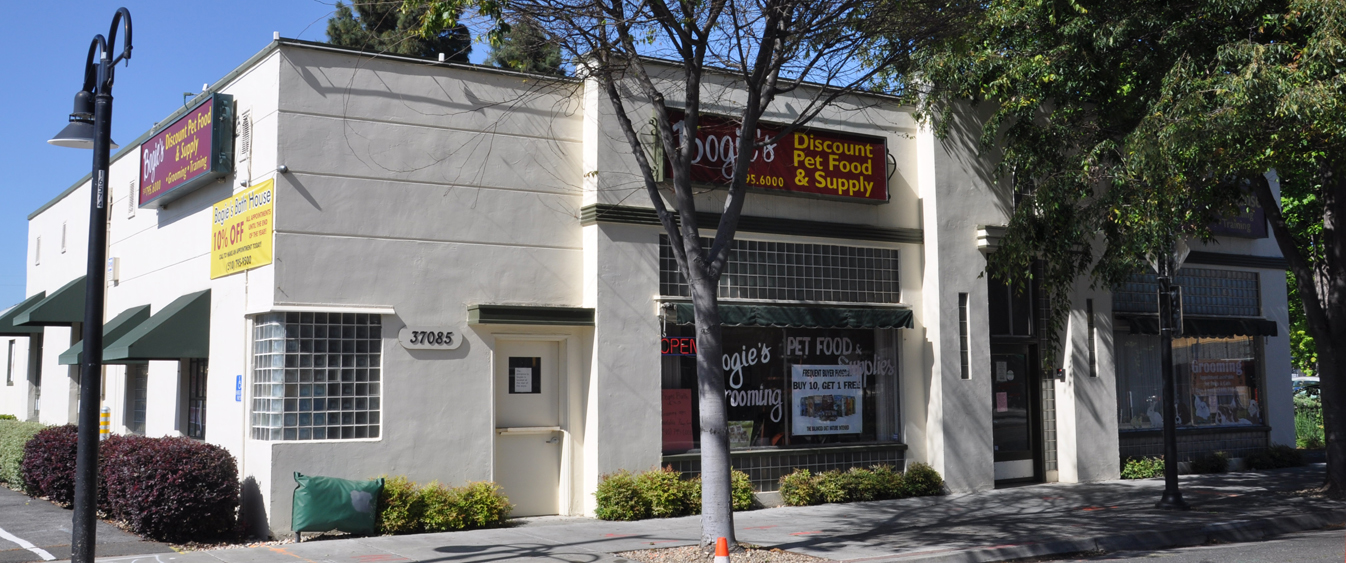 A detail of the former Creamery's doorway, complete with milk bottle glass block window, outlined in neon, above the transom. (Courtesy of Roadside Architecture, link below).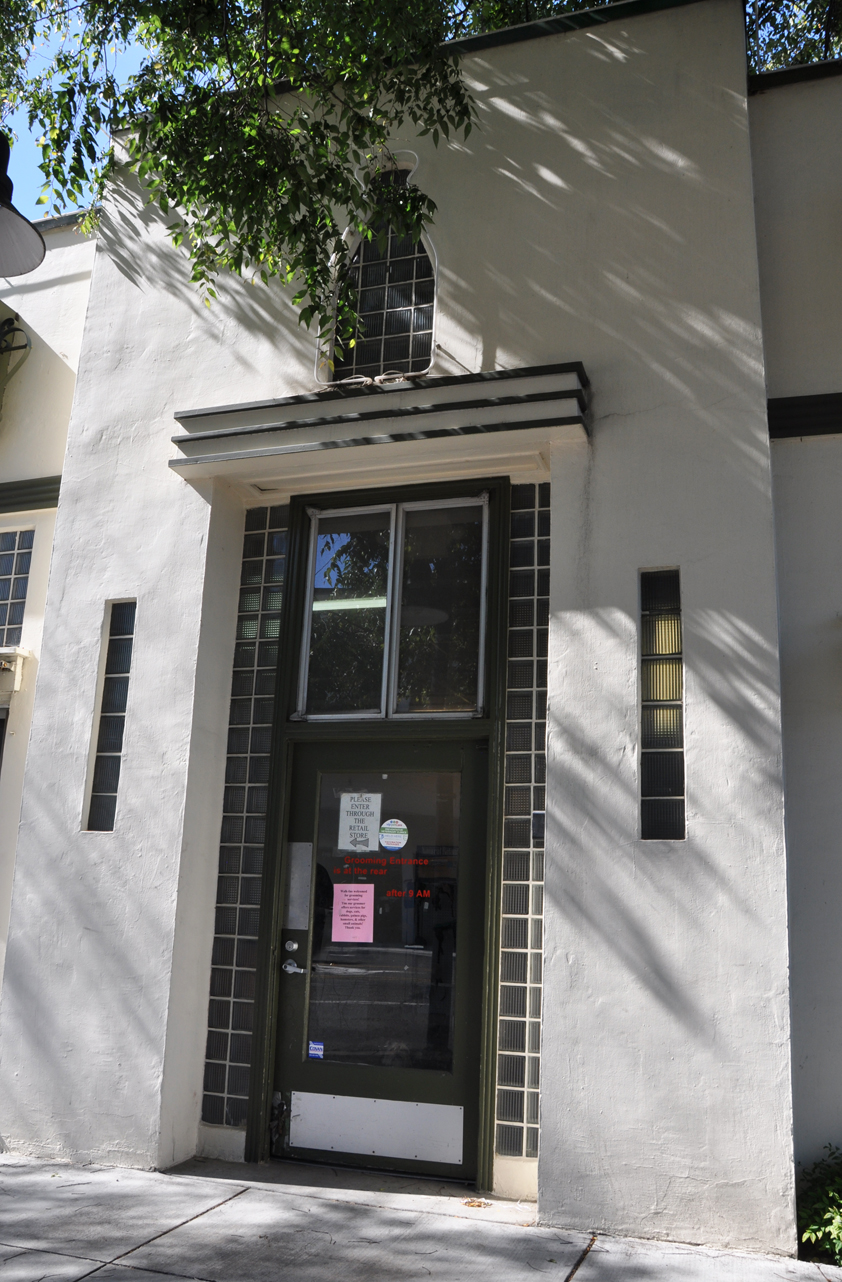 A Cloverdale Creamery delivery truck (courtesy of Instagram user @FremontLocalHistory).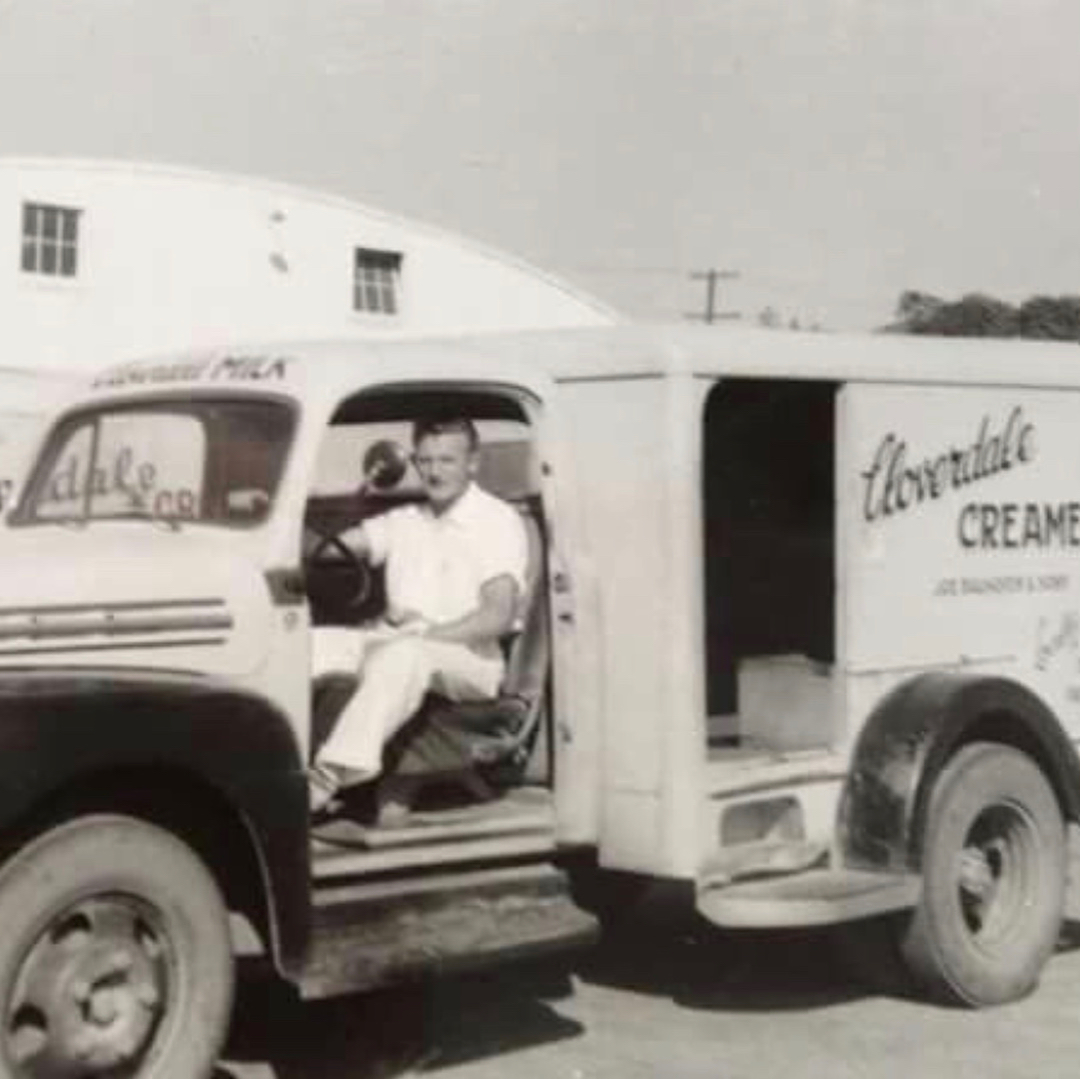 One of Cloverdale Creamery's classic Divco delivery trucks. Divco's trucks kept the same basic exterior from 1937 to 1986. (courtesy Rob Klindt, Flickr)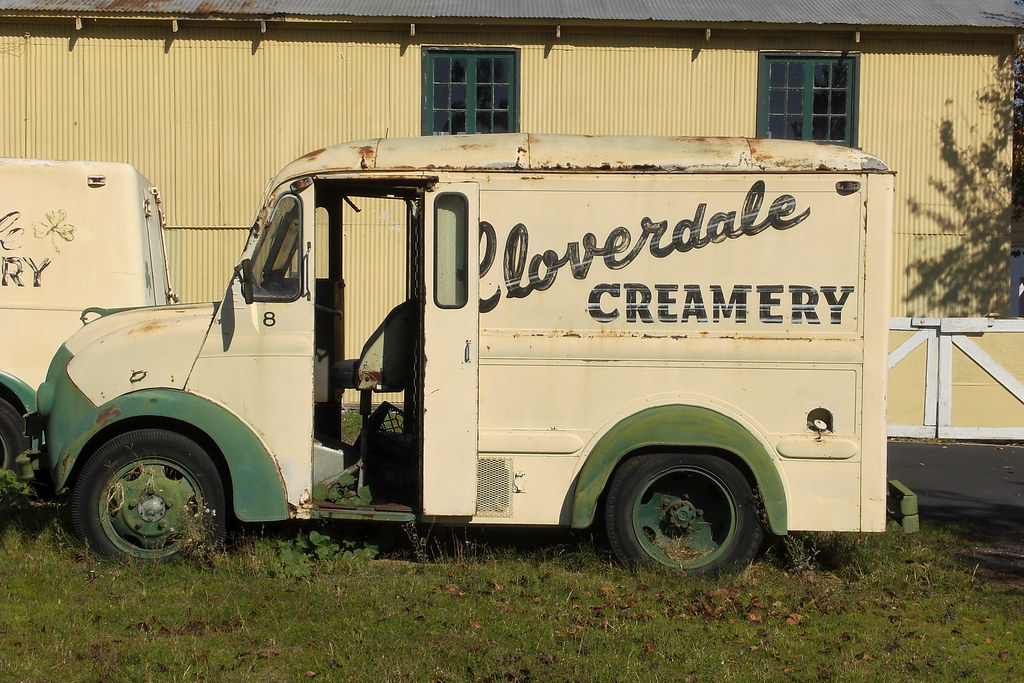 A tag from Cloverdale Creamery merchandise (courtesy of Alameda Info, Gary Lenhart. Link below).

A milk bottle cap from the Creamery. In addition to milk, Cloverdale began making ice cream in 1948 (Ebay user Jas333).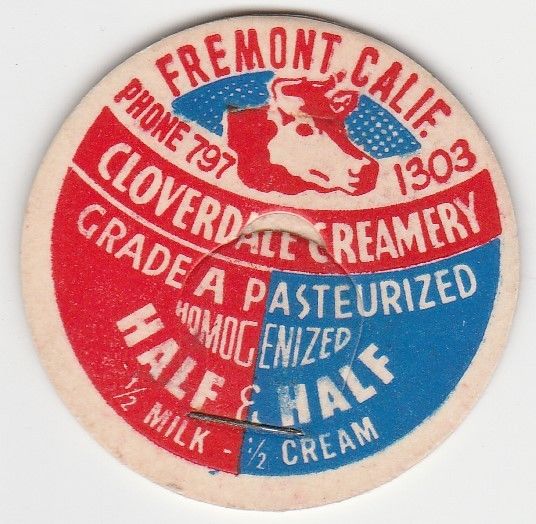 Backstory and Context
In 1927 the Bauhofers, a family of Swiss immigrants, moved south from Alameda to what would later become the city of Fremont--until 1956 it would exist as five separate townships--and took over the Innes-Cloverdale Dairy at the location of the present-day Fremont Hub shopping center. While living at the Chadbourne Carriage House, now another Fremont landmark, 17-year old Joseph Bauhofer Jr. learned the dairy trade, even dropping out of his senior year at Washington High School to deliver milk.
Eleven years later, in 1938, the Bauhofers expanded their operation and built the Cloverdale Creamery, a small but sleek Art Deco building several miles away from the dairy, complete with some of the latest Streamline Moderne architectural flourishes: tiled accents, glass block windows that wrapped around the building's corners, and speed lines on the awning above the door. Another glass block window shaped like a milk bottle and outlined in neon completed the building's exterior with a flourish.
Joseph's parents bought a house directly behind Cloverdale Creamery on Maple Street, and Joseph started his family two blocks further away, on Oak Street. Though pulled away for service as a U.S. Army quartermaster in the Pacific during World War II, he returned to the creamery after the war. With its old-fashioned soda fountain counter and leather-seated booths, the establishment retained both its original flavor and a loyal customer base for decades. In the meantime, the dairy and creamery delivered milk to local citizens, restaurants and stores--and began to make ice cream in 1948.
In the 1970s, the Bauhofers sold the dairy itself, which went on to become a shopping center-- the Fremont Hub--though their old residence at the Chadbourne House remains well-preserved as a city park on the outskirts of the Hub. Joseph Bauhofer Jr. continued to deliver milk to loyal customers until 1994, when he retired at last at the age of 84. Cloverdale Creamery delivery trucks remained parked out behind the establishment until Joseph's son, Bill Bauhofer, retired and sold the Creamery in 2001. Joseph Bauhofer Jr. died in 2008.
Fremont Flowers bought the building in 2005 and moved in briefly, at which time the soda fountain counter and seats were removed and reinstalled in the nearby Fremont-Centerville Train Station, as part of a new cafe in the circa-1910 structure. Today the building is owned by Boogie's Pet Supply and Dog Grooming. The exterior of Cloverdale Creamery exists much as it did during its heyday, retaining the original glass block windows and speed lines--even the milk bottle-shaped window above the front entrance.
The Washington Township Museum of Local History has a permanent exhibit dedicated to the Cloverdale Creamery
Sources
Artz, Matthew. "Longest-serving Fremont milk deliverer dies at 97." East Bay TimesFebruary 22, 2008. . https://www.eastbaytimes.com/2008/02/22/longest-serving-fremont-milk-deliverer-dies-at-97/?clearUserState=true

McManis, Sam. Cloverdale Creamery / YOUR RETRO FAVORITES / East Bay Shops Offer Glimpse of the Past. SF Gate. March 12, 1999. Accessed April 03, 2019. https://www.sfgate.com/restaurants/article/Cloverdale-Creamery-YOUR-RETRO-FAVORITES-East-2942846.php.

Cloverdale Creamery Exhibit. Washington Township Museum of Local History. . Accessed April 03, 2019. https://museumoflocalhistory.org/exhibits/exhibit-buying-what-you-need/.

Obituary: Joseph Frederick Bauhofer. East Bay Times. February 17, 2019. Accessed April 03, 2019. https://www.legacy.com/obituaries/eastbaytimes/obituary.aspx?n=joseph-frederick-bauhofer&pid=103598207&fhid=2105.


Additional Information