Mabel Smyth Memorial Building
Introduction
Mabel Smyth died at an early age (42), but her accomplishments as a nurse and her service to the field of Public Heath live on through the dedication of this building to her memory upon its completion during World War II. When Smyth died in 1937, a local effort to commemorate her life resulted in the dedication of this public health building in her honor. C.W. Dickey, a highly acclaimed Hawaiian architect, designed the building.
Images
Mabel Smyth Memorial Building in Honolulu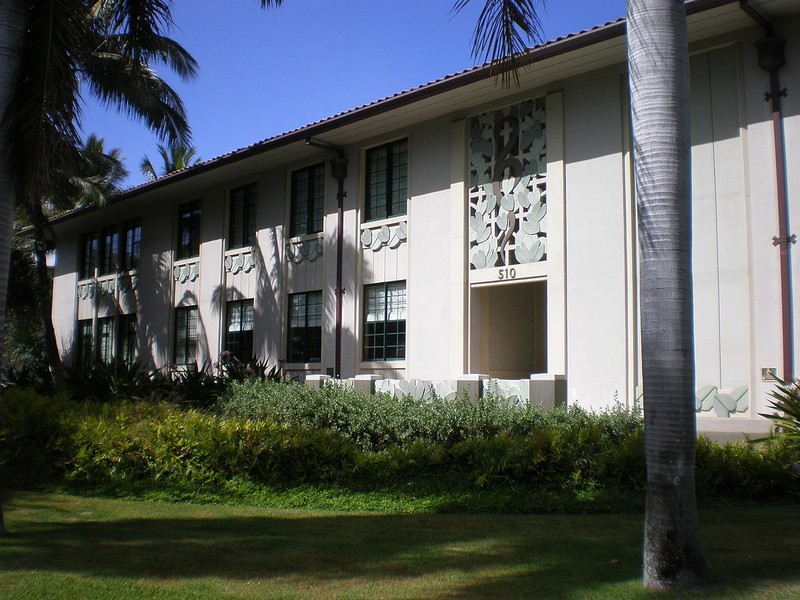 Backstory and Context
The early death in 1937 of Mabel Leilani Smyth, a nurse who served as Superintendent of the Public Nursing Service for eight years, inspired Hawaiians to commemorate her accomplishments. Completed in 1943, the Mabel Smyth Memorial Building is the result of that movement. As well, the building stands as an excellent example of the work of prominent Hawaiian architect, C.W. Dickey.
A plan emerged after Mabel Smyth's death to construct a medical center that would serve as a medical headquarters and meeting facility for medical administrators, doctors, nurses, and researchers (including a library). Queen's Hospital provided a modest plot of land and lauded local architect C.W. Dickey, who had designed the hospital's Harkness Nurse's residence built in 1932, was hired to design the building which opened in 1943.

Mabel Smyth

Mabel Leilani Smyth (1892-1936) pioneered the development (and organization) of public-health nursing during the early twentieth century. The lives of her parents serve as a bridge to the diverse history of the island as her parents consisted of a half-Hawaiian mother and an Irish-English Captain. Her sister Eva was born visually impaired which provided Mabel with early experience as a caregiver. The death of Mabel's father in 1907 resulted in her family's move to Honolulu where she took a greater interest in nursing.
Mabel was counseled by Dr. Albert S. Baker, who was also her church pastor in Kona. He introduced her to James and Ragna Rath, who operated the health care facilities at Palama Settlement in Kalihi. By 1918, after Mabel had finished her formal education and traveled to complete her nursing assignments, she was appointed as the first head nurse at Palama Settlement. She remained there until 1927 (minus one year to finish her graduate work) when she took the position as the first director of Public Health Nursing for the Hawaii Territorial Board of Health; the Department of Public Health Nursing later oversaw the Palama Settlement, too.
Mabel also maintained partnerships and memberships with the American Red Cross, Hawaiian Civic Club, Territorial Nurses Association (as a trustee), City and County of Honolulu Nurses Association (president), and the Bureau of Maternity and Infancy (director). Mabel received praise, as well, for organizing Hawaii's first well-baby clinic and raising midwifery standards. And she did it all before she turned forty-three because sadly she died at the age of forty-two due to complications from an operation.

C.W. Dickey

C.W. Dickey, a celebrated local architect, created what became known as the "Hawaiian style" of architecture noted for a double-pitched hip roof with overhanging eaves. (The roof design garnered the nickname, "The Dickey Roof.") Dickey built numerous buildings in Hawaii during the 1920s and '30s, and many of the accomplished Hawaiian architects that worked from the 1920s through the 1950s worked for Dickey at some point in their career.
Sources
"Charles William Dickey (Architect)." Pacific Coast Architecture Database. washington.edu. Accessed February 1, 2019. http://pcad.lib.washington.edu/person/5499/.
Deutsch, Sanna Saks. "Nomination Form: Smyth, Mabel Memorial Building." National Register of Historic Places. nps.gov. Dec 20, 1993. https://npgallery.nps.gov/GetAsset/2afa2c35-a09e-4c28-912c-688ef1e2fa72/
Jay, Robert. The Architecture of Charles W. Dickey. Honolulu: University of Hawaii Press, 1992.
Neil, J. Meredith. "The Architecture of C.W. Dickey in Hawaii," The Hawaiian Journal of History. 19 (1975): 101-113.
Takamori, Joan A. "Learning from our Past to Shape our Future Florence Nightingale of Hawaii, Mabel Leilani Smyth." Hawaii Department of Health. hawaii.gov. May 12, 2015. http://health.hawaii.gov/news/olalokahi/learning-from-our-past-to-shape-our-future-florence-nightingale-of-hawaii-mabel-leilani-smyth/

Photo Source
Mabel Smyth Memorial Building in Honolulu: By Joel Bradshaw - Own work, Public Domain, https://commons.wikimedia.org/w/index.php?curid=6944568


Additional Information