Coyote Hills East Bay Regional Park
Introduction
Though only founded in 1967, the historical significance of the 1,266 acres of Coyote Hills East Bay Regional Park stretches back thousands of years as a marshland habitat, and as a Ohlone Indian village and burial ground. Since the 19th Century, these wetlands and surrounds have seen farming and ranching, salt production, a Nike missile defense station, biosonar research facility, and now a regional park. Today, the Park boasts hiking and biking trails, archaeological digs, marsh boardwalks, and a visitor center with exhibits about wetland wildlife and Ohlone culture.
Images
A photograph from Coyote Hills with Fremont's Mission Hills in the distance. Mission San Jose was nestled at the bottom of that distant range, but the reach of the Spanish easily included Coyote Hills and its Ohlone people (Jerry Ting).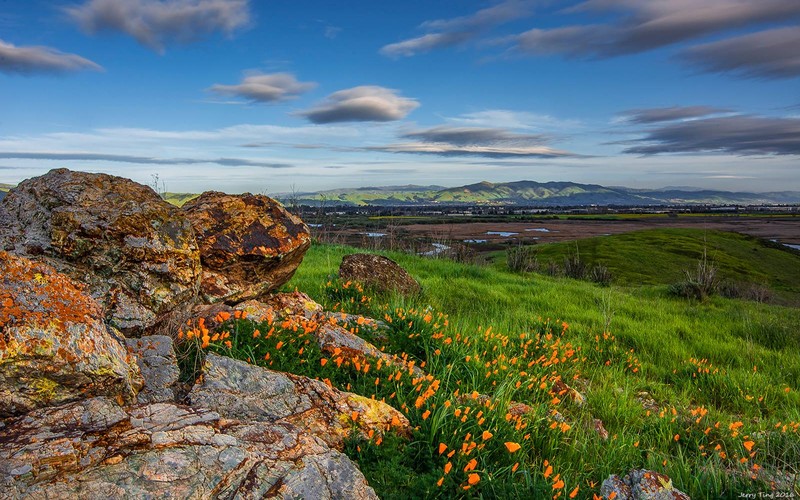 A typical coastal landscape from Coyote Hills.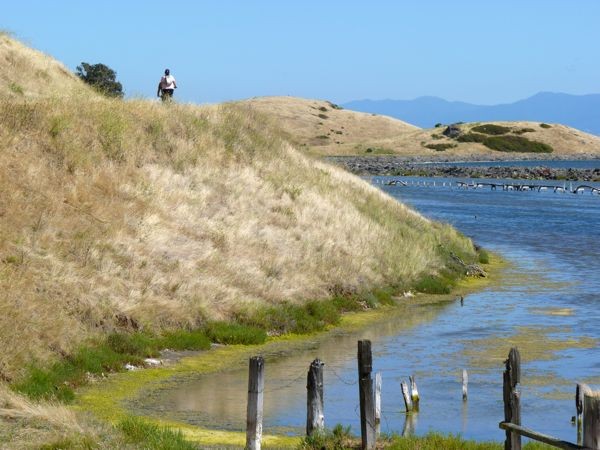 Visitors learn about Ohlone tools (Coyote Hills Facebook).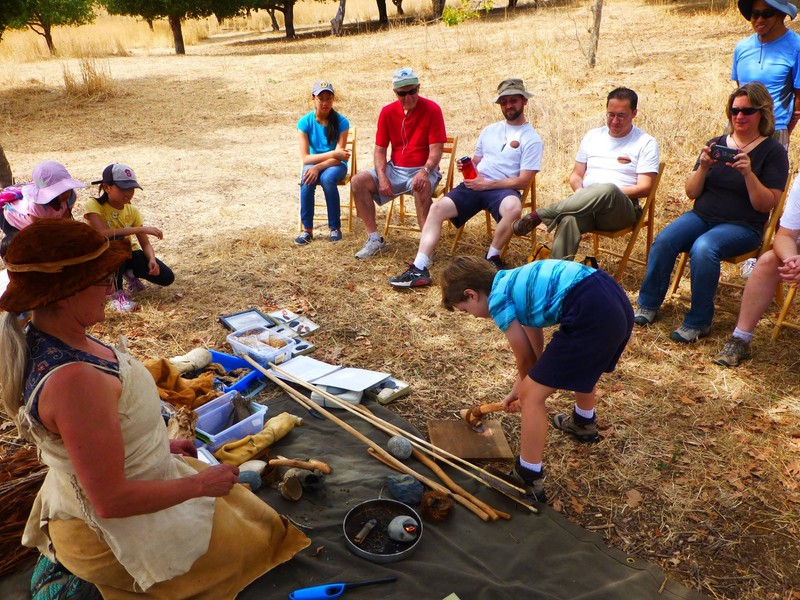 Visitors inspect the pit house, which typically would have been reserved for influential families within the tribe. Tule huts were more common. The Ohlone village can be visited by special appointment (Coyote Hills Facebook).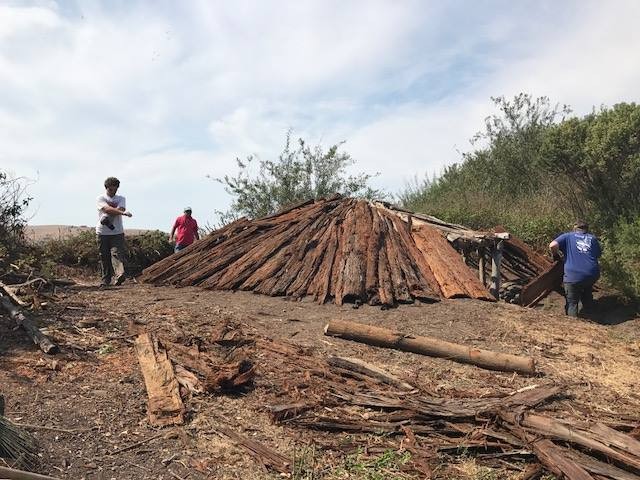 A Park ranger leads a field trip through the marsh boardwalks. Seasonal rainfall can cause the boardwalks to close intermittently (Coyote Hills Facebook).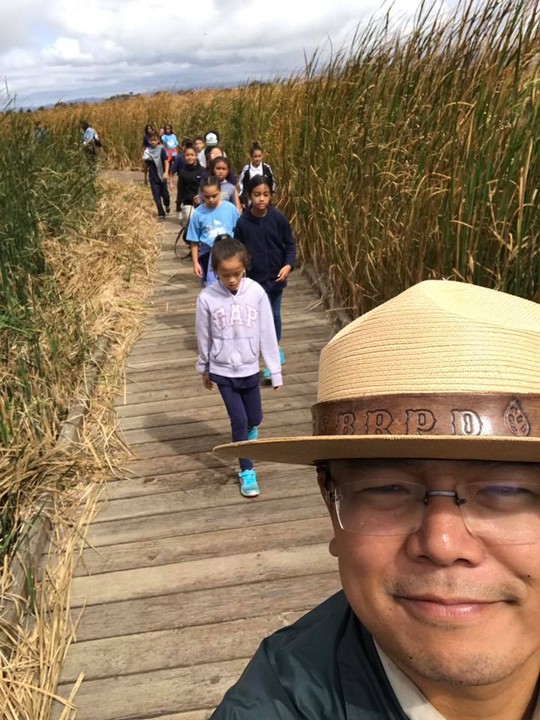 A portion of the former Nike missile facility, closed since 1963. The California National Guard were one of the last units to occupy the station (Wayne Hsieh, Flickr).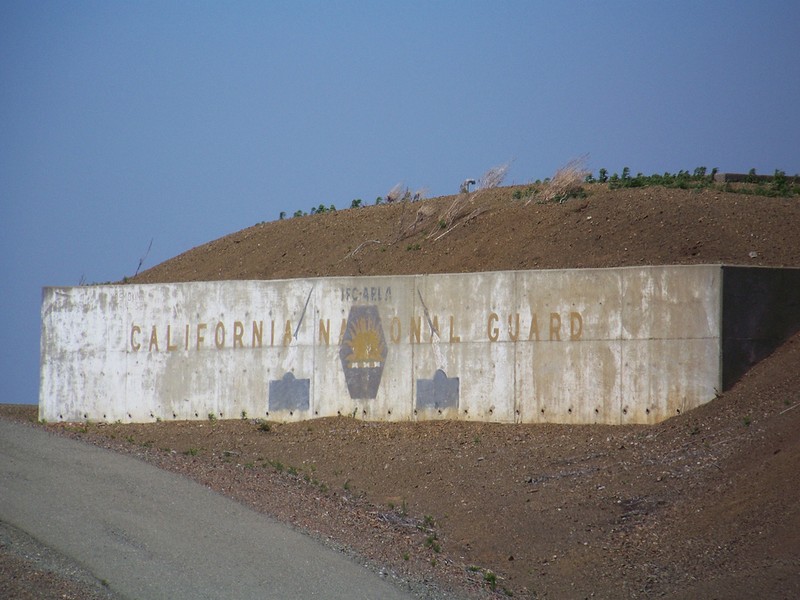 The "Control Area" of the former Nike site, two miles away but still within the Park. This is still actively used by civilian agencies (Wayne Hsieh, Flickr).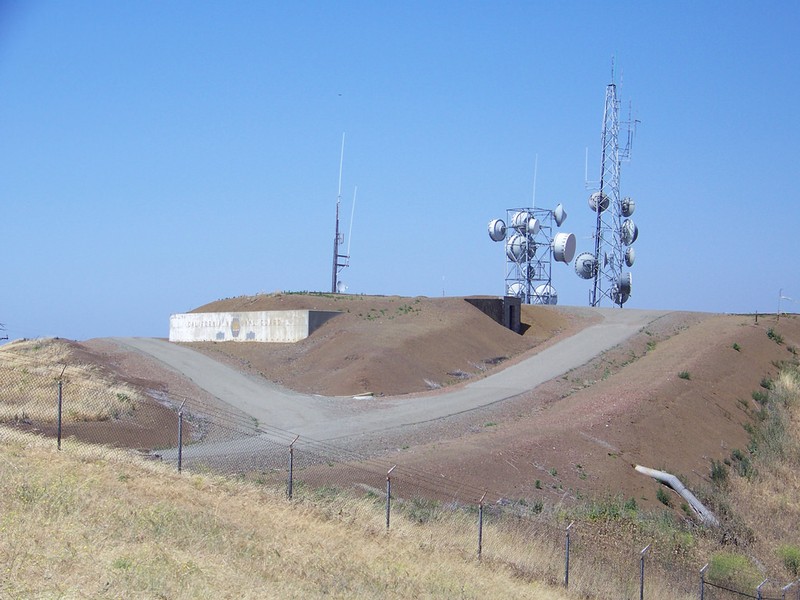 A Nike missile on display at a nearby historical site in the Marin Peninsula (fksr, Flickr).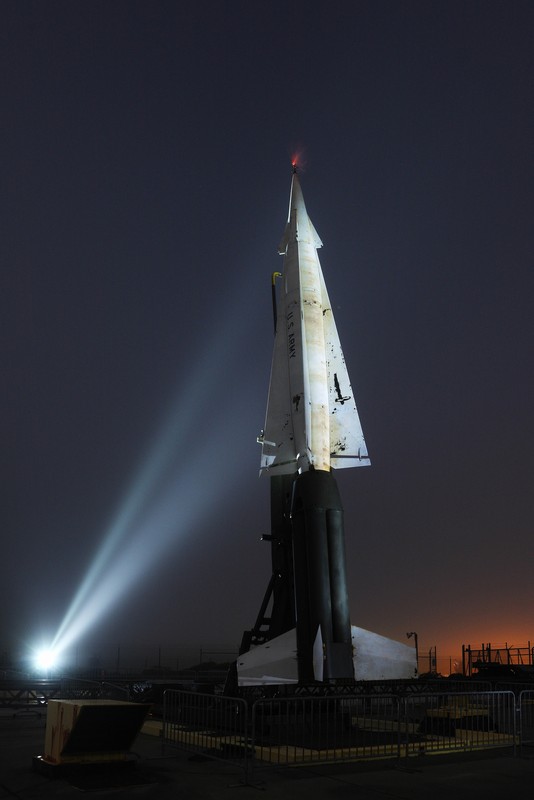 A 1965 aerial showing the Administrative and Launch sections of the Nike missile facility at Coyote Hills (MilitaryMuseum.org).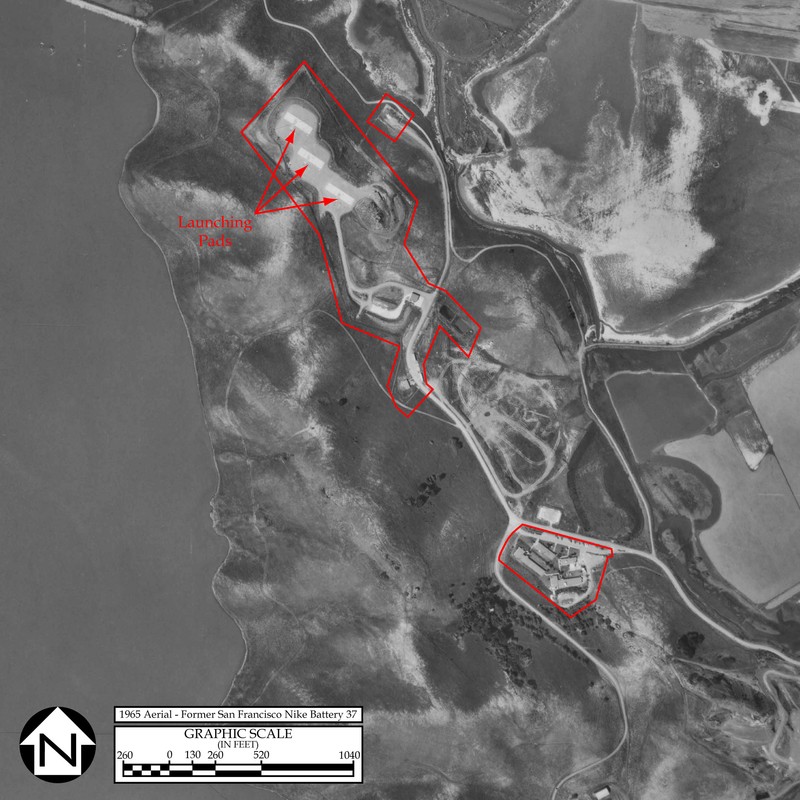 A 1924 photo of the destruction of the Emeryville shellmound. Over 400 such mounds existed throughout the Bay Area. Coyote Hills contains one of the few still preserved.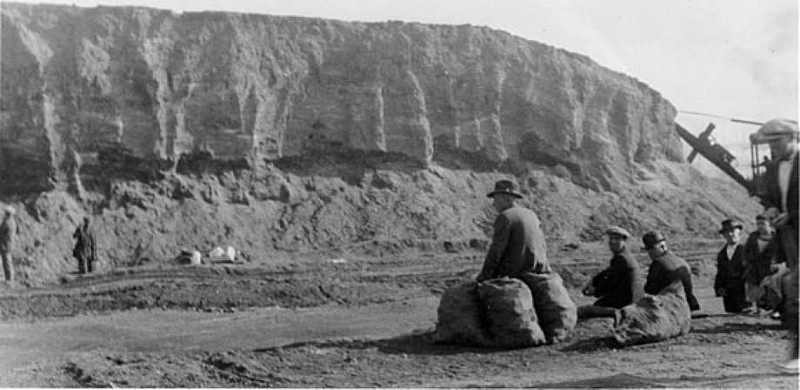 Backstory and Context
Thousands of years before the arrival of Spanish missionaries in the 1770s, the ancestors of the Ohlone people hunted and gathered in these rich riparian marshes of the southeast San Francisco Bay. Of roughly 57 tribes speaking a dialect of the Ohlone language, the Tuibun band inhabited the area in and around Coyote Hills (the term "Ohlone" describes a loose group of Native American tribes in Northern California that shared a common tongue and cultural affiliation). Archaeological digs, which are still active within the park, have found ample evidence of a Tuibun village.
The Tuibun subsisted on ample fish and game in the marsh and grasslands. Huts and boats were both constructed of the ubiquitous tule reed native to the area which, when dried, was both pliable and touch. Mats of tule were also woven together to sleep on.
Ohlone burials often involved a phenomenon known as a shellmound--a large, conical structure slowly built through decades, centuries, or even millennia as the tribe's dead were buried within and covered with shells, earth, and stones--a famous shellmound in Emeryville demolished in 1924 contained over 700 burials. These sites were cultural nexuses for the many Native American tribes, but of over 400 shellmounds in the San Francisco Bay, most were destroyed by Spanish, Mexican, and American settlers. A shellmound at Coyote Hills is one of the few that remains preserved and protected today.
In the 1770s, the arrival of the Spanish and the founding of nearby Mission San Jose altered life for the Tuibun and neighboring tribes. As their population was decimated by European diseases, the grassland nearby was increasingly annexed for the Mission's considerable agriculture and cattle herds, as well as those of the nearby ranchos. By the time of the Gold Rush in 1848 and its accompanying massive influx of American settlers, the Tuibun people had largely been swept from the area.
Beginning as early as the 1850s, a budding salt industry began to dominate the marshlands around Coyote Hills. Salt had been a draw to area for thousands of years for the Ohlone and their ancestors, who scraped crystallized salt from the rocks for their dietary needs--a method imitated by the Spanish padres at Mission San Jose, who even produced enough for mild export. As new immigrants piled into the Bay in the 1850s, small salt evaporation ponds began to spring up on its shores. For the rest of the century and leading into the next, increased demand in the western United States and advances in production led the Bay Area to become one of the top salt producers in the country. The same remains true to this day, though all remaining 8,000 acres of salt production have been consolidated under a single company, Cargill, which has sold many of the marshlands back to conservation agencies around the Bay, including areas adjacent to Coyote Hills. Other industries during this era included a stone quarry and dairy farm.
Fearing Soviet attack on the West Coast during the Cold War, the United States military built defense installations around many major cities beginning in the 1950s. Among these was San Francisco Defense Site SF-37, installed in 1956 and designed for Nike missiles to shoot down incoming enemy bombers. Three separate installations, labeled SF-37A (Administration), SF-37C (Control), and SF-37L (Launcher) were scattered around the Hills, separated for safety. The Administrative section consisted of personnel-related facilities such as a barracks, mess hall, recreation, supply and maintenance. The barracks and some other buildings remain today, having been repurposed as the visitor center and other administrative structures for the East Bay Regional Park. The Launcher Area consisted twelve launchers and magazines for thirty Nike-Ajax surface-to-air missiles. This part of the complex was long ago bulldozed and filled in. Finally, the Control Area, where radar and guidance systems were housed, was located two miles away, and is still in civilian use today by law enforcement.
As the Nike missile system became obsolete in the early 1960s, the site was decommissioned in March 1963. The Stanford Research Institute moved in with a sonar project designed to monitor marine mammals, including dolphins. When the project left in the mid-1960s, Coyote Hills was redesignated for public use and joined the East Bay Regional Park system in 1967, from which time it has served as an important education center, outdoor recreation site, and wildlife habitat.
On June 3, 2014, Coyote Hills received a $10 million land donation of 296 adjacent acres--the largest single addition to the park since its founding. The land had once belonged to George and Clara Patterson, agricultural magnates who made their fortune selling food to the masses that accompanied the Gold Rush (the Patterson House and surrounding land are part of Ardenwood Farm, another East Bay Regional Park farther north). The land was donated by Wilcox Patterson, descendant of George and Clara.
The park features buildings from a replica Ohlone village, including a tule hut, sweat lodge, shade shelter and pit house, which are available by special appointment and on select holidays. The visitor center is open weekly, and recreational trails are available year round.
Sources
Coyote Hills. East Bay Regional Parks. . Accessed March 19, 2019. https://www.ebparks.org/parks/coyote_hills/default.htm.
Record $10 million land donation expands Coyote Hills Regional Park. San Jose Mercury News. June 12, 2014. Accessed March 19, 2019. https://www.mercurynews.com/2014/06/12/record-10-million-land-donation-expands-coyote-hills-regional-park/.
San Francisco Defense Area Site SF-37, Coyote Hills/Newark. MilitaryMuseum.org. February 08, 2016. Accessed March 19, 2019. http://www.militarymuseum.org/SF-37.html.
Locations of Former NIKE MISSILE SITES. Ed-Thelen.org. January 05, 2019. Accessed March 19, 2019. http://ed-thelen.org/loc-c.html#SF-37.
Stolper, Steve. The Tuibun of Coyote Hills. NatureOutside. August 09, 2016. Accessed March 19, 2019. https://www.natureoutside.com/the-tuibun-of-coyote-hills-part-1/.
Coyote Hills Regional Park Brochure. Small Steps Foundation. . Accessed March 19, 2019. http://www.smallstepsfoundation.org/events/walk2012/images/Coyote_Hills_text.pdf.
Klivans, Laura. There Were Once More Than 425 Shellmounds in the Bay Area. Where Did They Go?. KQED. November 08, 2018. Accessed March 19, 2019. https://www.kqed.org/news/11704679/there-were-once-more-than-425-shellmounds-in-the-bay-area-where-did-they-go.
San Francisco Bay Salt Ponds. Cargill Salt Works. . Accessed March 19, 2019. https://www.cargill.com/page/sf/sf-bay-salt-ponds.
Watt, Laura A., and Ellen Joslin Johnck. "The Bay Area's Solar Salt Industry: An Unintended Conservationist." California History91, no. 2 (2014): 40-57. doi:10.1525/ch.2014.91.2.40.
Additional Information