Oklahoma Memorial Union at the University of Oklahoma
Introduction
The Oklahoma Memorial Union is the student union of the University of Oklahoma, and is one of the most notable buildings on campus. Houses a large food court, a historic clock tower, and the offices of university groups and organizations dedicated to student life, affairs, and aid. Built in dedication to the students, teachers, and faculty who lost their lives in The First World War.
Images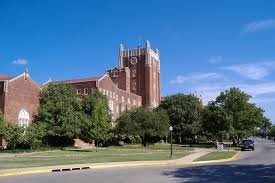 One of many lounges in the OMU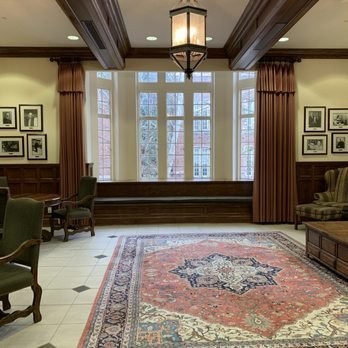 Backstory and Context
Plans for the University of Oklahoma's Memorial Student Union began in 1922, with initial plans calling for the Union to be made one with a new Football Stadium. However, committee members, namely Football Coach Benny Owens argued that it would be better to separate the structures, a memorial union and a memorial stadium, both named for the dead students and faculty of OU who had fought in the First World War

The Construction was funded partially through donation and fundraising campaigns of the OU Student Association. The new union would be worked on multiple times in the ensuing decades, most prominently the Student Union gained a clock tower in 1935. Afterwards however, the Union began to decline, with renovations done in the 1950s being the last until President David L Boren took office in 1994.

Boren Quickly raised the funds to completely refurbish the Student Union. Making every effort to restore the building and make it a symbol for the University. Boren's program saw the Student Union go from a place where maybe 500 students went into a day, to the primary place for students to spend time between classes, with over 12,000 students entering a day.

The rebuilding of the student union was the center piece of Boren's campus wide revitalization efforts, with the union being rebuilt in what is now referred to as the "OU Look". Boren's campaign of refurbishment and building gardens across campus was dedicated to giving the University a look similar to an Ivy League university.

As an effect of his efforts in rebuilding the Oklahoma Memorial Union, Student Organizations moved their offices to the Union. Along with them, a passport office, post office, and eventually a tech store had been added to the Student Union. In 2007, further renovations were started because of a flaw discovered in the beams on the third floor of the building could potentially cause collapse. As such, the entire east side of the building had to be redone.

The Oklahoma Memorial Union is home to the Molly Shi Boren Ballroom, the Meacham Auditorium, The Will Rogers Room and Food Court, and the Baird Lounge room, where the vast majority of special university events are now held, such as ring ceremonies, student movie nights, and fundraisers. Today once more, The OMU is the heart of the OU Campus, where students eat, relax, study, work, and attend special lectures.
Sources
Sooner Magazine (Winter 2001) Vol. 21, Issue 2, p. 16-19 . "A Stadium For Oklahoma
Sooner Magazine (Winter 2007) Vol. 27, Issue 2, p. 32. "An Enduring Union"
Sooner Magazine (Fall 2004) Vol. 25, Issue 1, p. 4-14 . "The Boren Decade"
Sooner Magazine (Fall 2001) Vol. 22, Issue 1, p. 4-8 . "A Place to Call their Own"
"The Stadium-Union Memorial," circa 1925. retrieved from the University of Oklahoma Western History Collection
http://www.ou.edu/union
Stadium-Union Memorial Promotional Materials, circa 1925. retrieved from the University of Oklahoma Western History Collection

Additional Information