Frank and Emil Olshefski's Childhood Home
Introduction
This rambling building was the childhood home of two Waukesha veterans. Frank J. and Emil A. Olshefski lived in this roomy two-story house along with their German immigrant parents and with four other siblings. As young adults, the two brothers seized the opportunity to see the old country--and assert their American identity--in The Great War alongside each other. Frank and Emil joined the A.E.F. (American Expeditionary Force) and deployed to France. They fought against the Germans, and helped restore peace to Europe.
Images
With the Title saying "La Brigade Marine Americaine Au Bois de Belleau" translating from French into "The American Marine Brigade at Belleau Wood", this portrait portrays what was likely seen at the Belleau Woods and what probably Frank and Emil might of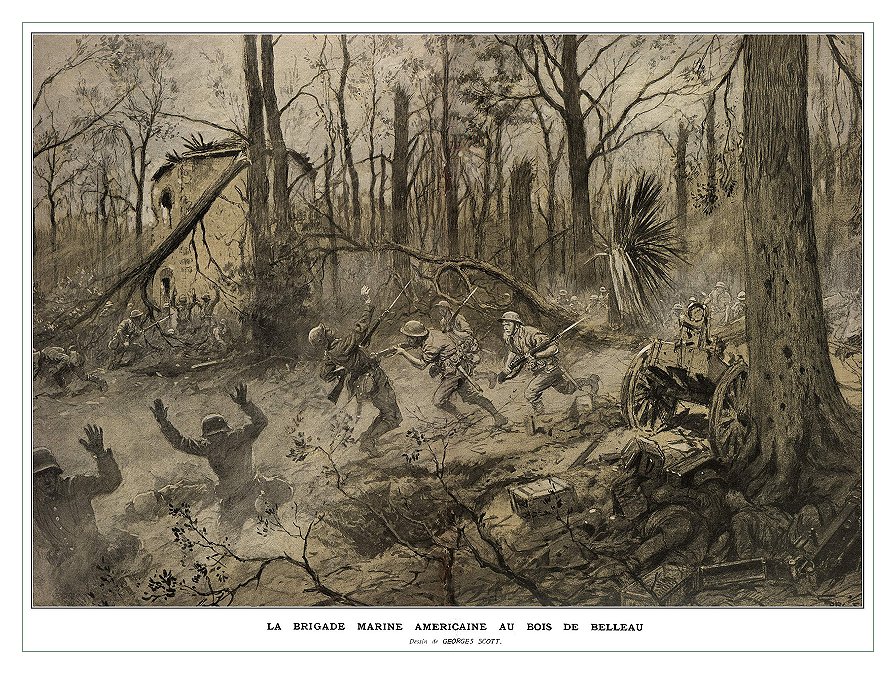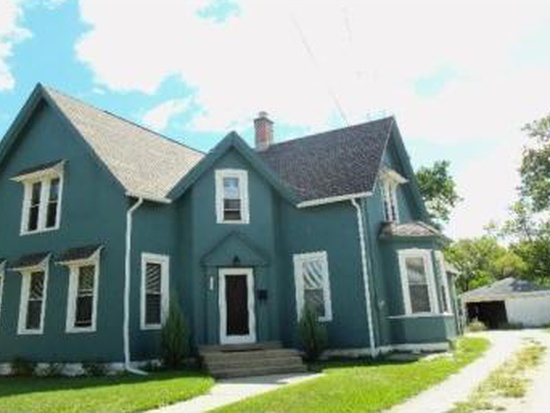 This is the home that raised Frank and Emil before the two go off together to the First World War.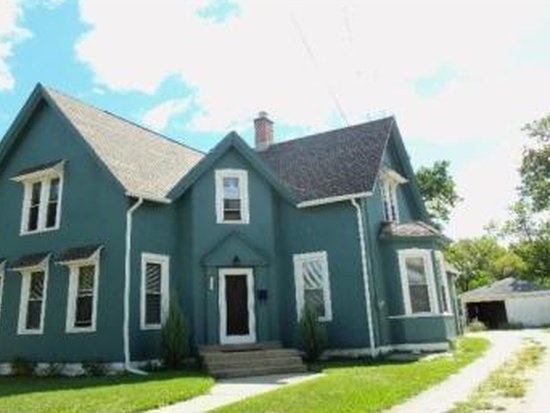 This painting portrays to some as what the Battle of Belleau Woods looked like as the AEF and Olshefski's unit had fought.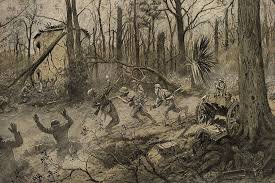 Backstory and Context
Frank and Emil Olshefski were born in the mid-1890's--Frank in 1894 and Emil in 1895--to German immigrants named August and Gustie Olshefski. The family seem to have been active members of Trinity Lutheran Church, which was located just down the road from where they lived. Trinity's congregation had included huge German immigrant population since the 1860s, but never held German-language religious services till 1886. It was even called the First German Lutheran Church. As time went on, the German influenced waned. Once the primary language in Trinity's elementary school, German was considered to be a foreign language (second to English) in both educational and worship settings by 1912. Use of the German language was discontinued completely in 1947. 
After leaving school (8th grade?) Frank worked in machinery at the Waukesha Motor Company, while Emil worked at the Spring City Foundry. When war broke out in Europe, the Olshefski brothers likely had many conversations with their peers about the pros and cons of military service. They both joined the Marines on May 8th, 1917, just a couple days after Emil's twenty-second birthday. The brothers were registered in the 6th Marine Regiment, 80th Company. They trained at the United States Marine base at Parris Island, South Carolina.
Frank and Emil departed the U.S. with their company on January 18th, 1918, and arrived in Europe about 2 weeks later, on February 2nd, 1918. It was not a moment too soon. British losses were high and could not support the AEF at all; French forces were also weak. The Olshefskis' company saw brutal action and even participated at the Battle of Belleau Woods. This battle led to the notion that the AEF "saved Paris," Belleau Woods was just thirty-nine miles away from the "City of Lights;" it was the closest the Germans ever got the French capital. Ultimately a U.S. victory, this intense battle brought fame to the U.S. Marine Corps, and helped secure the place of the US in narratives of The Great War. 
Frank Olshefski was wounded in combat in July 1918, about a month after Belleau Woods. Did stretcher-bearer Emil carry his brother to the field hospital? It's not clear, but luckily, Frank got treatment and recovered from his wounds.
We don't know what else Frank and Emil did in Europe, only that they were back in Waukesha sometime in 1919. Like many veterans, the brothers returned to their prewar employers, and resumed their daily lives. Within just a few years, only local friends and family knew that 1108 Whiterock Avenue was home to two brave German-American soldiers.
Sources
- Bolger, Daniel, Iconic Belleau Woods Story Includes Soldiers. Army Magazine.
 http://search.ebscohost.com.pioproxy.carrollu.edu/login.aspx?direct=true&AuthType=cookie,ip,cpid&custid=s6222004&db=aph&AN=129747728&site=ehost-live&scope=site
-Newspaper article about Frank's wounded in action.
http://www.digifind-it.com/hoboken/data/scrapbooks/1918-1919%20Part_0003.pdf
-U.S. Army Transport Service, Passenger List 1910-1939
https://search.ancestry.com/cgi-bin/sse.dll?indiv=1&dbid=61174&h=8435936&tid=&pid=&usePUB=true&_phsrc=lCJ50&_phstart=successSource
- Zabecki, David, THE U.S. MARINES' MYTHIC FIGHT AT BELLEAU WOOD. United States Marine Corps
http://search.ebscohost.com.pioproxy.carrollu.edu/login.aspx?direct=true&AuthType=cookie,ip,cpid&custid=s6222004&db=aph&AN=70230705&site=ehost-live&scope=site
-1900 United States Federal Census
https://www.ancestry.com/interactive/7602/4120648_00483?pid=74118548&backurl=https://search.ancestry.com/cgi-bin/sse.dll?dbid%3D7602%26h%3D74118548%26indiv%3Dtry%26o_vc%3DRecord:OtherRecord%26rhSource%3D1002&treeid=&personid=&hintid=&usePUB=true&usePUBJs=true
Additional Information