Miller Hall, Waynesburg University
Introduction
This three-story brick and sandstone building was completed in 1899 and has housed administrative offices, a chapel, and classrooms for more than the past 100 years. Waynesburg University was established in 1849 as a private college operated by the Cumberland Presbyterian church. The college and city was named after General "Mad" Anthony Wayne, a general in the Revolutionary War. Wayne would later lead several battles against Native Americans on the frontier. The building is named after Alfred Brashear Miller who served as the college president from 1859 to 1899. The building was placed on the National Register of Historic Places in 1978.
Images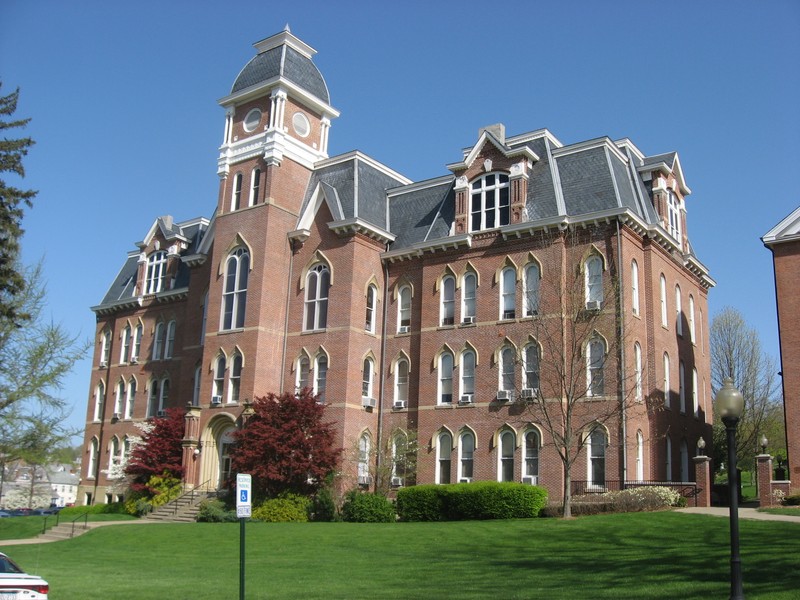 Waynesburg University campus with Miller Hall in the lower left.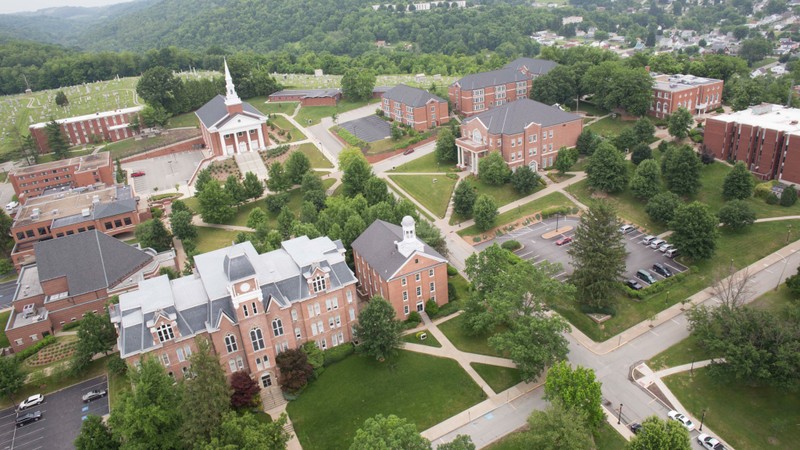 An early 20th century postcard with Miller Hall included.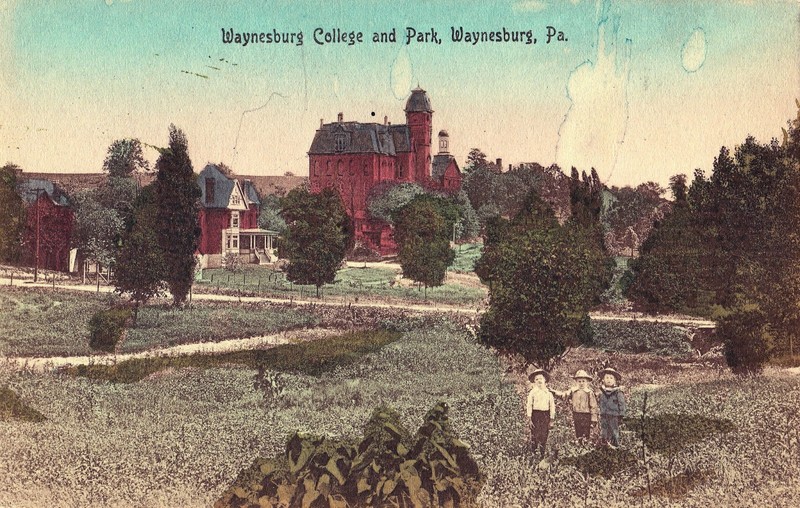 The fingerprints of this brick-maker are still visible over 120 years later.

Backstory and Context
Since Miller Hall was built in a pay-as-you-go manner it took 25 years to complete. It was designed by Pittsburgh architect J.W. Drumm in 1874 and the land for its construction was donated by Ezra Sayers. Construction began in 1879, with bricks handmade by students, and the first classes took place within the building in 1890. It was officially dedicated on June 28, 1899.
When completed, it was the primary educational building for Waynesburg College. On the first floor were classrooms, a lab, rotunda and the university president's office. The second floor housed additional classrooms, a library and a chapel,while the third floor was home to Alumni Hall and the college's literary societies.
While Miller Hall's exterior remains largely unchanged (the building's original stained glass windows were replaced) the interior has undergone extensive alterations over the years. Alumni Hall was completely renovated and the first and second floors were totally remodeled as the classrooms were replaced with administrative offices. In addition, The Martin Conference Room was added to the second floor in 1971.
Sources
"National Register of Historic Places Inventory -- Nomination Form: Miller Hall." The United States Department of the Interior/National Park Service. 1978. Accessed December 8, 2016. http://www.dot7.state.pa.us/CRGIS_Attachments/SiteResource/H000661_01H.pdf
"Who We Are." Waynesburg University. 2013. Accessed December 8, 2016. http://www.waynesburg.edu/who-we-are
Additional Information