Stratford Point Lighthouse
Introduction
Still an active navigational aid, Stratford Point Lighthouse was built in 1822. It reaches a height of 35 feet above the ground (52 feet above water) and its light is visible several miles away. Its primary purpose is to guide ships past the shifting sand of the bars of the mouth of the Housatonic River as they sail in Long Island Sound. The lighthouse is architecturally significant in that it is "the earliest example of in the state of a cone-shaped, pre-fabricated cast-iron lighthouse." The U.S. Coast Guard owns and operates the light. As such, it is not open to the public but is visible from the street and the adjacent park. It was added to the National Register of Historic Places in 1990.
Images
Stratford Point Lighthouse was built in 1822 and continues to operate as a navigational to ships.
Postcard of the lighthouse from around 1908.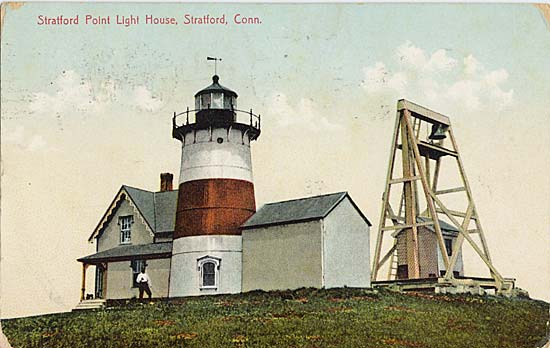 Backstory and Context
It is believed that the first light on Stratford Point—a bonfire—was lit during colonial times. Eventually, wood was kept burning in an iron basket that was hung from a pole. It wasn't until 1821 that Congress allocated funds to purchase the property to build the lighthouse. The lantern room was taken down and replaced by
aerobeacons in 1969. A new light was installed in 1990 and the lantern room was rebuilt. U.S. Coast Guard members lived at the lighthouse until 1978.
Sources
"Stratford Point Lighthouse." Lighthousefriends.com. Accessed March 2, 2019. http://lighthousefriends.com/light.asp?ID=793.

Templeton, Dorothy. "Stratford Point Lighthouse." May 29, 1990. National Parks Service - National Register of Historic Places Nomination Form. https://npgallery.nps.gov/GetAsset/e05740d4-f377-465d-8e71-1243fb9af3e7.

Photos: Wikimedia Commons
https://commons.wikimedia.org/wiki/Category:Stratford_Point_Lighthouse

Additional Information