John and Kate Kelly Residence
Introduction
This historic home was built in 1931, with an additional floor added in 1939, for the family of John and Kate Kelly. The Kelly family is best-known for their contributions to the local art community. From around 1923 through the early 1960s, the couple combined their talents to produce numerous sculptures, paintings, and prints that can now be found in museums in Hawaii and the U.S. mainland. The home is located in a neighborhood that grew into a haven for many of the island's artists.
Images
John and Kate Kelly Residence, from nps.gov, taken 1989.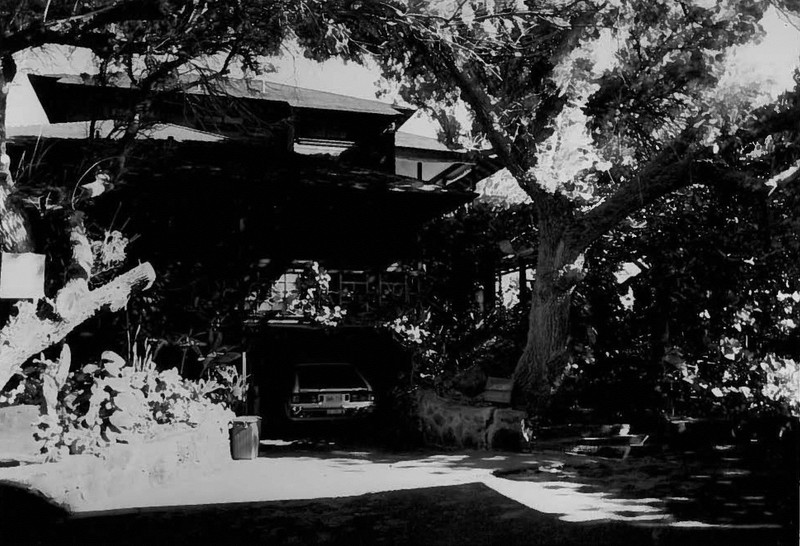 Backstory and Context
John Melville Kelly and Katherine (Kate) Kelly worked as artists in Hawaii for several decades, sculpting, painting, and designing prints after moving to the island from San Francisco in 1923. The Kellys lived in a neighborhood that became known as an artists' colony because of the many artists that lived in the community and the many artists who visited the neighborhood.
John Kelly was born in Oakland, California in 1879, and was raised on a cattle ranch in Arizona at a time when the ratio of Native Americans to whites was roughly 200 to one. At the age of nineteen, he returned to the Bay Area studied art at the Mark Hopkins Institute of Art (now the San Francisco Art Institute) and the Partington Art School, where he met his wife Kate, a sculptor. Kate was born in California in 1882 as the daughter of suffragette Hester Lambert Harland. The two married in 1908.
John worked for fourteen years as an illustrator for the San Francisco Examiner and engaged in prizefighting before the couple visited Hawaii in 1923. Kate had first visited Hawaii with her mother in 1898, at the age of 16. The married artists intended to stay in Hawaii for only one year while John worked for an advertising agency. However, the native Hawaiin lifestyle and culture resonated deeply with the Kellys, thus they decided to make it their permanent home.
Kate took a printmaking class at the University of Hawaii and subsequently taught John the techniques. In addition to working in advertising, John headed the art department of the Honolulu Star-Bulletin for seven years, before quitting in 1932 to become a freelance artist at his home studio on in the couple's historic house in Black Point. Together, they honed their skills and proved wildly successful as printmakers and producing various other forms of art.
Kate sculpted numerous busts and bas-reliefs of Hawaiian subjects such as hula dancers and lei sellers, both popular during the 1930s. Her notable public commissions include a bronze plaque honoring Queen Liliuokalani, the large bas-relief of King Kalakaua, and the bronze Amelia Earhart memorial plaque on Diamond Head. Unfortunately, Kate suffered from failing visions due to a thyroid condition which forced her to forgo her career in the 1930s and, instead, devote her energy towards promoting her husband's work.
John's fame partly arose from his depictions of Polynesians, which proved to set him apart from other artists in Hawaii. John created etchings and aquatints, primarily showcasing human figures and occasionally landscapes. He authored and illustrated "Etchings and Drawings of Hawaiians" in 1943, and "The Hula as Seen in Hawaii" in 1955. His work can be found in museums in New York, Connecticut, Missouri, California, and Hawaii.
The John and Kate Kelly residence (built 1931 with an additional floor added in 1939) enjoys craftsman style of construction, with Spanish-style design (Kate Kelly designed many of the features found within the house). Like the vast majority of homes built on the island during the interwar period, there exist features that complement the Hawaiian climate, notably the second story lanai, balconies, and windows that take advantage of the famous Hawaiian views.
The house also stands as a monument to the development of Black Point residential neighborhood during the 1930s, an area that gained a reputation as an artists' colony. Indeed, artists Bess Mather, Hue Luquiens, and Robert Manukien also lived there while numerous other artists visited. The Kellys lived in their home until their deaths in the early 1960s.
Sources
Drucker, Natasha Roessler and Honolulu Academy of Arts. John Melville Kelly: Hawaiian Idyll. Honolulu: Honolulu Academy of Arts, 2009.

"John Melville Kelly: The Estate Collection." Accessed March 01, 2019. http://kellyarthi.com/. Included in the website are biographical entries for both John and Kate

Kelly, Marion and John Kelly. "Nomination Form: Kelly, John and Kate, Residence." National Register of Historic Places. nps.gov. August 27, 1991. https://npgallery.nps.gov/GetAsset/c7222394-21b2-4279-bde4-20b3383f600e/

Photo Source

John and Kate Kelly Residence, 1989 Photo: Photo located at https://historichawaii.org/2014/02/28/4117-Black-point-roadjohn-and-kate-kelly-residence/ via nps.gov at https://npgallery.nps.gov/GetAsset/16289a6c-3dc3-4f2f-9292-778da3e8232d.





Additional Information