Masonic Temple & Princess Theater
Introduction
Ravaged by the fire of 1910, the town of Mount Hope began to receive investment by the New River Company through a series of commercial construction projects. Left without a regular meeting spot, the Masons organization began accepting donations from area businessmen to build a lodge to serve their needs. This campaign culminated in the construction of the Mount Hope Masonic Temple in 1925. The structure is one of Mount Hope's only examples of Neo-Classical Revival architecture; it was also the first fireproof building in the state. The temple typifies the architectural style of Masonic buildings at the time, which places a large non-functional classical pediment one story up from the ground floor. While the top floors contain masonic offices and meeting spaces, the bottom floors were rented as traditional storefronts. The building's most famous commercial occupant was the Princess Theater (sometimes called the Princess Playhouse). The 800-seat auditorium hosted both stage and film productions for decades. In addition to community activities, the Masonic Temple was used to store ammunition during World War II, likely due to its fireproof nature.
Images
The Masonic Temple building has experienced some renovations over the years, but the facade is largely intact.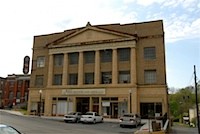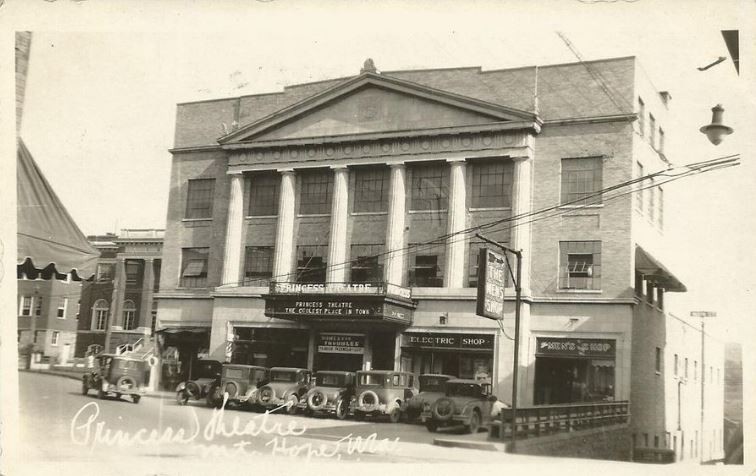 Backstory and Context
Sources
Chambers, S Allen. Masonic Temple (Princess Playhouse), SAH Archipedia. January 1st 2012. Accessed May 21st 2021. https://sah-archipedia.org/buildings/WV-01-FY14.2.
Combs, Matt. Walking through history, The Register-Herald. April 1st 2019. Accessed May 21st 2021. https://www.register-herald.com/news/walking-through-history/article_f082e64b-85f4-59ef-af73-4198e7b01f30.html.
Pelt, Kara Van. Longtime Mount Hope leader passes away, The Fayette Tribune. January 24th 2011. Accessed May 21st 2021. https://www.fayettetribune.com/archives/longtime-mount-hope-leader-passes-away/article_e0bfb61e-d928-561c-a76e-e990676c6913.html.
Taylor, David L. Mount Hope Historic District, National Register of Historic Places. January 1st 2007. Accessed May 20th 2021. http://www.wvculture.org/shpo/nr/pdf/fayette/07000785.pdf.
Image Sources
City of Mount Hope. Accessed May 21st 2021. http://mthopewv.org/history/historic-district/.