James Brown Plaza
Introduction
Dedicated on May 6, 2005, this Augusta plaza honors the life of musician and "Godfather of Soul" James Brown with an emphasis on his connections to Augusta. The Plaza includes a statue of Brown along with a plaque that highlights his accomplishments in music as well as Brown's history with the city of Augusta. One of Brown's first performances occurred in 1944 within Augusta's Lennox Theatre where he won a talent show. He also entertained area troops in Augusta as a young boy. His musical career took off when he joined the Famous Flames in 1954 and the band performed at the Apollo Theatre in 1959. By the early 1960s, a series of hit songs launched Brown's solo career, none bigger than the 1962 album Live at the Apollo. The success allowed Brown to invest in Augusta, including the acquisition of radio station WRDW. The statue was designed by sculptor John Savage.
Images
Statue of Brown in James Brown Plaza taken by Mike Stroud in 2013.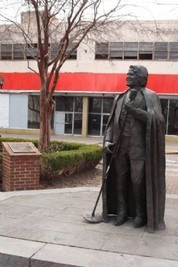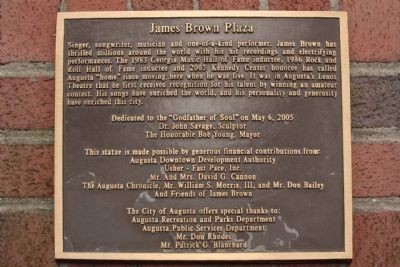 Backstory and Context
James Brown's family moved to Augusta at the age of five and today is remembered as one of the most influential musicians in American history. Brown is a 1983 Georgia Music Hall of Fame Inductee, 1986 Rock'n'Roll Hall of Fame Inductee, and 2003 Kennedy Center Honoree. As a young man, Brown and his band rehearsed at the Imperial Theater in Augusta, and in later years he supported numerous local charities, including donating toys to children in need on Christmas. Brown passed away in 2006, but the tradition he started continues each Christmas. Brown returned to the city regularly after his fame, including the recording of a live album titled "Sex Machine" at the Bell Auditorium.
In addition to this plaza, music fans can see many of Brown's artifacts in the city, including some of his stage clothing and family photos on display at the Augusta Museum of History in their special James Brown exhibit.
Sources
 "Remembering James Brown: Augusta Memorial" Archived July 3, 2009, at the Wayback Machine, WKBF-TV (Augusta, Georgia). Retrieved January 10, 2007.
Additional Information