Mauney Memorial Library
Introduction
The Mauney Memorial Library is located in Kings Mountain, North Carolina. The library began as a vision for the mill town to have a way of escape from the Depression and a place for educational opportunity. Since 1947, the library has found a home in the Hord mansion, which was gifted to the city by the children of Jacob S. Mauney in memory of their father. The Mauney Memorial Library has continued to be a place for learning and a landmark of the community. Today the library is a full-service library. It contains programs for all ages and free access to technology, electronic collections, genealogical resources, and many other resources.
Images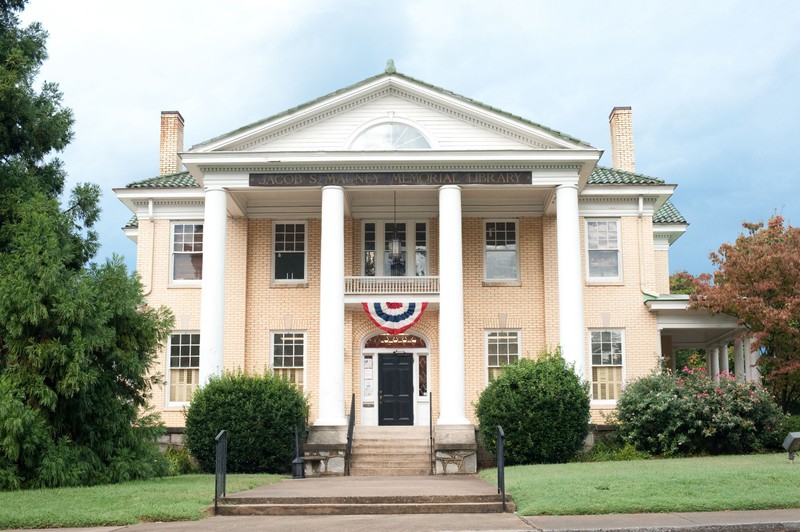 Backstory and Context
The Large two-story brick Neo-Classical Revival house was built in 1923 by Dr. J. G. Hord and family. A library in Kings Mountain began as a vision of a young couple, Haywood and Elizabeth Lynch, who moved into the area in 1935. The Mauney Family donated the present building in memory of their parents, Jacob and Margaret Mauney, in 1947. At first, the library occupied the front two rooms with the remainder of the house serving as a teacherage, a home for unmarried teachers who moved to Kings Mountain. The library was expanded in 1988 and again in 200 when the Harris Children's Wing was built and opened. The ;library is open Monday through Saturday.
Sources
"Kings Mountain Downtown Historical Walking Tour Pamphlet", City of Kings Mountain, Mauney Memorial Library, 2000s