Gerstner Airfield
Introduction
The Gerstner Airfield was the first airbase built in Louisiana and was used for the training of World War I pilots in the early 1900s. This will be an overview of how it was significant in its location and the key accomplishments of the base.
Images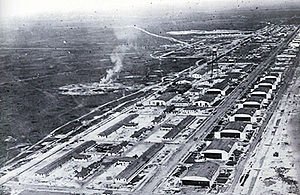 One of the hangars on the base.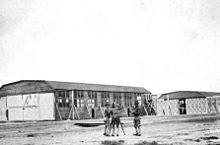 Backstory and Context
The Gerstner Airfield
The Gerstner Airfield was the first military airfield created by the U.S. Army Air Service in 1917 . The base was named after Lieutenant Frederick J. Gerstner after he died in the efforts of testing the first military airplane. This large air base was located fifteen miles southeast of Lake Charles in Calcasieu Parish. The citizens pushed to get a military base and the Lake Charles Chamber of Commerce thought the flatlands of the city would be perfect for an airbase. The base stretched across thousands of acres; it contained about twenty-four hangars, ninety support structures, a railroad that connected it to Lake Charles, twelve barracks, warehouses, mess halls, and many office buildings.
The airbase was used as a World War I aviation training camp. Students interested in becoming military pilots attended a university where they learned about airplane operations, astronomy, and generally the fundamentals of flying. From there, they moved to an airbase, such as Gerstner Airfield, to learn how to fly as well as other skills such as advanced flying and gunnery courses. Many exceptional pilots were trained here such as General Jimmy Doolittle, Captain Ernest Harmon, General Claire Chennault, and Captain Maxwell Kirby. This airbase was only present for the last year of the war, though the instructors still graduated 499 men as cadets. Despite these successes, there were also failures throughout the years. There were about twelve men who died during the training process due to many different reasons such as malfunctions, crashes, and weather problems. The field was created to house about 2,000 men but ended having to care for about 3,000 men instead, so the 1,000 extra set up tents and slept in them.
Along with the training of soldiers, many aircrafts were sent here for repair and storage. Since aircraft technology was primitive during this time, there was often some kind of problem, and this was also a reason for the many deaths that occurred. Airplanes were held there for repair as well as for flying, but many could not be fixed due to the lack of materials. Only one-third of the airplanes were repaired successfully while the rest were grounded.
This air center produced some firsts, such as flight ambulance and radio-controlled flying techniques. Colonial C.C. Culver created the radios that connected the airplanes to the air traffic controllers on the ground, which was a major breakthrough and a big step for the aircraft industry. The flight ambulance was created because officers worried that a plane had crashed if the pilot did not arrive when he said he would. They got the idea to load an aircraft with medical supplies and travel across the flight plan of the missing plane and by doing that, they were able to locate crashes and help the victims.
On August 6, 1918, a hurricane passed through the Lake Charles area and destroyed the airfield. Seven of the hangars were wrecked, and the others needed repairs, as did most of the buildings. Ninety-six airplanes were ruined and three men died. The cost of repairs averaged to about 1 million dollars. The airfield was never rebuilt.
After the war was over, Gerstner Airfield shut down, since there was no reason to keep it up anymore. It was demolished in 1921. The field is now privately owned.
Sources
"City of Lake Charles, Louisiana." Emergency Preparedness / City of Lake Charles, Louisiana. Accessed February 21, 2019. https://www.cityoflakecharles.com/egov/apps/document/center.egov?view=item
Cormier, Adley. "Gerstner Airfield Field." Historic Gerstner Airfield Field. Accessed February 21, 2019. http://www.calcasieupreservation.com/index.php?option=com_content&view=article&id=304:historic-gerstner-airfield-field&catid=129:gerstner-air-field&Itemid=173.
"Gerstner Field Historical Marker." Historical Marker. November 05, 2017. Accessed April 29, 2019. https://www.hmdb.org/marker.asp?marker=109525.
Gerstner Field Records. Technical paper no. Collection No. 053. Archives and Special Collections Department, McNeese State University. Accessed February 19, 2019. http://ereserves.mcneese.edu/depts/archive/pdfs/GERSTNER053.pdf.
"Historic Military Sites." Visit Lake Charles. Accessed April 29, 2019. https://www.visitlakecharles.org/things-to-do/history/historic-military-sites/.
Kingery, Don. "Gerstner Field: Bright Promise, but Dark Star." Accessed February 18, 2019. http://www.louisiana101.com/rr_GerstnerField2013.pdf.
Additional Information