Glen Canyon Park
Introduction
Glen Canyon Park is located in San Fransico, California. With 70 acres of land, there is room for lots to do. Its community is dedicated to persevering its history and wildlife. Recreational facilities such as tennis courts, ball fields, playground, and trails, help advocate and give appreciation to the beauty of the area. This park gives a relaxing feel for the locals since the big city life is just shortly away. Its rich history gives tourist and even the locals a better understanding of how that area has changed over the years. From ranching and successful farming to holding some of the firsts for this country.
Images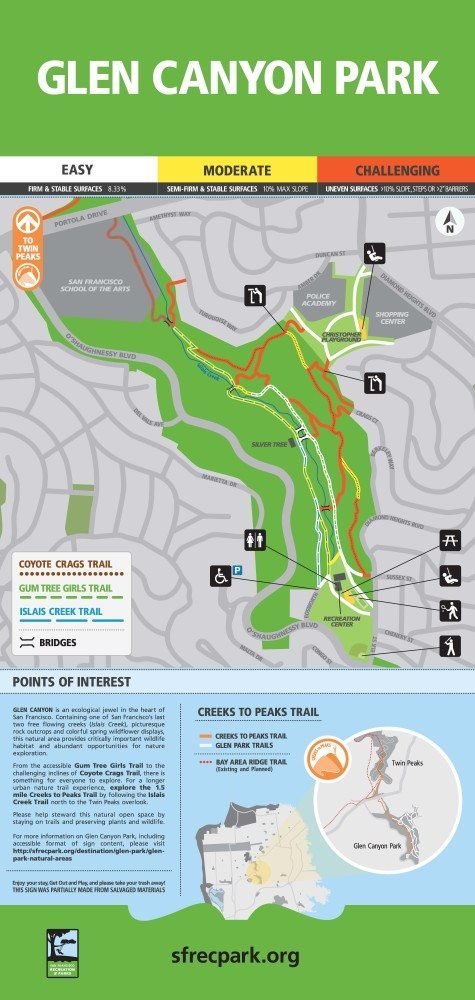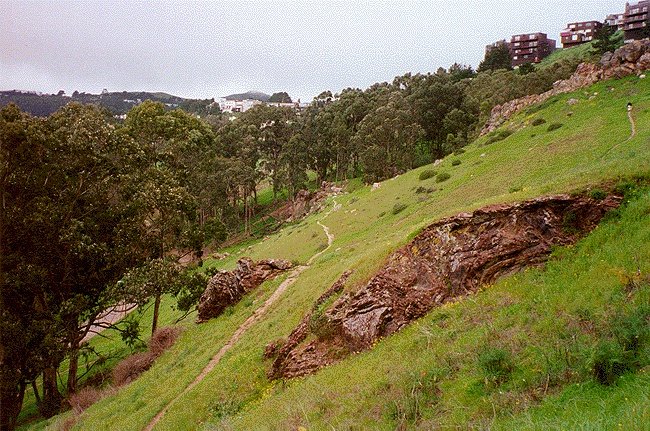 Backstory and Context
Glen Canyon Park is 70 acres of wildlife. It is a city park that offers many recreation options to choose from. This is including, hiking, ball fields, playgrounds, rope course, and tennis courts. It is home to vast trees, grasslands, a small creek, and a deep canyon. It is home to those who are advert rock climbers. Islais Creek provides the only creek with public access in all of San Francisco. It flows from the park and then exits through the bay.

During the 1600s-1800s, California was colonized by Mexico. Overall, this park is a remote grassland, which provided shelter for the colonists and a good place to go hunting. During this time, most of the land was part of a large estate named Rancho San Miguel. It was a big place for cattle ranching. It was also a big hit during the Gold Rush time period. Because of the great canyon, it was used for thieves who would hide. After American got control of California, Alfred Nobel leased land from the original owner of the ranch. He provided the first dynamite factory in America. The factory was called The Giant Powder Company. It began production of March 19th, 1868. The factory was shy of two years of existence when it caught fire.
Because of this park, the adjacent neighborhoods surrounding was named Glen Park. This area back in the day was named no man's land, and that no one should go because there were no roads, and it very hard to travel too. The railroad in 1864 brought in rail service to develop the land. This brought in more farming around in the area. By then, many farmers took over the land surrounding Glen Canyon and some even in the area. Those living there now will notice a lot of Eucalyptus trees. The Wilson milk ranch farmers planted these trees to stop windbreak at their farm. A.S Baldwin is the person to blame on creating this neighborhood. He had a great idea to bring attraction. He tried to make popularity to the fact that there could be an amusement park, a zoo, bowling alley, and other popular attraction across the canyon. Many developers and engineers sketched out a plan, but due to an earthquake, the plan was never carried out. With the idea to build a city, he was successful overall. Sales were not booming at first because people did not like the idea of people walking over their land to get to Glen Canyon Park. A big earthquake that caused a fire would soon boom the production of sales. People left the inner city to this area around Glen Canyon. He is successful in bringing knowledge of the park to other people. It brought advocacy to the wildlife and helped people appreciate it today.


In 1922 the San Francisco Recreation and Parks got the property and turned it into a playground. They did this to protect the land for future purposes. In the 1930-1960s many improvements were made to this park. Bridges, trails, recreation centers, and even camps were built to cherish the land. The 1960s was hit with a tough challenge. There were many attempts by numerous people to build a highway through Glen Canyon. They formed a group to save the park. Advocacy for parks a big part of keeping them alive. "Gum Tree ladies," is a group of women who are local. This group support, defend and protect Glen Canyon Park. Other groups such as The Friends of Glen Canyon Park and Glen Park Association all come together for the same reason. That is to protect this area's natural wildlife and what it has to offer.
Sources
History of "Glen Park Among the Pines". glenparkhistory. . Accessed February 19, 2019. http://glenparkhistory.wixsite.com/glenparkhistory/glen-park-c1z92.

Bevk, Alex. A Dynamite History for Glen Canyon. curbed. December 03, 2012. Accessed February 19, 2019. https://sf.curbed.com/2012/12/3/10300274/a-dynamite-history-for-glen-canyon.

Glen Canyon Park. San Francisco Recreation & Parks. . Accessed February 24, 2019. https://sfrecpark.org/destination/glen-park/.


Additional Information