Kakaako Pumping Station (1900-1955)
Introduction
As Hawaii (and Honolulu) grew, so did urban issues including disease associated with unclean drinking water. From 1896 to 1900, officials financed the construction of a modern sewer system which included this pumping station which pushed the island's sewage 1,200 feet out to sea. This historic building operated as the primary pumping station for the area near Waikiki until 1955. In 2014, efforts began to convert the historic building into the Na Kupuna Makamae (The Beloved Kupuna) Center for senior citizens. To see the pumping station is to understand the constant battle created by urbanization, once deemed a "flush and forget" society by environmental historian, Theodore Steinberg. Urban locations must always find a way to drink from clean water while simultaneously using that water to dispose of waste. Thus, as Oahu grew, so did its urban problems and the pumping station served as its first line of defense against one of its most significant issues -- disease related to unclean water.
Images
Kakaako Pumping Station is listed on the National Register of Historic Places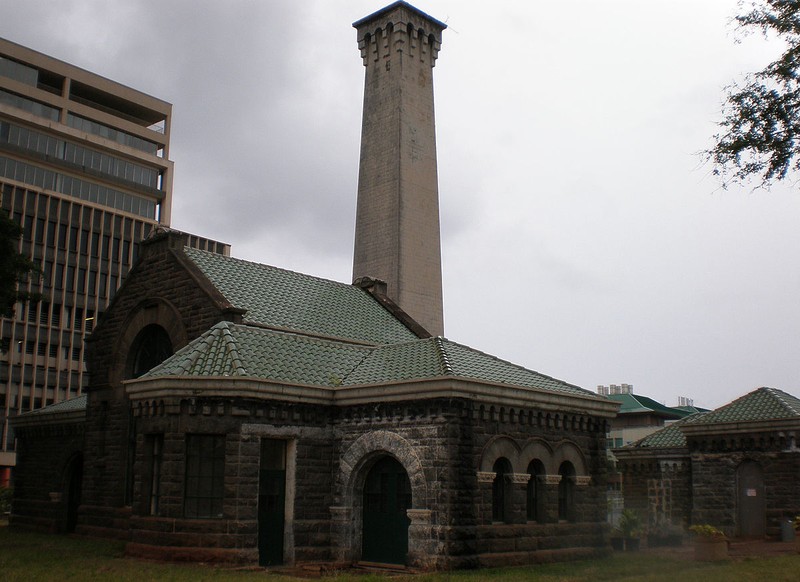 Backstory and Context
The growth of Honolulu, like many cities of the nineteenth century, resulted in many urban issues that needed to be resolved such as disease due to unclean water. The Kakaako Pumping Station was completed in 1900 and is comprised of Hawaiian-cut bluestone and built utilizing the Industrial Romanesque style. This pumping station functioned as a significant part of Honolulu's first professionally planned sewage disposal system which was developed in the final years of the 19th century. The system was upgraded through the years and eventually pushed sewage as far as 1200 feet from the island and into the deep waters of the Pacific.
Honolulu grew to a city of nearly 30,000 people by the turn of the twentieth century. With this growth came outbreaks of smallpox, as well as two cholera and one typhus epidemics between 1853 and 1895. These diseases claimed many lives. As was the case in most major cities late in the nineteenth century (after Louis Pasteur published his germ theory in 1861 that linked bacteria to disease), officials understood the need to improve the local water supply.
In 1896, The Republic of Hawaii hired acclaimed New York Sanitary Engineer, Mr. Rudolph Hering, to design a sewer system. He recommended developing a sewage network that would separately carry stormwater and sewage. Three years later, in 1899, construction started on sewer-lines that were laid out in a gravity flow pattern that settled at a low point, where the historic pumping station now occupies. O.G. Traphagen (who also designed the Moana Hotel on Waikiki Beach) designed the Kakaako Pumping Station that opened in 1900. The station housed steam-powered pumps that carried the sewage 1,200 feet from shore and into the sea.
In 1925, a brick addition with additional pumps was added on the southwestern side of the pumping station. And then, in 1939, a new pumping station (connected to the original station) replaced the original pumps, which operated until 1955 when the nearby Ala Moana Pumping Station opened and replaced the historic station which continued to serve the city as a backup.
Though the pumping station solved some of the problems associated with urban growth, Hawaii's continued population boom, massive tourism industry, and abundance of marine traffic mean sewage remains a constant issue. In 2006, various breakdowns led to a situation that forced officials to dump tremendous amounts of contaminated water into a nearby canal. This was disastrous as the ocean and marine life must absorb the sewage.

Sources
Cummins, Gary. "Nomination Form: Kakaako Pumping Station." National Register of Historic Places.
nps.gov.
October 4, 1978. https://npgallery.nps.gov/GetAsset/a9f4b553-fcb4-46d8-b256-6ee6547564f4/
"Historic Kakaako Pumping Station Slated for New Life as "The Beloved Kupuna" Senior Center." Historic Hawaii Foundation. historichawaii.org. Accessed February 15, 2019. https://historichawaii.org/2014/09/11/historic-kakaako-pumping-station-slated-for-new-life-as-the-beloved-kupuna-senior-center/

Rosenberg, Charles E. The Cholera Years: The United States in 1832, 1849, and 1866. Chicago: The University of Chicago Press, 1987.

Steinberg, Ted. Down to Earth: Nature's Role in America's History. New York: Oxford University Press, 2009.
Venzon, Nel C. "Massive Discharge of Untreated Sewage into the Ala Wai Canal (Oahu, Hawaii): A Threat to Waikiki's Waters?"
Journal of Environmental Health
70, no. 5 (2007): 25-31. http://www.jstor.org/stable/26327533.
Additional Information