Battle for Texas: The Experience
Introduction
Located just a few blocks away from The Alamo, this interactive museum-like experience can be found in the Shops at River Center. Designed to entertain visitors who arrive in the River Walk, this for-profit "edutainment" gallery reinforces the popular interpretation of the Battle of the Alamo. At the same time, the galleries of this space are also full of artifacts from the time period and provide an opportunity to explore the way that the Alamo has been interpreted.
Images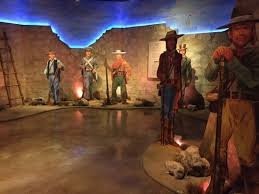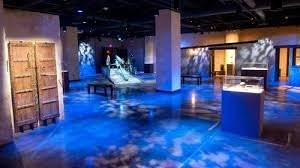 Backstory and Context
In December 1835, during Texas' war for independence from Mexico, a group of Texian volunteer soldiers occupied a former Franciscan mission located near the present-day city of San Antonio. On February 23, 1836, a Mexican force numbering in the thousands and led by General Antonio Lopez de Santa Anna began a siege of the mission which had been converted to a makeshift fort by the men inside. Though vastly outnumbered, the Alamo's 200 defenders, commanded by James Bowie and William Travis and including the famed frontiersman Davy Crockett, held out courageously for 13 days before the Mexican invaders finally overpowered them. Texas Declaration of Independence was the formal declaration of independence of the Republic of Texas from Mexico in the Texas Revolution. It was adopted at the Convention of 1836 at Washington-on-the-Brazos on March 2, 1836, and formally signed the next day.

Although a bloody defeat, the Battle of the Alamo became an enduring symbol for Texans who favored independence from Mexico. Today, the act of resistance is central to the identity of many Texans. This experiential display of that history blends reenactors with technology and should appeal to families. The organization that operates the space offer an interactive audio guide app for smartphones as well as 250 artifacts in the physical exhibit.

Sources
Battle of the Alamo. History Net. . Accessed February 15, 2019. https://www.historynet.com/battle-of-the-alamo.

The Alamo. History. March 04, 2010. Accessed February 16, 2019. https://www.history.com/topics/mexico/alamo.

The Experience. Battle for Texas. . Accessed February 16, 2019. http://battlefortexas.com/.


Additional Information