Mosby Museum
Introduction
The Mosby Museum preserves and shares the history of the Civil War and the career of Confederate raider John S. Mosby. The museum is located in Brentmoor, an Italian Villa-style building which was completed in 1861 and was originally owned by Edward M. Spilman. Confederate and Union troops repeatedly occupied the town.The home remained in the Spilman family until the early 1870's when Mosby purchased the house.
Images
The Mosby Museum preserves the history of Confederate colonel and guerrilla John S. Mosby.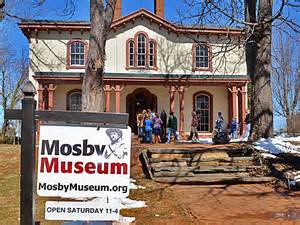 John S. Mosby started his career as a lawyer until the Civil War started, in which he joined the Confederate army, despite being against secession.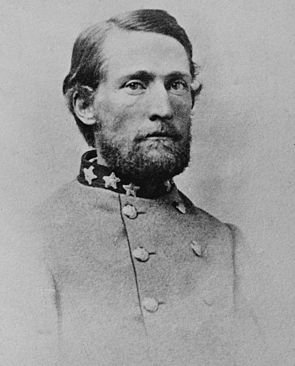 Mosby and his rangers used guerrilla warfare to attack Union held areas and Union armies. Mosby's Rangers were known for their ability to attack and retreat fast.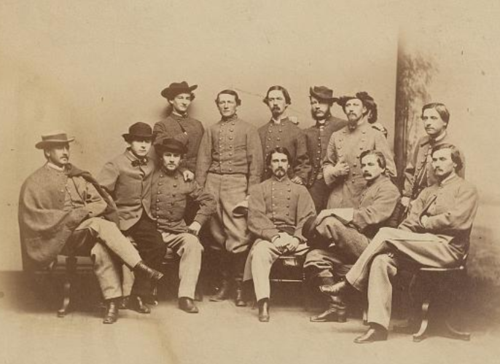 Backstory and Context
John S. Mosby was born in 1833 in Powhatan County, Virginia. While he was a kid he was tiny and sickly and was bullied often in school. Although he was weak in size and health he would defend himself from those who bullied him, however he would never win these fights. When he was 19, Mosby shot a bully in the neck with a pistol at the University of Virginia, injuring but not killing him; Mosby was arrested for this act, sentenced to one year in prison, had to pay $500, and was not allowed to return to the school. His punishment was dismissed near Christmas of 1853 by Governor Joseph Johnson. This experience led him to researching law, and he studied under his trial's prosecuting attorney. In 1855, he started his practice, and married Pauline Clark in December of 1856, whose father was a well-known lawyer from Kentucky.
Mosby was against secession but joined the Confederate army as a private in the 1st Virginia Cavalry in the Civil War. By February 1862 he became first lieutenant and worked as adjutant of the regiment, however he had differences with commander William Jones and stepped down in April. He then signed on to be a staff courier and scout for J.E.B. "Jeb" Stuart, whom he respected and thought highly of. Details Mosby gave Stuart assisted his "Ride Around McClellan" in June of 1862 in the Peninsula Campaign. Mosby was also held as a prisoner of war for a short time in July of 1862 until he was exchanged. In 1863 Mosby created a group of partisan rangers at the discretion of Confederate Secretary of War James Seddon. Although Stuart and Robert E. Lee wanted the men to be led by the 1st Virginia Cavalry, Mosby liked carrying out actions beyond the regular military structure and thought that guerrilla warfare would be helpful in protecting Virginia and the Confederacy. Mosby's partisans were called Company A, 43rd Virginia Cavalry Battalion and were a section of the Provisional Army of Confederate States. Mosby himself became a major and eventually a colonel.
Because Mosby's men were not in a regular branch of the army, they were gathered to attack a certain target and scattered once the attack was over, making them difficult to capture. This tendency to attack fast and retreat fast, gave Mosby the name, "Gray Ghost." Frequently, and while in disguise, Mosby would inspect a potential target prior to attacking. Mosby and his men gained notoriety on March 9, 1863 when they attacked the town of Fairfax Court House in which Union Brigadier General Edwin H. Stoughton and several horses were taken hostage. The main location of Mosby's activities in Northern Virginia started to be called "Mosby's Confederacy," however the rangers attacked all the way up to Pennsylvania. Mosby's Rangers or Raiders usually halted supply lines, took Union messengers hostage, passed along information to the main Confederate army, and annoyed Federal troops in Northern Virginia. This annoyance eventually led to the killing of some of Mosby's guerrillas, prompting Mosby to respond with the killing of Union prisoners. Mosby and Union General Philip Sheridan agreed to stop the killings after a request made from Mosby.
Mosby was injured seven times in the Civil War. After Lee surrendered Mosby chose to dissolve his men on April 21, 1865 instead of officially surrendering. Due to his role beyond the regular army, Mosby was still a wanted man until acquitted in 1866 by Ulysses S. Grant; the two men became friends for the rest of their lives. Mosby backed Grant's presidential campaigns of 1868 and 1872, causing Southerners to turn on him. Unbeknownst to the Southerners, Mosby also persuaded Grant to give former Confederates their rights back. Mosby upset Southerners further when he denounced the Lost Cause story that tried to disconnect slavery and the war.
From 1878-1885 Mosby served as U.S. Consul to Hong Kong. Additionally, he went back to being a lawyer, wrote books, became a travelling speaker, and served in other federal government positions. On May 30, 1916, Memorial Day, he passed away in Washington D.C. The museum preserves the history of Mosby and his family as well as the house's architect Judge Edward Spilman, and Senator Eppa Hunton, who had served the Confederacy as a Brigadier General and bought the home from Mosby in 1877.
Sources
"Historic Sites: John Singleton Mosby House Museum." Virginia is for Lovers. Accessed on April 7, 2018. https://www.Virginia.org/listings/HistoricSites/JohnSingletonMosbyHouseMuseum/
"John Mosby." HistoryNet. Accessed on April 7, 2018. http://www.historynet.com/john-mosby
"John Singleton Mosby." National Park Service. Accessed on April 7, 2018. https://www.nps.gov/people/john-singleton-mosby.htm

Additional Information