Hyams Family Tomb
Introduction
The Chapman H. Hyams family tomb, located in Metarie Cemetery, is home to the infamous Weeping Angel statue. Hyams was a millionaire stockbroker in the South, as well as an art collector. The Hyams family tomb is in the style of Greek temples, with columns on every side. Inside the mausoleum is a blue stained-glass window, through which sunlight shines on the statue of a weeping angel.
Images
Photo Credit: Ashley Watson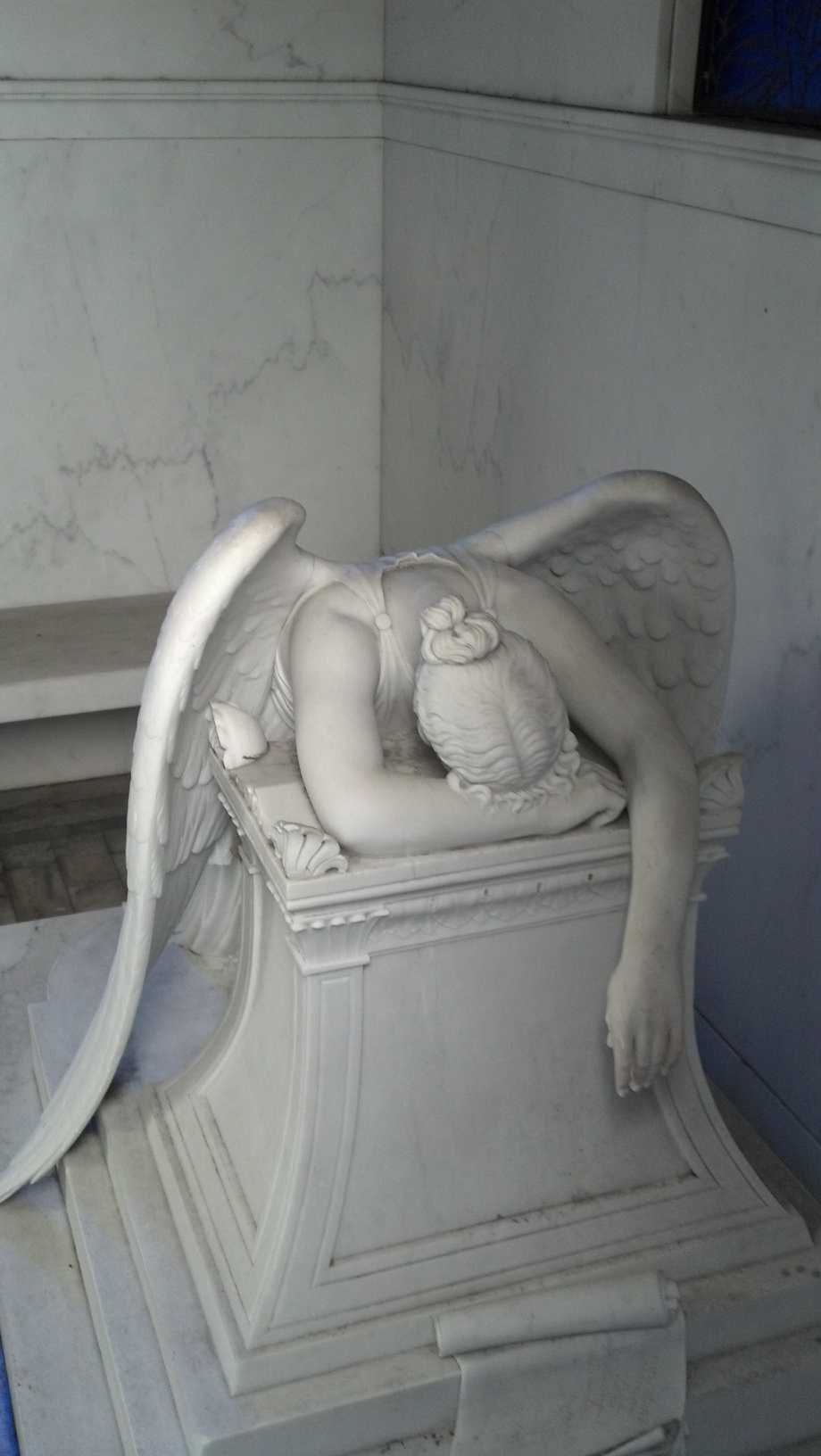 Photo Credit: Ashley Watson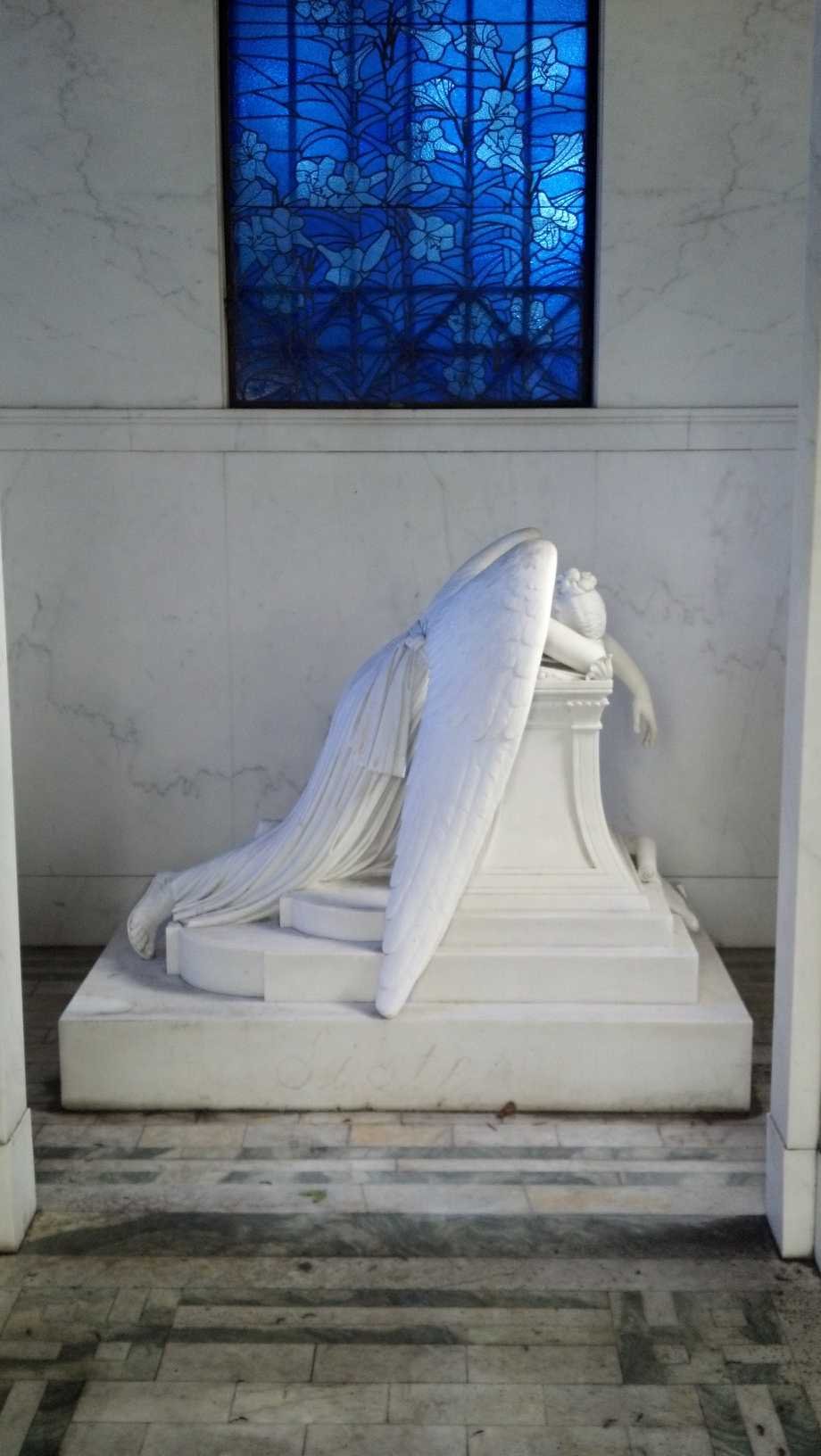 Backstory and Context
The Metairie Cemetery was originally built as a track for horse racing, a popular activity in antebellum New Orleans. The track also briefly served as a Confederate campsite before being turned into a cemetery. 1 The track was converted into a cemetery after it was bought by Charles T. Howard in 1872. Today, remnants of the original 1838 track can be seen, as the original race course was incorporated into the cemetery's design by architect Benjamin Morgan Harrod. 2 Metairie Cemetery houses the remains of many notable Louisianians, including nine governors, three Confederate generals, and almost fifty kings of Carnival. There are about 9,000 people buried in the cemetery, and many of their graves have attracted visitors for decades because of their grandeur and beauty.
Millionaire Chapman Henry Hyams was born on July 21, 1838 and died on April 19, 1923. Hyams lived a lavish. comfortable lifestyle, and his mausoleum reflected that. During his life, Hyams had holdings in many businesses, including the St. Charles Hotel Company and the Times-Picayune Publishing Company. He was also a member of many organizations, like the Southern Yacht Club, among others. 3
This tomb was designed by Favrot & Livadais, a popular architecture firm at the time. The tomb is modeled after a Grecian temple, with Ionic columns on all sides. The famous Weeping Angel or Angel of Grief statue is unique, but others like it can be found in Rome and on the campus of Stanford University. Hyams' angel, though, is the only one with a scroll at the base. The scroll lists the names of a dozen deceased artists from New Orleans. 4
Sources
1. Black, Annetta. Metairie Cemetery. Atlas Obscura. . Accessed February 07, 2019. https://www.atlasobscura.com/places/metairie-cemetery-new-orleans.
2. Scott, Mike. From horses to corpses: How Metairie Race Course became Metairie Cemetery. NOLA.com. April 12, 2017. Accessed February 07, 2019. https://www.nola.com/300/2017/04/metaire_race_course_cemetery_04122017.html.
3. Chapman Henry Hyams. FindAGrave.com. May 14, 2008. Accessed February 07, 2019.
https://www.findagrave.com/memorial/26824321/chapman-henry-hyams.
4. Foltz, Jonelle. Hidden Artwork Abounds In The 'City Of The Dead'. clarionherald.org. October 28, 2017. Accessed February 07, 2019. https://clarionherald.org/2017/10/28/hidden-artwork-abounds-in-the-city-of-the- dead/.