The Steamboat House
Introduction
The Emmer-Hughes House, or Steamboat House, was constructed in 1896 and is located in New Iberia, Louisiana. This Victorian-style house was the residence of numerous important Louisianans ranging from politicians to bankers; individuals such as New Iberia Mayor John Emmer, Lieutenant Governor Paul Cyr, and banker George Lebau all resided here over the decades. The building is also renowned for being the largest Victorian-style home in the vicinity of New Iberia and one of the most detailed examples of Eastlake architecture in the entire state. It was remodeled during the 1940s, and it has been listed on the National Register of Historic Places since July 27, 1979.
Images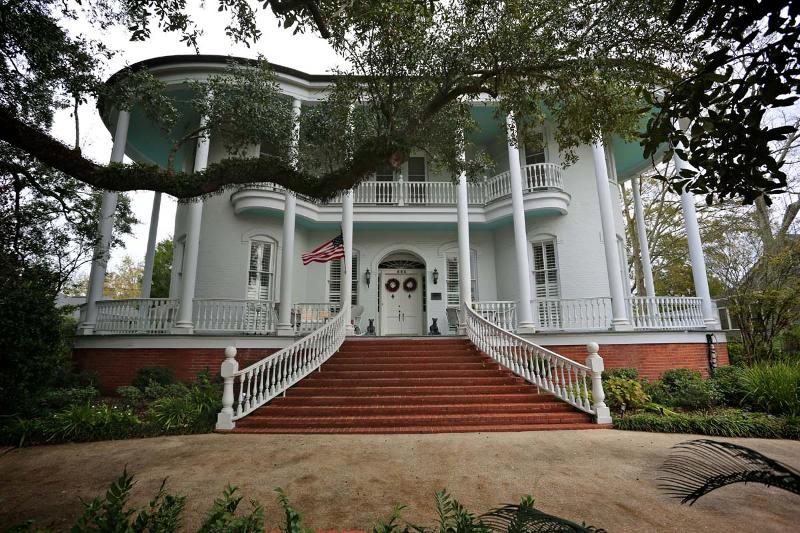 Backstory and Context
History can be told through books, battlefields, or even buildings. These notorious buildings make their mark on the fabric of history through their architectural imprint, cultural significance, and their famous inhabitants. The Emmer-Hughes House, also known as the Steamboat House, easily meets the qualifications for a historical home. This Victorian-style home was constructed in New Iberia, Louisiana during 1896, and it is located on 623 East Main Street. The Steamboat House is known throughout Louisiana for its historical imprint and has been on the National Register of Historic Places since 1979. The craftsmanship of this home is impressive, and some of the previous owners help to elevate the house to a high level of significance for Louisianans.

The Steamboat House has a powerful political background, courtesy of some of its previous inhabitants. The man who first constructed this home was John Emmer, a farmer and brickyard owner. He eventually served as New Iberia's mayor from 1889-1891.1 However, the house's affiliation with politics does not end there; during the 1920s and 1930s, Dr. Paul N. Cyr owned the Steamboat House. Dr. Cyr was the Louisiana's lieutenant governor during the Huey P. Long, Jr. gubernatorial administration. He was also a dentist and surface geologist. Cyr is notorious for becoming one of Long's most bitter political rivals soon after their elections in 1928. This shared animosity was created after a dispute over a murder case. In this case, a physician named Thomas A. Dreher contracted his handyman to murder an electrician named James LaBoeuf. The reasoning for the murder was simple, Dreher was having an affair with LaBoeuf's wife, Ada, and Dreher wanted James out of the picture. Long wanted the couple to be executed, but Cyr desired for lifetime imprisonment. They entered a fervent debate over this topic in February 1929, culminating with Ada and Dreher being hung. Ever since that situation, Cyr and Long were at each other's throats. Cyr even tried to sue Long out of office in 1932. Long refused to allow Cyr to be "governor of this state for one minute."2 Long went as far as remaining as Louisiana's governor even though he had been elected to the U.S. senate in 1930. Cyr never was elected governor.2

Many of the residents of this house contributed greatly to the development of New Iberia and Louisiana. John Emmer owned a large quantity of real estate and constructed many buildings using his own bricks, including the Steamboat House. He was also the first person to drill oil wells in Iberia parish. Emmer's son-in-law, George Lebau, was also a major contributor to modern New Iberia, as he was the chairman of the board and president of the New Iberia National Bank.1 Lastly, Dr. Paul Cyr had discovered large oil deposits in Plaquemines parish and was the director of the First National Bank of Jeanerette. 2

Even without its prominent inhabitants, the Steamboat House would still have been a landmark due to its elaborate and unique spin on Victorian architecture. Victorian architecture was built around the late nineteenth century and early twentieth century, and it had many different variations and styles. Gothic Revival, Queen Anne, and Eastlake are a few of the numerous Victorian styles. The Steamboat House was built in the Eastlake style, which focuses on detail and a "light, airy aesthetic of furniture and architecture."3 This home contains two large Eastlake galleries which are considered to be among the most detailed in the state. Double turrets were constructed at the front of the house, and this is unusual for Victorian houses; most houses only have a single turret. Lastly, it is renowned for being the largest Victorian-style home in the vicinity of New Iberia.3

With the combination of its detailed architecture and its many prominent inhabitants, the Steamboat House is truly one for the history books. The people in this house not only resided in New Iberia, but truly helped mold it into the city it is presently. The house itself is a great example of Eastlake architecture and is a sight to behold. With all of these factors, there is no question that the Steamboat House is a historical home.





Sources
1 "National Register of Historic Places Inventory/Nomination: Steamboat House." NPGallery. Accessed February 22, 2019. https://npgallery.nps.gov/NRHP/GetAsset/NRHP/79001066_text.

2 "Paul N. Cyr." Revolvy. Accessed February 21, 2019. https://www.revolvy.com/page/Paul-N.-Cyr.

3 "Victorian Architecture, Homes from 1840 to 1900." Thoughtco. Accessed February 21, 2019. https://www.thoughtco.com/victorian-house-styles-1840-to-1900-178210.