Robert Fulton Birthplace
Introduction
Artist, designer and inventor, Robert Fulton, was born in this house in 1765. Best known for creating the first commercially viable steamboat, Fulton was also an accomplished artist and built and designed submarines and torpedoes. The farm on which Fulton was born passed to the Swift family and then to the state of Pennsylvania in 1969. It is now owned, maintained and operated as a historic house museum by the Southern Lancaster County Historical Society which opens it to the public during summer weekends. The Robert Fulton Birthplace was designated a National Historic Landmark in 1964.
Images
Fulton's original birthplace was destroyed by fire in 1822 and rebuilt from the rubble.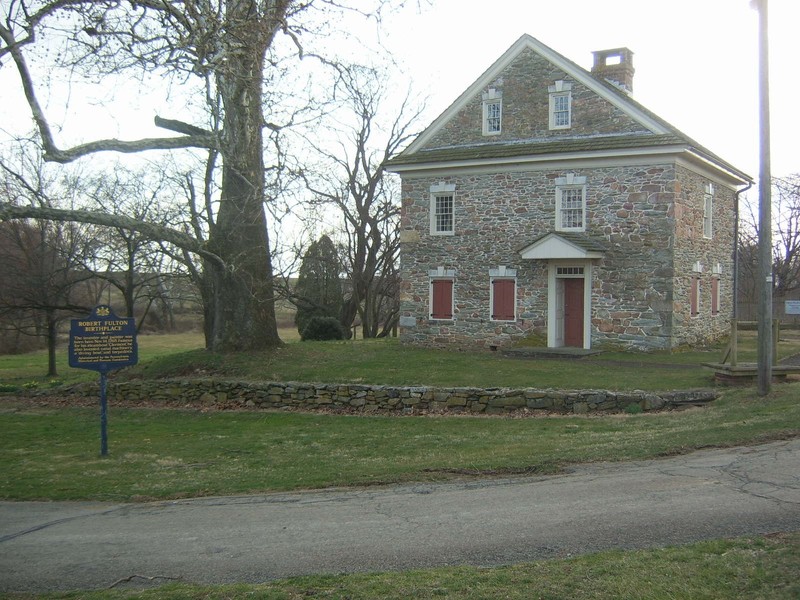 The home's rustic kitchen and dining area.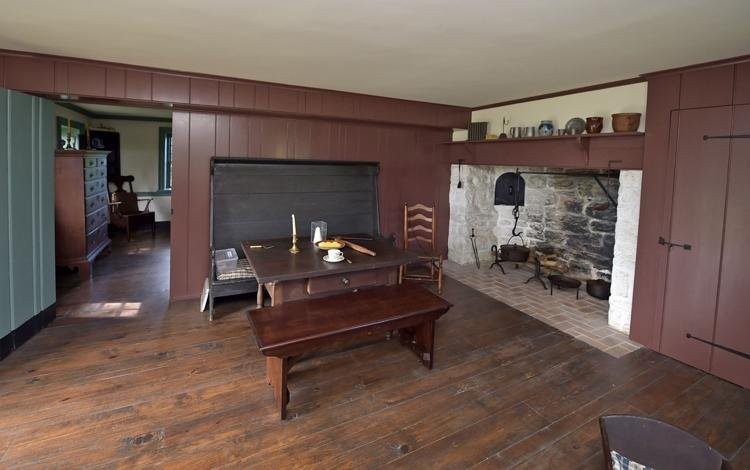 A portrait of Fulton with a drawing of the Clermont and a drawing of his submarine design.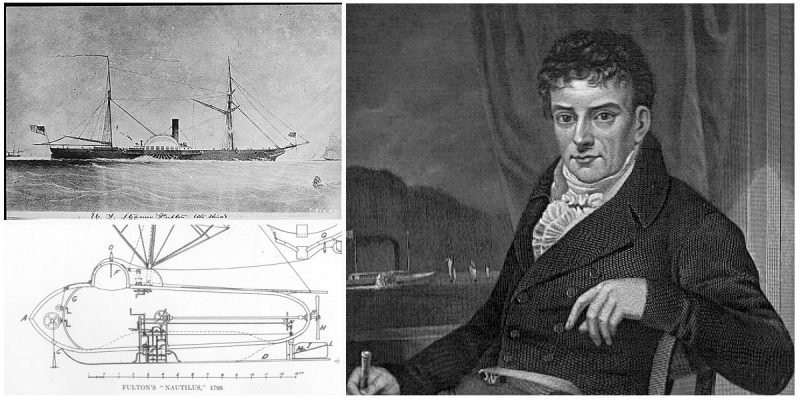 A replica of the Clermont built to celebrate the 100th anniversary of its launch.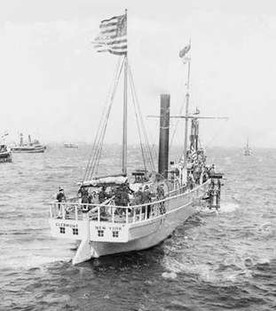 Civil War period actors relax on the grounds of Fulton's Birthplace. A Civil WA\ar re-enactment has become an annual event at the site.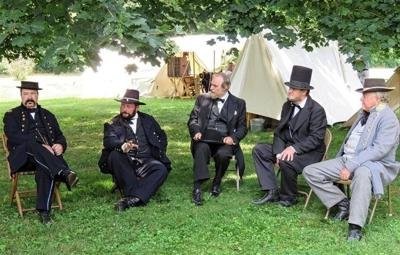 Backstory and Context
The Fulton family arrived in Lancaster, from Ireland, in 1735 and later purchased the 400-acre farm on which Robert Fulton was born in 1765. However, the farming venture proved less than fruitful and the family moved back to Lancaster soon after young Robert was born. By 1782, Fulton was living in Philadelphia where he earned a living as a painter of miniatures (small paintings for lockets or display) and landscapes. He eventually tired of this endeavor and sought greater challenges in Europe.
He arrived in London in 1786 and stayed with a famous artist and friend of the family, Benjamin West. He continued to paint to earn money and indulged his hobby of mechanical exploration. The canal craze had just hit England and Fulton designed and patented an inclined plane for canal boats and a dredging machine. He also met textile magnate and utopian engineer, Robert Owen, who listened to Fulton's ideas on steam power and agreed to fund his experiments. In the late 18th century, Fulton moved on to Paris where he designed and built a submarine called the Nautilus which plied the waters of the Seine. He also built an initially successful steamboat which later sank.
He returned to the U.S. in 1806 and, financed by Robert Livingston, who he met in Paris, continued to experiment with steam powered watercraft. In 1807, he successfully launched the Clermont on the Hudson River in New York. However, this was not the first steamboat launched in America, John Fitch had successfully tested one in 1787. What Fulton gets credit for, and deservedly so, is creating the first commercially successful steamboat, as the Clermont continued to ferry passengers between New York City and Albany. He went on to build the first steam powered war ship, the Demologos, and built the first steamboat that travelled from Pittsburgh to New Orleans. Fulton died in 1815 after contracting pneumonia after saving a friend from the icy Hudson River. He is buried in the Trinity Church Cemetery in New York City.
As for his birthplace, the 2.5 story rubblestone and mortar farmhouse and acreage was purchased by the Swift family who retained possession until the 1960s. The farmhouse was destroyed by fire in 1822 and rebuilt from the remaining rubble. The state acquired the property in 1969 and it was restored to its 18th century appearance by the Pennsylvania Historical and Museum Commission. It was then deeded to the Southern Lancaster County Historical Society in 2017. The site, aside from the stone farmhouse, also contains the society's archives warehouse, a former tobacco barn that now houses a small gift shop, a granary, and a newer building that contains restrooms and a garden shed.
Sources
Greenwood, Richard. "National Register of Historic Places Nomination Form." United States Department of the Interior/National Parks Department. November, 1963. Accessed January 29, 2019. https://npgallery.nps.gov/NRHP/GetAsset/NHLS/66000670_text
Wright, Mary Ellen. "Society volunteers preserve Robert Fulton birthplace, history of southern Lancaster County." LancasterOnline. June 23, 2017. Accessed January 29, 2019. https://lancasteronline.com/features/together/society-volunteers-preserve-robert-fulton-birthplace-history-of-southern-lancaster/article_7cb1ea4c-57ff-11e7-bd88-672a8061c505.html
"Robert Fulton Birthplace." Southern Lancaster County Historical Society. Accessed January 29, 2019. http://www.southernlancasterhistory.org/robert-fulton-birthplace
"Robert Fulton." Encyclopedia.com. Accessed January 29, 2019. https://www.encyclopedia.com/people/science-and-technology/technology-biographies/robert-fulton
Additional Information