James Merrill House
Introduction
Located in the quaint town of Stonington, the James Merril House has been a National Historic Landmark since 2016 owing to its connection to the openly gay poet. James Merrill (1926-1995) was one of America's leading poets of the 20th century and received the Pulitzer Prize in poetry for his work "Divine Comedies." Other awards include the National Book Critics Circle Award in 1983 for his poem "The Changing Light at Sandover." His work didn't shy away from LGBTQ+ issues and themes.The Victorian architecture was built in 1901 and Merrill lived in an apartment within the building from 1954 to 1995 when he passed away from a heart attack. The property is currently owned and operated by the Stonington Village Improvement Association. The organization decided to leave everything in the apartment as Merrill had left it. The Association offers a writers-in-residence program at the house, where writers can stay and work here for periods ranging from two weeks to 4.5 months.
Images
The James Merrill House building was constructed in 1901. James lived in an apartment in the building.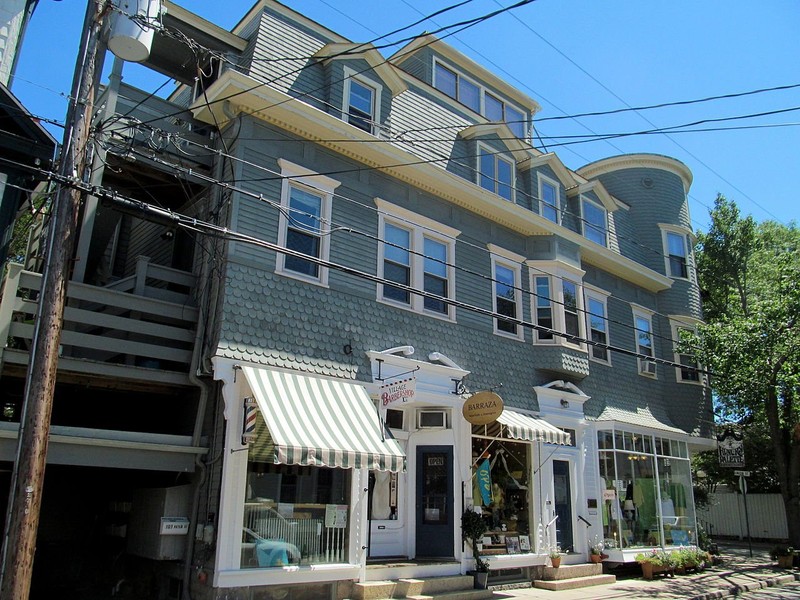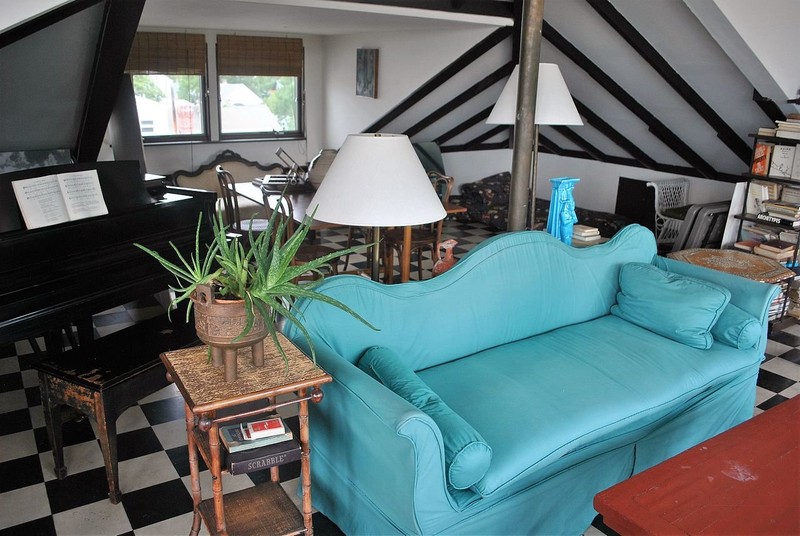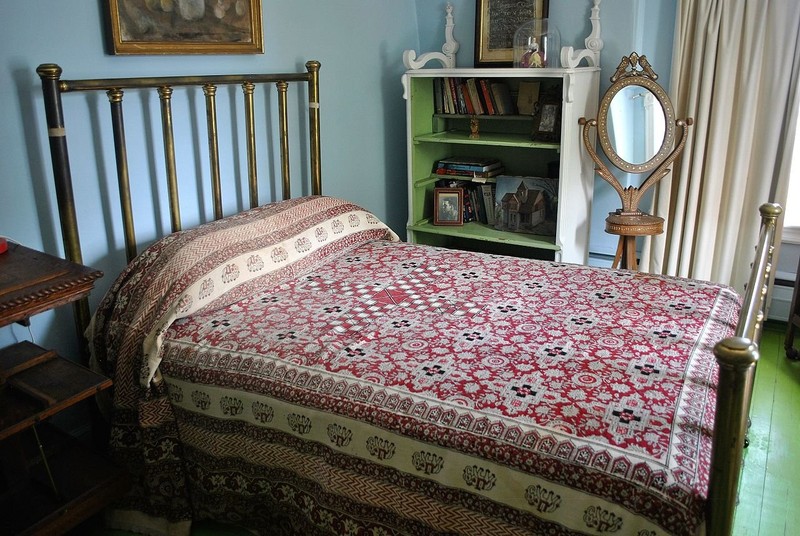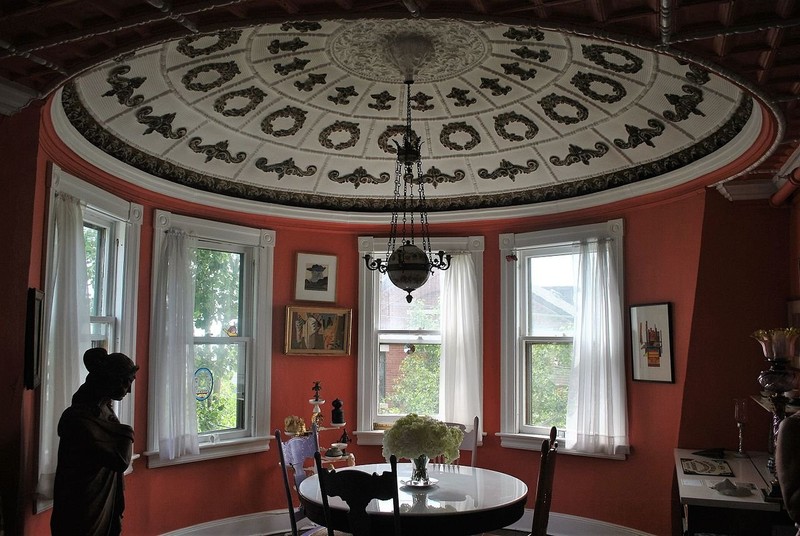 James Merrill (on the left) and his partner for three decades, David Jackson, pose for a picture.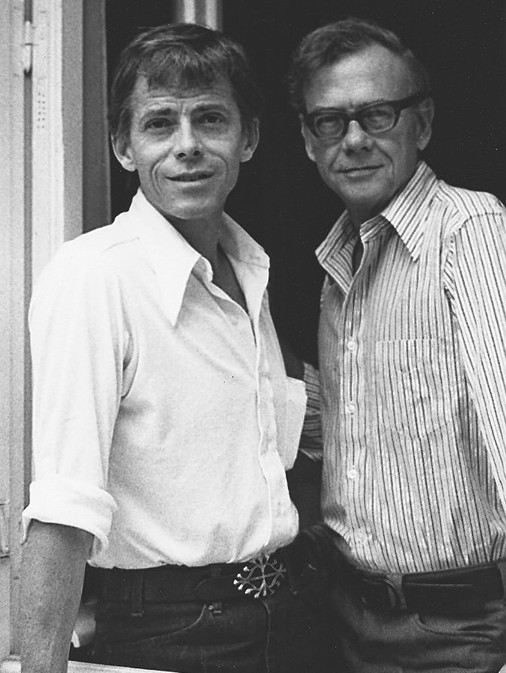 Backstory and Context
James Merrill was born in New York City in 1926. His parents were wealthy; his father was a founding partner of the investment firm Merrill Lynch and his mother was a reporter and publisher. As befitting a child to upper-class parents, James grew up in a privileged lifestyle. He and his family lived in a 50-room mansion called "The Orchard," which was located Hamptons on Long Island. He was taught German and French by a governess and attended a prestigious grammar school and then a boarding school as a teenager. It was there that he began to write poetry. His father was so impressed with James' talent that he had 100 poems published as a surprise to James.
James enrolled in Amherst College but was drafted into the U.S. Army and served for eight months. After the war, he went back to Amherst and graduated summa cum laude in 1947 with a degree in literature. In 1946, one of James' professors secretly published 100 copies of a collection of his poems called
The Black Swan
in Athens, Greece. Then in 1951, James published a much larger collection of poems titled
First Poems
in 1951. James met his partner of three decades, David Jackson, at a New York City comedy club in 1953. Just a year later, they moved to Stonington.
Merrill and Jackson lived in the house for 41 years. He wrote 25 volumes of poetry, two novels, three plays, essays and a memoir. His work didn't shy away from LGBTQ+ issues and themes. He also translated work from other poets into French, Portuguese, Dutch, and Greek. Merrill won the Library of Congress; first Bobbitt National Prize for Poetry, Yale University's Bollingen Prize for Poetry, two National Book Awards in Poetry, and a Medal of Honor for Literature from the National Arts Club.
Merrill wrote his long epic poem The Changing Light at Sandover at the home based upon his and his partner David Jackson's experiences with the spirit world via their Ouija board on the third floor of the home.
Although James came from a wealthy family, he chose to live modestly and worked to donate money to charity. To this end, he established the Ingram Merrill Foundation (Ingram was his mother's maiden name) in the 1950s to help fund literature and arts programs, as well as grants to talented writers.
James was elected to American Academy of Arts and Sciences in 1978 for his many achievements. In 1979, he became chancellor of the Academy of Amerian Poets and remained in that position until his death in 1995.
The house was added to the National Register of Historic Places on August 28, 2013.
Sources
"James Merrill." James Merrill House. Accessed January 29, 2019. http://jamesmerrillhouse.org/house/james-merrill.

Photos: Wikimedia Commons
https://commons.wikimedia.org/wiki/Category:James_Merrill_House

Sopelsa, Brooke. Home of Openly Gay Poet James Merrill Designated a National Landmark. NBC News. November 02, 2016. Accessed March 17, 2019. https://www.nbcnews.com/feature/nbc-out/home-openly-gay-poet-james-merrill-designated-national-landmark-n677111.


James Merrill House. National Park Service. July 28, 2017. Accessed March 17, 2019. https://www.nps.gov/places/james-merrill-house.htm.


Moor, Ashley. The 15 most important LGBTQ landmarks in the US. Matador Network. February 07, 2019. Accessed March 17, 2019. https://matadornetwork.com/read/important-lgbtq-landmarks-united-states/.


Ring, Trudy. Take a Tour of the Nation's Historic LGBT Landmarks. Advocate. October 19, 2016. Accessed March 17, 2019. https://www.advocate.com/arts-entertainment/2016/10/19/take-tour-nations-historic-lgbt-landmarks?pg=7#article-content.


Additional Information