Nellie Bly Historical Marker and Childhood Home
Introduction
Traveling the world in only 72 days was only one of Nellie Bly's great accomplishments. The Nellie Bly Historical Marker is located in Apollo, Pennsylvania, directly in front of Bly's childhood home. This marker is used to honor Bly, who was also a popular journalist throughout the mid to late 1880s. She was quite the activist, using her journalism career to investigate social justice issues and to advocate for women. Nellie's marker was erected on July 22, 1995 and is easily accessible to the public, and her childhood home is privately owned. The marker was put into place by the Pennsylvania Historical and Museum Commission.
Images
Photographed is Nellie Bly, the courageous journalist known for her undercover stunts, trip around the world in 72 days, and her deep concern for social justice issues and the well-being of others. She was born May 5, 1864 in Pennsylvania and died on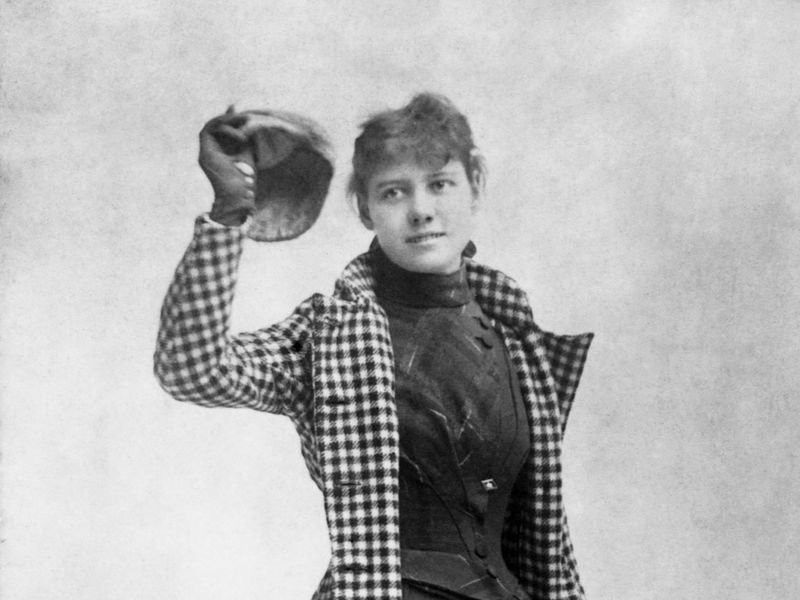 The image above shows a copy of Nellie Bly's article "Behind Asylum Bars". She wrote this article for the New York World in order to help prove she was capable and worthy of the position as a woman. An editor suggested that Nellie get into the asylum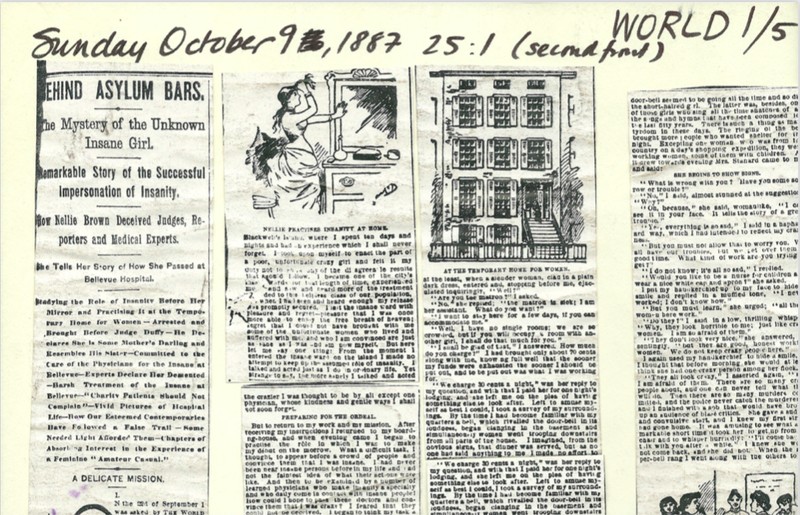 Photographed is a copy of Nellie Bly's popular article "Nellie Bly a Prisoner". The process to complete this article was far from simple. First, Nellie had to come up with a way to get into a jail. So, she stole money from a woman's purse (staged by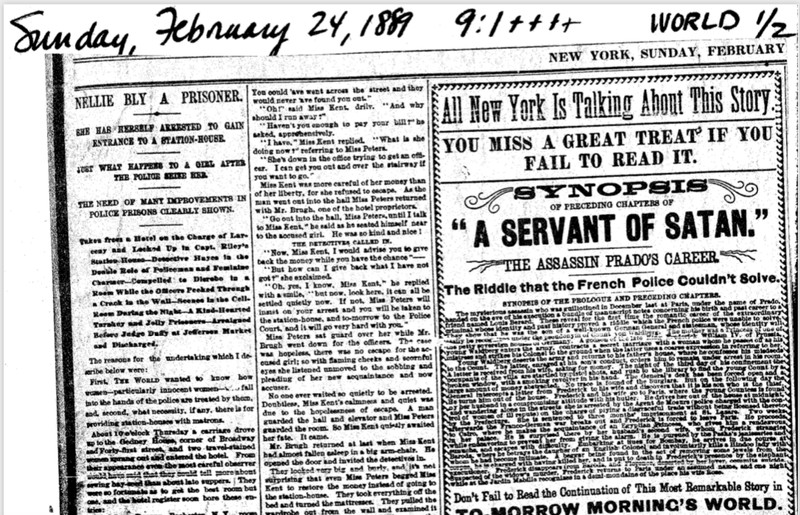 Nellie Bly's historical marker was erected in 1995. It honors Nellie Bly, the journalist known for traveling the entire world in 72 days, and her undercover stunts to expose social justice issues. The marker stands in front of Bly's childhood home in
Backstory and Context
Elizabeth Jane Cochran, later given the pen name Nellie Bly for her journalism career, was born on May 5th of 1864. Bly was one of fifteen children and lost her father at the age of six. When Nellie's father passed away, her family was not able to keep taking care of their home and land. This drove them to move to Pittsburg, where Nellie wrote the article that sparked her career in journalism. A man had written a letter to the local newspaper claiming that he did not know what to do with his unmarried daughters. A columnist from the paper responded, bashing the idea of women in the work place—suggesting that whoever wrote in should not push for their daughters to get a career. He believed women belonged at home, that they were the "fairer sex".
Many letters were written to the newspaper company after this article was published, but one caught their attention in particular— one written with phenomenal technique. Nellie showed up after a publisher for the company, George Madden, posted an ad in the paper asking whoever wrote the letter to come forward. Nellie turned her letter into an argumentative piece to be put in the paper, and the company, Pittsburg Dispatch, hired her. She was then given her pen name, Nellie Bly–the name that the public knew her by throughout her life, and what we still commonly call her today.
Soon after being hired, Nellie was becoming bored of the topics she was assigned, like fashion. She wanted to write about more important issues. So, she quit her job with the Pittsburg Dispatch, and traveled to Mexico for six months with her mother. Nellie's name was again found in the Pittsburg Dispatch, but not as an author. This time, Nellie was the one being written about, being named as a new foreign correspondent. On her trip, Nellie wrote about the widespread poverty of those in Mexico. She also wrote about their corrupt government system, their heavy tobacco use, soldiers smoking marijuana, and how many residents were addicted to playing the lottery. Nellie too reported on dictator Porfirio Diaz imprisoning a journalist, which put her in danger. So, she soon returned home and later wrote a book about her experience in Mexico titled "Six Months in Mexico".
Once back home, Bly was given a better position at the Pittsburg Dispatch as an arts reporter. Then, one day Nellie was not at work, but a letter was there in her place, reading that she was leaving for New York. Bly wanted to be a reporter in New York but was told no because she was a woman. So, in order to try and prove herself worthy of the position, Nellie was offering up some of her best article ideas to the managing editor of the New York World, John Cockerill. Cockerill had his own idea in mind, though, and Nellie was ready to take on the challenge—to become a patient at the women's asylum on Blackwell's Island (now called Roosevelt Island). Nellie faked insanity to be checked into the asylum. While here she experienced ice-cold baths, spoiled food, lack of clothing in cold temperatures, filthy linens, and care from doctors who did not show much interest in the well-being of patients. Bly got out of the asylum with the help of lawyers sent by the New York World.
Once released, Bly began writing about the horrific mistreatment of the Blackwell's Island asylum patients. She fascinated readers with her recollections, stating experiences she had throughout her stay at the asylum: "Suddenly I got, one after another, three buckets of water over my head…into my eyes, ears, my nose and my mouth. I think I experienced the sensation of a drowning person as they dragged me, gasping, shivering and quaking, from the tub…". Bly's article generated great public attention overnight, and eventually lead to reform within the asylum at Blackwell's Island. The New York World gave Nellie a job in 1887 after generating such success from one article. From here Bly went on to write more articles, going undercover for many of them. Bly intentionally got caught stealing a purse so that she could experience and write about what happens inside of a jail, and also exposed a lobbyist by acting as a constituent's wife, successfully bribing the lobbyist to get rid of a piece of legislation. All of these articles contributed to Bly being one of the most well-known and well-paid reporters of her time.
1889 was the year that Nellie Bly captured the most attention. She decided to travel the world, but something about this trip was unusual—it took her only 72 days. She wanted to beat the record found in the book "Around the World in 80 Days", and her personal goal was to make it in 75 days total. At first, the New York Worldwanted to send a man along with Nellie as a chaperone. Bly refused this idea, saying that if they sent a man with her, she would go work for a different newspaper company. While on her trip, she wrote about the people she saw more so than the places she visited. At such a quick speed, she didn't necessarily get to explorer or examine places very thoroughly. Little did Nellie know that she was competing with female reporter Elizabeth Bisland from Cosmopolitan magazine, which was new at the time and trying to gain popularity. Although there were a few days of poor weather, Nellie still arrived back in time to beat the record from "Around the World in 80 Days", along with her own goal of 75 days. She too beat Elizabeth Bisland, who arrived home four days after Nellie. This stunt is what gained Bly most of her fame, capturing the public's attention. People were amazed at Nellie Bly the journalist's quick trip around the entire globe. A year after her journey, Bly had her very own book published: "Around the World in 72 Days. This book described her experience around the globe, and the things and people she came across.
In 1896, Bly had the opportunity to interview Susan B. Anthony, a large figure in the women's rights movement. Throughout the interview, Nellie was told about Susan's life, her beliefs, and her thoughts on women's suffrage. Nellie went on to publish a newspaper article containing quotes from Susan, gaining her even more public attention.
A year prior to this interview Nellie married a 70-year-old millionaire, Robert Seaman, at the age of 30. Robert owned Iron Clad Manufacturing Company, and agreed to support Nellie, her mother, and also one Nellie's sisters. Robert passed away nine years into the marriage, and Nellie was left President of the manufacturing company. The company failed due to embezzlement from managers, so Nellie became bankrupt and decided to go to Europe. Before Nellie got to Europe, World War I began, and Nellie ended up being a front-line reporter. She wrote about being stuck in a trench during a shoot-out, and the struggles that those in the military faced. She stayed involved in the war for four years, eventually doing charity work for widows and orphans of the Austrian war.
When Nellie finally returned home, she began to write stories for a new newspaper company, Evening Journal. She began a column in which she would reply to people who were struggling, trying to help them with their issues. Many of these people would show up at the hotel Nellie lived in, and from here she began delving into social work. She began helping orphans match with good parents, and Nellie herself ended up fostering a girl. Eventually, Nellie began to struggle with bronchitis, but still was pushing to help those in need. In 1922, Nellie experienced heart failure and pneumonia, and passed on January 27thof that year. She was named "the best reporter in America" by her past employer the New York World.
Nellie Bly was a journalist who brought something new to the table. With her brave undercover stunts, passion for social justice, amazing accomplishment of traveling the world in 72 days, and her genuine care and interest in the lives of others—she is a historical figure to remember. Her success generated changed and improved many people's well-being. She was daring, fearless, and driven, and her willingness to put herself in dangerous situations to expose social issues shows her care for others and love of reporting. Her childhood home is what helped shaped Nellie into who she became, so it is only appropriate for her historical marker to be located here. People can still visit the marker today, and take the time to remember a journalist who really set the bar high.

Sources
Bly, Nellie. "Behind Asylum Bars." New York World(New York)October 9, 1887. . A PDF copy of Nellie Bly's newspaper article "Behind Asylum Bars"

Bly, Nellie. "Nellie Bly a Prisoner." New York World(New York)February 24, 1889. . A PDF copy of Nellie Bly's newspaper article "Nellie Bly a Prisoner"

Condon, A. M.. "Ten Days In a Madhouse." Library Journal, vol. 142, no. 6, 51-52. Published 2017. EBSCOhost. This article describes Nellie's experience in the asylum at Blackwell's Island

Marzolf, M. T. (1995). Nellie Bly: Daredevil, Reporter, Feminist. Journal of American History, 82(1), 279–280. https://doi-org.marshall.idm.oclc.org/10.2307/2082054
Norwood, Arlisha R. Nellie Bly. National Women's History Museum. . January 24, 2019. https://www.womenshistory.org/education-resources/biographies/nellie-bly.
Philibert-Ortega, Gena. Remembering Intrepid Nellie Bly, World War I Reporter. Genealogy Bank. May 18, 2017. February 2, 2019. https://blog.genealogybank.com/remembering-intrepid-nellie-bly-world-war-i-reporter.html. This article contains information regarding Nellie's experience reporting World War I from the front lines.
Additional Information