Moana Hotel
Introduction
WHen the Moana Hotel opened its doors in 1901, it was the first high-rise building and hotel in Waikiki. Honolulu landowner Walter Chamberlain Peacock sensed the economic potential of this section of the island and his hotel ushered in the era of tourism for the community. Business was slow for the first four decades, but tourism and the hotel expanded in the post-war years under the direction of Captain William Matson. Matson and other business owners partnered with the Matson Navigation Company, an integral force in increasing tourism to the island via passenger ships and hotels. The building is currently part of the resort complex known as Moana Surfrider, A Westin Resort & Spa.
Images
Original 1901 wing of the Moana Hotel in Waikiki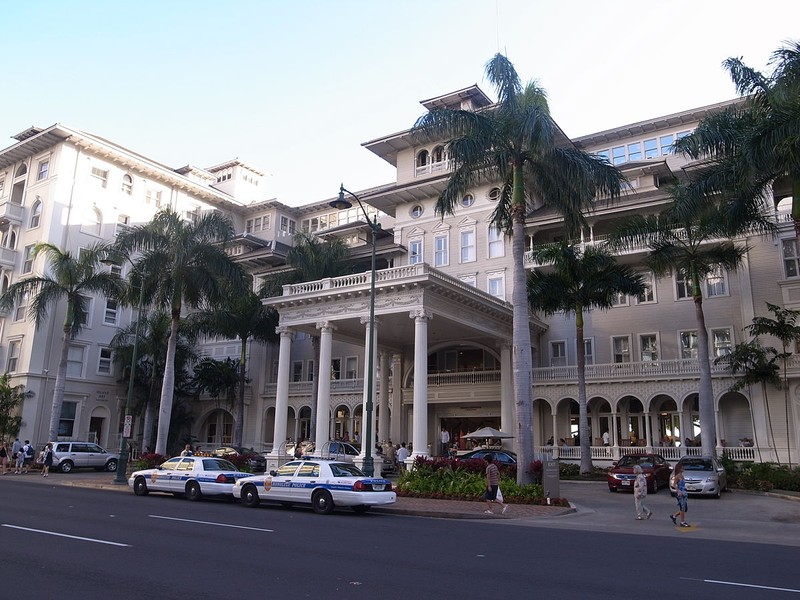 Modern Picture of Moana - now part of the Westin/Marriott, via Luxe Beat Magazine (https://luxebeatmag.com/moana-surfrider-hotel-waikiki-hawaii-elegance-ages/)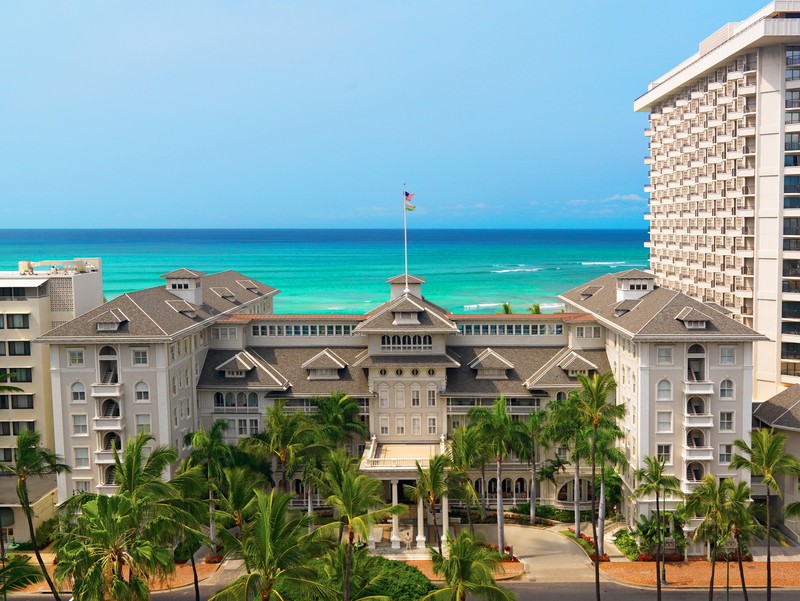 Backstory and Context
The Moana Hotel Company, which is the oldest existing hotel in Waikiki, opened in 1901 as part of a project led by wealthy Honolulu landowner Walter Chamberlain Peacock. The development of the wooden-structured hotel served as the start of Waikiki functioning as a favorite tourist destination spot. The Moana was one of the earliest "high-rise" buildings in Hawaii, and its name (Moana) means open sea, or ocean, in Hawaiin.
The Moana's architectural design demonstrate a profound European influence, with Ionic columns, elaborate woodwork, and plaster detailing. The hotel also included several modern and luxurious features for the era such as telephones and bathrooms in every guestroom and common areas that included a billiard room, saloon, main parlor, reception area, and library. Peacock also installed the island's first electric-powered elevator at the Moana.
Despite Peacock's efforts, business was slow at the opening of the hotel and he quickly sold the property to Alexander Young in 1905. Young was a prominent businessman and hotel entrepreneur. Though Young died in 1910, his Territorial Hotel Company continued to operate the Moana until the company went bankrupt during the Great Depression. At that time, the hotel became the property of the Matson Navigation Company. This company operated what became a famous fleet of "White Ships" that brought tourists to the island and were instrumental in developing Hawaii's tourism industry in the postwar years.
In 1952 and 1953, Matson built two new hotels near Moana. In 1952, the SurfRider hotel opened adjacent to the Moana on the southeast side. The hotel eventually became part of the Moana and was renamed the Diamond Head Wing. In 1953, Matson opened the Princess Kaiulani Hotel on the site. Since that, renovations and ownership changes have occurred, but the exterior and interior of the hotel appear much as they did in the early twentieth century.
Sources
Hill, Norman. The Moana Surfrider Hotel of Waikiki, Hawaii -- Elegance for the Ages.
Luxebeat Magazine.
Accessed January 24, 2019. https://luxebeatmag.com/moana-surfrider-hotel-waikiki-hawaii-elegance-ages/
"History." Matson, Inc.
matson.com.
Accessed January 24, 2019. https://www.matson.com/corporate/about_us/history.html

Philpotts, Kaui. "100 Years of Moana Dining." HonoluluAdvertiser.com.
http://the.honoluluadvertiser.com/article/2001/Apr/11/il/il20ataste.html

Riconda, Dorthy. "Nomination Form: Moana Hotel." National Register of Historic Places. nps.gov. November 19, 1971. https://npgallery.nps.gov/GetAsset/b9804580-1687-4c68-a420-ea95fc84b7d6/

Photo Sources
Original 1901 Wing: By moore - http://ameblo.jp/moore-moore/entry-10504692555.html, CC BY-SA 3.0, https://commons.wikimedia.org/w/index.php?curid=9983079

Modern Picture: Luxe Beat Magazine, "The Moana Surfrider Hotel of Waikiki, Hawaii -- Elegance for the Ages," by Norman Hill. Direct link of picture can be found at: https://i0.wp.com/luxebeatmag.com/wp-content/uploads/2013/11/Moana-Surfrider-Exterior1.jpg
Additional Information