Gauler Twin Houses
Introduction
Built in 1908 as speculative housing for Chicago Butcher, John Gauler, the twin, mirror-image design was the work of famed Prairie School architect, Walter Burley Griffin, who began his career working for Frank Lloyd Wright. Griffin gained praise in Chicago, the Midwest and internationally for his architecture and contribution to the field of "land planning," including his master plan for Canberra, the capital city of Australia.
Images
Gauler Twin Houses (1908), designed by renowned Prairie School architect Walter Burley Griffin - Photo taken on May 17, 2011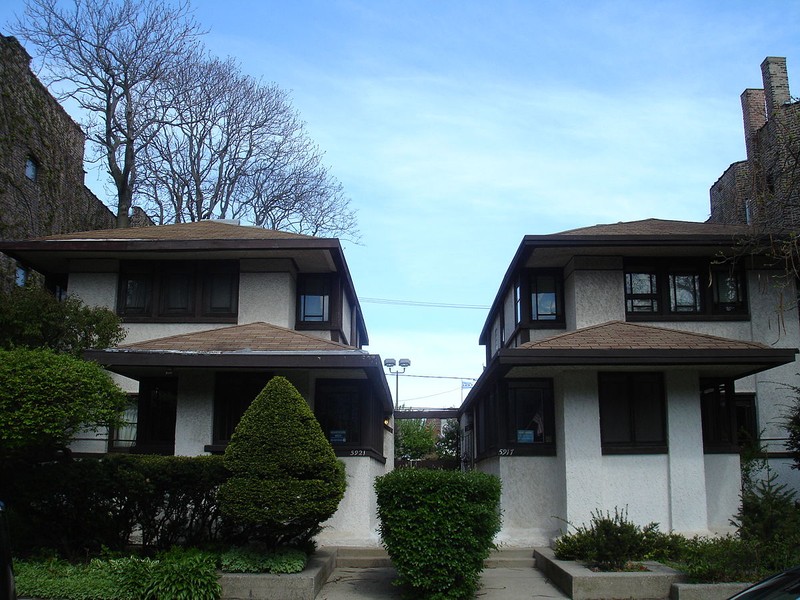 Backstory and Context
Built in 1908 as speculative housing for Chicago Butcher, John Gauler, the twin wood-and-stucco residences were designed by Walter Burley Griffin, arguably the third most prominent figure within the field of Prairie School architecture after Louis Sullivan and Frank Lloyd Wright. Griffin enjoyed international recognition for his unique designs, as well as his contributions to the field of "land planning," including his master plan for Canberra, the capital city of Australia.
The John Gauler Houses are mirror images of each other and together constitute a detached duplex housing design. The entrances to both houses face each other on their respective inner halves; the houses share a sidewalk leading to each entry. Both houses also exemplify Prairie House designs with their rectangular shapes and wide, overhanging roofs.
Griffin designed the twin houses for John Gauler as speculation venture in 1909. Though the houses are referred to by his name, Gauler never lived in either home; he sold them immediately after the completion of construction in 1909 to Henry C. Jones and George Elliot.
Griffin (1876-1937) was the eldest of four children, was born and raised in the suburbs of Chicago, including Maywood, Elmhurst and Wright's hometown of Oak Park, IL. In 1899 he received a bachelor's degree from the University of Illinois and quickly worked his way through the ranks of Chicago's prestigious architecture industry. Most notably, Griffin served as Frank Lloyd Wright's chief assistant until 1906. He then went on to forge his own career, designing hundreds of projects around the world from his Chicago office. Like Wright, Griffin's designs exude Prairie School ideas, but Griffin also focused much of his attention on land planning and landscaping, a skill that would allow him to gain international acclaim.
Indeed, shortly before the Griffins' marriage, the Australian government announced an international competition for the country's new capital city -- Griffin's design was selected the winner among a pool of 137 entries. He left his Chicago practice in the hands of a partner and traveled to Australia, where he built the new city of Canberra, Australia with the help of his wife who ostensibly served as his business partner. While in Australia, he fell in love with the country and its landscape. He remained in Australia from 1914 to 1935 and designed numerous structures.
However, professional disagreements pushed Griffin to move again. In September 1935, the nation of India selected Griffin's design for a new library for Lucknow University in northwest India. One month later, in October, he left for India where he again found inspiration. Sadly, though, in February 1937, Griffin died from peritonitis he contracted after attending a banquet given by his benefactor, the Raja of Mahmudabad.
After Griffin died, his wife closed the India office and left the Australian office in the hands of Griffin's partner, Eric Nicholls. She returned to Chicago write her memoirs.
In the end, the John Gauler homes stand as monuments to the intersection of several architectural, if not cultural histories. Suburban housing with a concern of yard space fits the mold of the Progressive Era where many moved away from cities to perceived healthier, suburban living, if not just more enjoyable. Gauler, like Wright, built many suburban houses using the Praire School philosophy of having homes pair with its surroundings that included trees, bushes, and flowers instead of buildings and traffic. However, even suburbs in the early twentieth century involved tight spaces, requiring adept skill and maximizing land planning with limited property space. Gauler excelled in the land-planning aspect, and that skill to Australia where is fame grew immensely.
Sources
"About the Griffins." PBS: WTTW-Chicago. . Accessed April 20, 2018. http://www.pbs.org/wbgriffin/griffins.htm.

Kruty, Paul. "Biographies: Walter Burley Griffin." Walter Burley Griffin Society of America. Accessed January 10, 2018. http://www.wbgriffinsociety.org/griffins-bio.html.

Miller, John Joseph, Jr. "Nomination 'form: John Gauler Homes." National Register of Historic Places. archive.org. June 1, 1976.
https://ia801608.us.archive.org/10/items/NationalRegisterNominationsForChicago/JohnGaulerHousesNrNom.pdf

"Walter Burley Griffin." Australian Walter Burley Griffin Society. Accessed January 10, 2019. http://www.griffinsociety.org/Introducing_the_Griffins/wbg.html.

Photo Source
By IvoShandor - Own work, CC BY-SA 3.0, https://commons.wikimedia.org/w/index.php?curid=15234901

Additional Information