Buffalo, Rochester & Pittsburgh Railroad Station
Introduction
Built-in 1910 by the Buffalo, Rochester & Pittsburgh Railroad, this historic station stands prominently at the intersection of Main Street and Depot Street in Springville. The 1.5 story building is an excellent an early 20th-century railroad depot and serves as a physical reminder of the critical role railroads played in the economic development of Springville and the rest of western New York. Listed on the National Register of Historic Places, it is the only depot remaining on the Buffalo, Rochester and Pittsburgh railway line. It is not clear what the building is used for today.
Images
The Buffalo, Rochester & Pittsburgh Railroad Station was built in 1910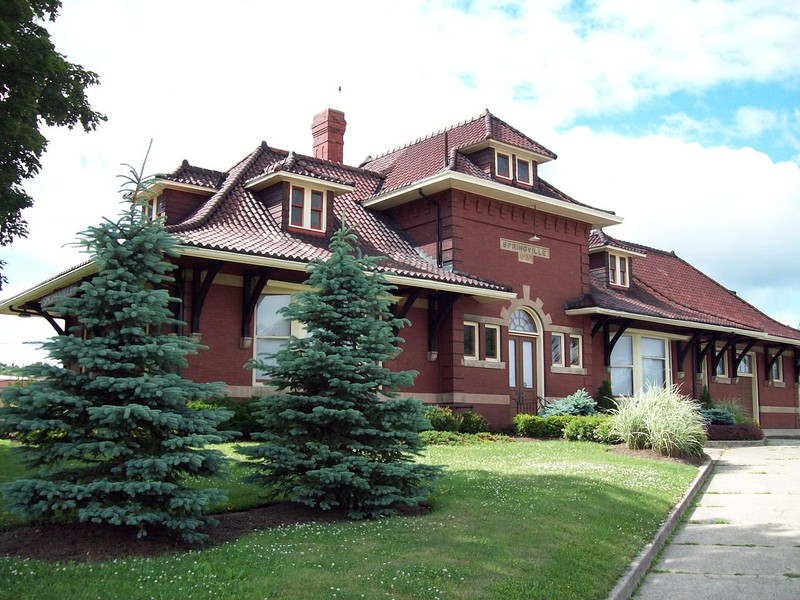 Backstory and Context
During the first half of the 19th century, Buffalo had steadily become a key industrial center, especially in iron production. As such, the city needed a steady supply of coal, which could be found in the southwestern Pennsylvania coal fields. Gaining access to these fields is what spurred the construction of railroads in western New York. The first rail line from Buffalo to the Pennsylvania state line was built in 1852. The City of Rochester needed coal as well and a rail line linking it with Buffalo and Pennsylvania began to be built in 1869. This like was called the Rochester and State Line Railroad and was the precursor to the Buffalo, Rochester & Pittsburgh Railroad.

In the early 1880s, Springville and other towns in Erie County requested that the railroad build lines to them. The business community in Springville supported this effort and played a vital role in convincing the railroad company to provide service to Springville. The railroad benefited the town substantially as it provided businesses with faster shipment of goods and materials. The first depot, a wood-frame structure, was built in 1885. As the town grew, the need for a larger depot became obvious. This is what prompted the construction of the 1910 depot.

Sources
Baumoel, Jeffrey. "Buffalo, Rochester & Pittsburgh Railroad Station." National Park Service - National Register of Historic Places Nomination Form. https://s3.amazonaws.com/NARAprodstorage/lz/electronic-records/rg-079/NPS_NY/91001669.pdf.

Photo: Wikimedia Commons
Additional Information