Morrill Hall
Introduction
Declared a National Historic Landmark in 1965, Morrill Hall is significant for being the first building constructed for Cornell University. It was built in 1868 and is a fine example of the Second Empire architectural style. It is named after Vermont Senator Justin Smith Morrill, who crafted legislation—called the Morrill Land-Grant Colleges Act of 1862—that essentially granted federal lands in each state for the purpose of establishing institutions of higher learning. The Act is what facilitated the founding of the university and the construction of Morrill Hall, which is also listed on the National Register of Historic Places. It was originally used for a variety of purposes including housing, classrooms, and administrative offices. Today, the Department of Science and Technology Studies is located in the building.
Images
Morrill Hall was built in 1868, the first building for the university.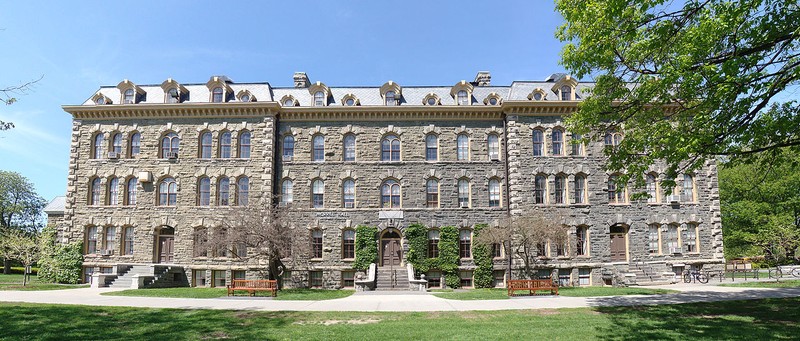 Backstory and Context
The founding of the university revolutionized higher education in the country. Co-founders Ezra Cornell (for whom the university is named) and Andrew White believed that Americans should receive a well-rounded education rather than simply focus on one discipline. In other words, Cornell and White believed in the equality of disciplines, meaning that each subject should require the same amount of study. As such, all students at Cornell would take classes in history, political science, literature, languages (at the time this meant Latin or Greek), and math. The purpose of these changes was to prepare students for a variety of careers in the post-Civil War period.
Sources
Bradford, Sydney S. "Morrill Hall." National Park Service - National Register of Historic Places Nomination Form. October 15, 1966. https://npgallery.nps.gov/GetAsset/a460b14f-1494-4486-b68a-7c5e18e375e4.

"Morrill Hall Facility Information." Cornell University. Accessed January 4, 2019. https://www.fs.cornell.edu/facinfo/fs_facilInfo.cfm?facil_cd=2001.

Photo: Wikimedia Commons
Additional Information