Mount Zion Church
Introduction
College aged civil rights activists across the nation came together during 1964 for what was described as the Freedom Summer. The Mississippi Summer Project aimed to register Black voters in the south in hopes for change. Three men, Michael Schwerner, Andrew Goodman, and James Chaney, were targeted by the local KKK for their participation in the program. During this targeting, the burning of the Mount Zion Church and beating of its congregation occurred. The church was rumored to become one of the freedom schools throughout Mississippi, as well as a meeting place for the three men targeted. When Michael, Andrew, and James were informed of the devastation of the church attack, they traveled back to Mississippi, were they met their death.
Images
Mississippi Summer Project volunteers in June 1964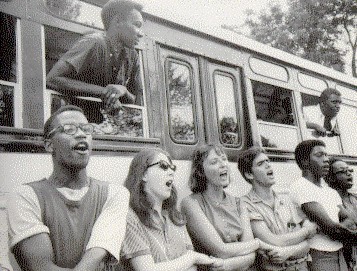 Mt. Zion Church state history marker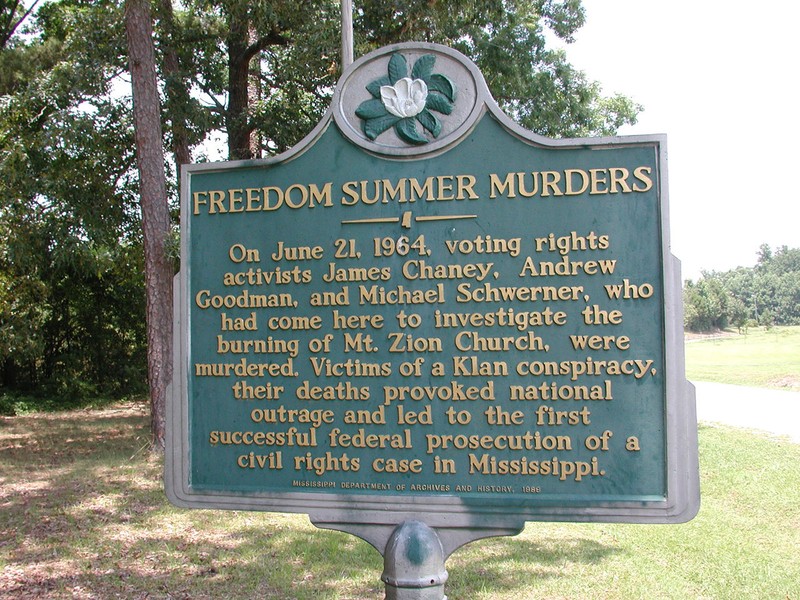 Backstory and Context
During the summer of 1964, civil rights workers came together with a project known as Freedom Summer. This national movement was targeted towards Mississippi in hopes to register Black voters and create what they called "freedom schools". Among these young volunteers were Michael Schwerner, Andrew Goodman, and James Chaney.
These young men worked closely with the Mount Zion Church and fought for civil freedoms. The Ku Klux Klan targeted the three young volunteers, causing them to invade the church, looking for the men. Not knowing the trio had left town for a conference, the Klansmen became angry, assaulted the congregation and then burned the church to the ground.
Learning of this incident, the trio decided to return to Mississippi to investigate. During their return, Klansmen abducted the men and shot them to death. The news of their disappearance caused an uproar across the nation. Four days later, their bodies were found.
Despite the horror of this murder, Freedom Summer workers continued their mission and successfully impacted the south, voters, and schooling.
Additional Information