Castle Rock (Dr. A. Porter Davis Residence)
Introduction
This limestone and brick residence, constructed in 1938, is significant for two reasons. First, it is a rare example of the French Eclectic style in Kansas City, an architectural style which was in vogue in the United States after World War I, but less popular than the contemporary Tudor Revival style. Second, the house is associated with Dr. A. Porter Davis, a doctor, pilot, artist and activist, whose life was, according to one source, "full of firsts in his pursuit of medical, aviational, artistic, and political activities." The house is thus a landmark of the African-American upper class in early 20th Century Kansas City. The property was entered in the National Register of Historic Places in February, 2000.
Images
Castle Rock (Dr. A. Porter Davis residence)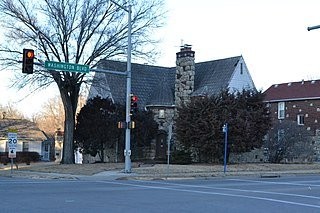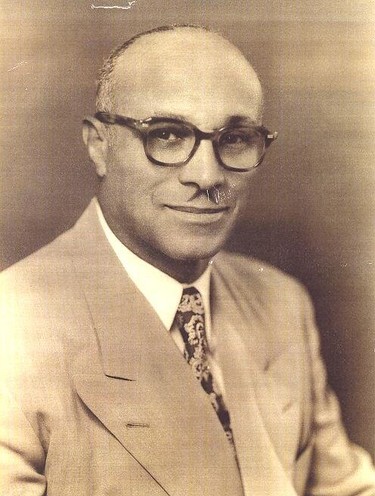 Backstory and Context
Castle Rock is a private house in Kansas, City, Kansas, the construction of which was begun in 1935 and completed in 1938. It was nominated to the National Register of Historic Places under Criterion B, in the area of "Ethnic History: Black" for its association with the distinguished African-American physician and pilot Albert Porter Davis (1890-1976), and under Criterion C, in the area of "Architecture." Dr. Davis was born in Palestine, Texas in November, 1890, and graduated from Meharry Medical College in Nashville, TN, in 1913.

In the same year, A. Porter Davis received his medical license from the State of Kansas and began practicing there. Proficient in Spanish, he first specialized in treating the many immigrant workers in the area. He then founded the Davis Maternity Sanitarium for Unwed Mothers, which served, in complete secrecy, African-American women who would not have been treated elsewhere because of their race. This institution operated until the early 1940s. Davis served as Assistant Health Director of Kansas City, twice served as Deputy Coroner of Wyandotte County, Kansas, and then as Chairman of the Board of Trustees and President of the National Medical Association (NMA), an organization of Black physicians who were denied, because of their race, to join the American Medical Association (AMA). He was also a member of the Society of Applied Psychology and many other professional, fraternal and civic organizations.

Dr. Davis was awarded his pilot's license in August, 1928, only a year after the U.S. government started issuing such licenses. A local newspaper, in a 1939 article, claimed that he was "the fourth Negro [in the U.S.] to hold a pilot's license and the oldest Negro pilot in seniority, with eleven years flying experience as a private pilot." He purchased his first of three planes in 1928. In August 1929, Dr. Davis formed A. Porter Davis Aviation Industries with the goal of teaching young African-Americans to fly. The timing was unfortunate, however, because the Great Depression soon forced this organization to fold. In August, 1939, the National Airmen's Association of America was organized at a meeting in Chicago, where Dr Davis became the recipient of the Dwight H. Greene trophy for "the greatest contribution to aviation among Negroes." In 1942, he was listed in the publication Who's Who in Aviation.

Among Dr. Davis' other talents were music and acting. In 1920, he wrote a jazz composition arranged by local ragtime pioneer James Scott. In the following year, he starred in a five-reel silent film called The Lure of a Woman, one of the first African-American-produced films to be shot in Kansas City. Two posters for this film survive and can be seen at the Jazz Museum at 18th & Vine. Davis was also passionately involved in civil rights work throughout his life. He organized the Kansas State Conference of Branches of the NAACP and was its chairman from 1932 to 1942. He was also president of the Kansas City NAACP Branch, 1942-45.

Castle Rock was constructed predominantly of limestone by local architect Raymond J. Buschhusen for $14,000, and was completed in August, 1938. The property was located in the predominantly Black neighborhood north of downtown Kansas City, one of the few areas in the segregated city of that time in which Davis and his family could live. Upon completion, Dr. Davis held an open house to display the property, and a complimentary article in the local newspaper praised its fireproof construction, the phone jacks in every room, including the bathroom, the copper screens on all windows, the central heating and air conditioning and the wine cellar. The house's L-shaped plan, its conical entry tower with articulated chimney at the intersection of the "L", its wall dormers, casement windows, steeply pitched gables, and arched front entrance and porch are all characteristic of the French Eclectic style. The masonry exteriors of such dwellings made this style additionally attractive for their superior fire resistance over wooden dwellings, as in the 19th and early 20th centuries, fires in urban areas were often devastating. As the NRHP nomination form states, "the instance of a Black individual hiring an architect to design a personal residence transcended the impediments of segregation... The resulting dwelling is a superb example of its idiom and one that mirrors its owner's position in the community."

In the late 1960s, Davis' health began to decline. He died on September 1, 1976, the fiftieth anniversary of his marriage to his wife, Hazel White Davis.


Sources
Rosin, Elizabeth; King, Edward; and King, A. Portia Davis. "Castle Rock, aka Dr. A. Porter Davis House". National Park Service - U.S. Department of the Interior. Publication Date: 1/18/00. Access Date: 12/23/18. https://npgallery.nps.gov/GetAsset/427f33c8-bc35-452b-a34f-df498750e6db.

"Historic Landmarks and Historic Districts In Kansas City, Kansas And Wyandotte County." Unified Government of Wyandotte County and Kansas City, KS. Access Date: 12/23/18. https://www.wycokck.org/WycoKCK/media/Urban-Planning-Land-Use/Documents/Historic-Landmarks.pdf.
"Dr. Albert Porter Davis [links]". Journal of the National Medical Association. November, 1976, Vol. 68, number 6. Pages 547-548. Access Date: 12/23/18. https://www.ncbi.nlm.nih.gov/pmc/articles/PMC2609715.
"Dr. A. Porter Davis." Smithsonian National Air and Space Museum. Access Date: 12/23/18. https://airandspace.si.edu/support/wall-of-honor/dr-porter-davis.
"Davis, Albert Porter (1890–1976) - Physician, surgeon, entrepreneur, Earns Pilot's License, Chronology, Builds Mobile Home Park." Jrank Online Encyclopedia. Access Date: 12/23/18. http://encyclopedia.jrank.org/articles/pages/4194/Davis-Albert-Porter-1890-1976.html#ixzz5aY2JWQwX.