Pleasant Home
Introduction
Pleasant Home, also known as the Farson House, is an elaborately designed house by George W. Maher in 1897. Considered to be one of the first examples of Prairie style of architecture in the United States and George Maher's most sophisticated surviving design. The significance of the house not only rests on its early design date, but the careful cohesion of the house's interior and exterior ornamental scheme was one of the first for the architectural style. Maher coined the term motif rhythm theory for his ornamental scheme. The house is named for its original owner, John Farson, who lived in the house between 1897-1908, but it is colloquially known as Pleasant Home for it sits on the corner of Pleasant Street and Home Avenue. Pleasant Home was added to the National Register of Historic Places on June 19, 1972 and designated a National Historic Landmark on June 19, 1996.
Images
Black and white photo of Pleasant Home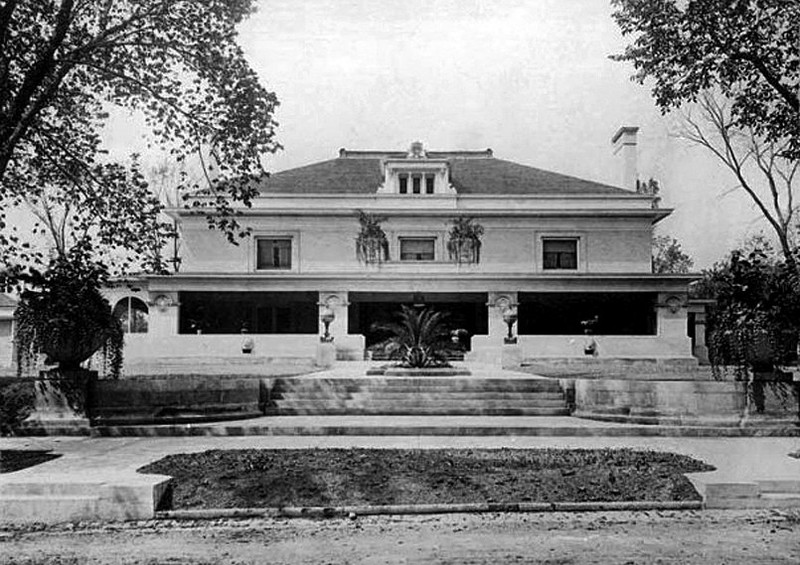 Interior Great Hall of Pleasant Home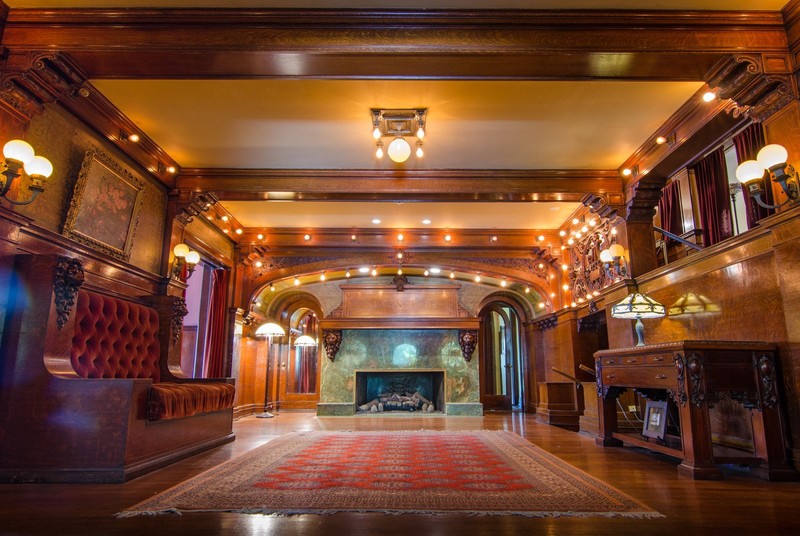 Backstory and Context
Chicago's economic boom of the late 19th-century spurred such a wave of new development and innovation that architects from across the country came to take part in rebuilding the city. Chicago became home to such architects as Frank Lloyd Wright, Joseph L. Silsbee, Henry Hobson Richardson, Dankmar Adler, Louis Henry Sullivan, and Daniel Burnham. Many of these men pioneered new architectural styles and structural designs, paving the way for our current architectural trends. One of these lesser-known architects, George W. Maher, practiced alongside Wright under Silsbee before setting out on his own shortly after 1888. Heavily influenced by the new Arts and Crafts Movement and the burgeoning Prairie style of architecture, Maher designed one of the world's first and finest Prairie style houses, the Farson House – more commonly known as Pleasant Home.
At the time of its completed in 1897, the Farson House was the largest estate in the Village of Oak Park, a suburb of Chicago. Built for John Farson, an investment banker and philanthropist, and his wife Mamie Ashworth Farson, the house is reminiscent of Frank Lloyd Wright's Winslow House in River Forest. However, the Farson House is distinguished from the Winslow House for its noticeable break with the current architectural styles of Shingle and Colonial Revival. With its long and classic lines and deep-set front porch, the sheer sophistication of the design along with the cunified ornamental design of the house exterior and interior set it apart from other early Prairie style designs. Maher came to describe the unified ornamental arrangement of the Farson house as motif rhythm theory.
Up until his death in 1910, John Farson acquired properties around the house and accumulated several acres which he aimed to convert into an Italian garden. Unfortunately, he did not live to see his dream come to fruition. Mamie Ashworth Farson sold the property to Herbert S. Mills shortly thereafter. Pleasant Home remained in the Mills family until Herbert's heirs sold it to the Park District of Oak Park under the agreement that the estate be renamed Mills Park. Since then, the house has served as a home to the Historical Society of Oak Park and the senior citizens. In 1990, the Park District Board formed the Pleasant Home Foundation, a non-profit organization intended to raise funds to restore and preserve the house. Pleasant Home was added to the National Register of Historic Places on June 19, 1972 and designated a National Historic Landmark on June 19, 1996.
Sources
About Pleasant Home. Pleasant Home. December 18, 2018. http://pleasanthome.org/about-us/gallery.

Graham, Jr., William J. Illinois Historic Sites Survey Inventory. Illinois Historic Preservation Agency. June 11, 1975. December 18, 2018. http://gis.hpa.state.il.us/PDFs/200519.pdf.

Cummings, Kathleen. National Historic Landmark Nomination. National Park Service. January 13, 1992. December 18, 2018. https://npgallery.nps.gov/NRHP/GetAsset/NHLS/72000454_text.


Additional Information