Meigs County Museum and Historical Society
Introduction
This local history museum offers exhibits drawn from a collection of thousands of artifacts from the earliest Native tribes and the colonial era to the present. Established in 1876 as the Meigs County Pioneer and Historical Society, the Meigs County Historical Society is one of the oldest in the region and offers exhibits, programs, and a variety of social and educational events throughout the year.
Images
Meigs County Museum and Museum Annex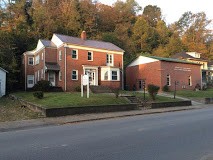 Backstory and Context
Established in 1876, the Meigs County Pioneer and Historical society collects and preserves the history and artifacts of Meigs County Ohio. Shortening their name to the Meigs County Historical Society, their goal has not changed from honoring that past vision of conserving and sharing the history of the region with future generations. The nonprofit organization strives for an increase in historical education and research. They support more historical publications, symposiums, and special events to help create more interest in history. The society also fight to preserve historical sites and buildings. They work with local schools and universities on historical projects. Since they are a nonprofit organization, they take donations and raise funds to keep its operation intact and to continue their purpose.

The Meigs County Museum contains over one thousand artifacts from the prehistoric period to the present day. The contents of the museum give more life to the local, regional, and national history of the town and the county. The exhibits in the museum tell the story of the town of Pomeroy. It shows how people lived in the rural lifestyles of the past. The museum has exhibits on the founding of the county, the political history, and natural disasters that occurred throughout the town's lifetime. The goal of the museum is to show Meigs County's place within the nation.

In addition to the museum exhibits, this building also houses a research library that includes historic newspapers, photographs, manuscripts, vital records, deed records, and much more. Among the Society's the library are many early probate and census records. In the Genealogy Library, located in the museum, people whose family has lived in Meigs County can go and look at their own genealogical records. The library houses many genealogical records and books on genealogy research that anyone can go read. The Historical Society is attempting to have online indexes to make genealogy research. The museum even has rosters for Civil War recruits from Ohio. The Meigs County Historical Society has created a museum that contains the history of Meigs County and the town of Pomeroy.


Sources
Meigs County Historical Society, 2018, www.meigschs.org/visit-the-museum.
Additional Information