Old Stone Cemetery
Introduction
In 1850, Norborne Beall Gantt gifted land to expand a town cemetery and designated a portion of the conveyed land as a "burial place for Whites" and a portion to be used as a burial place for "Africans or Blacks." A private family cemetery for the Creigh family was later incorporated into what is now called Old Stone Cemetery. Buried in the cemetery are many Greenbrier County pioneer families.
Images
Maud Montague Mathews (1876-1888).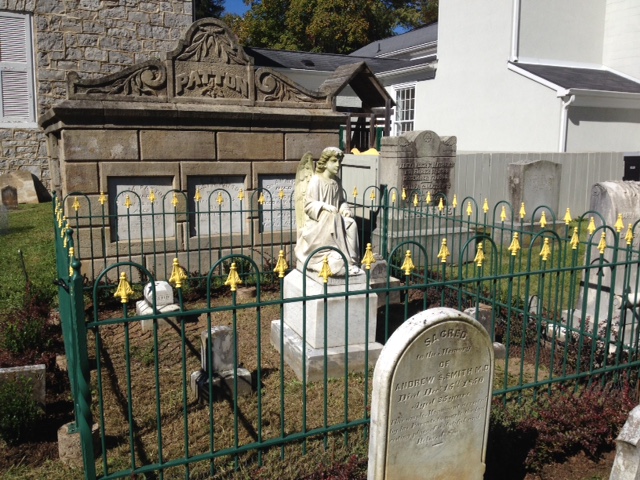 Backstory and Context
Like many community or church cemeteries in West Virginia, Old Stone Cemetery was long neglected. Consequently, many burial stones "disappeared" or weathered to the point of being difficult, if not impossible, to read the inscriptions. Burial records were scarce.

Marcellus Zimmerman, printer of the Greenbrier Independent newspaper, began compiling records of the burials in Old Stone Cemetery in 1885. Later research was done by Dr. Harry Edwin Handley and Dr. John F. Montgomery. Drawing on the research of Zimmerman, Handley and Montgomery and utilizing her own adroit research abilities, Morgan Bunn completed the most comprehensive record of the burials in the cemetery to date. Her three publications on the cemetery are available at the Greenbrier Historical Society.

Under Ms. Bunn's leadership, an effort to restore and preserve the cemetery is underway and organized as Friends of The Old Stone Cemetery.
Sources
Bunn, Morgan. The People of The Old Stone Cemetery: The Burials. Self-published, 2017.

Bunn, Morgan. The People of The Old Stone Cemetery: The Obituaries. Self-published, 2017.

Bunn, Morgan. Marcellus Zimmerman's Survey of the Old Stone Church Cemetery. Self-published, 2017.



Additional Information