Davy Crockett Birthplace State Park
Introduction
"Davy Crockett, King of the Wild Frontier." David "Davy" Crockett was born on August 17, 1786 in Greene County, Tennessee near what is now Limestone. Crockett was a frontiersman, statesman, and soldier: He settled areas of Tennessee and Alabama, fought in the War of 1812, served three terms in the US Congress, and was killed in action at the Battle of the Alamo on March 6, 1836. The Davy Crockett Birthplace State Park is located in Limestone, TN, on the Nolichucky River. The State Park has a museum at the visitor's center, a memorial monument in honor of Crockett's achievements, and a replica of the cabin that Crockett would have been born and raised in. Also the park offers a full hook-up campground, swimming pool, picnic shelters, hiking trails and fishing in the Nolichucky River. The peaceful, serene location and setting of the park makes for a relaxing and enjoyable visit, as well a historically educational experience.
Images
Replica of the cabin that Davy Crockett was born and raised in. (photo by Steven Hart)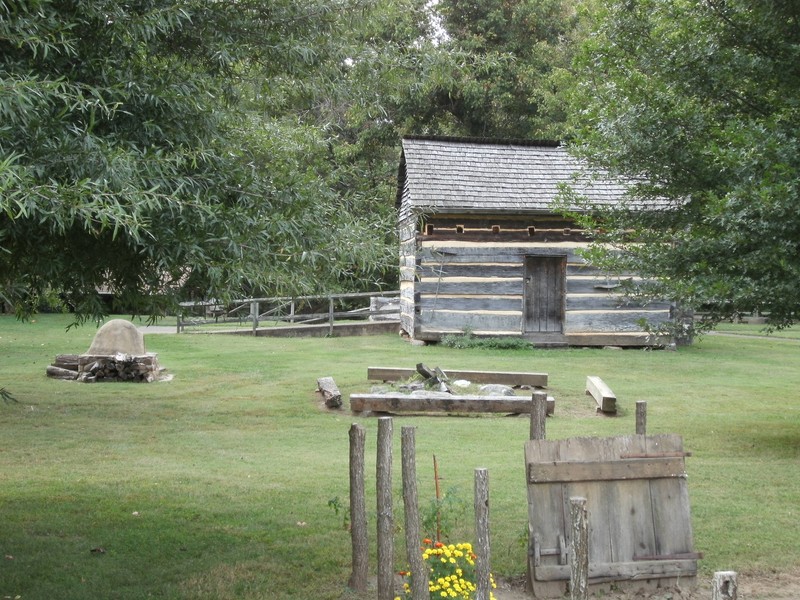 Memorial toCrockett. Constructed from native stones from all 50 states. (photo by Steven Hart)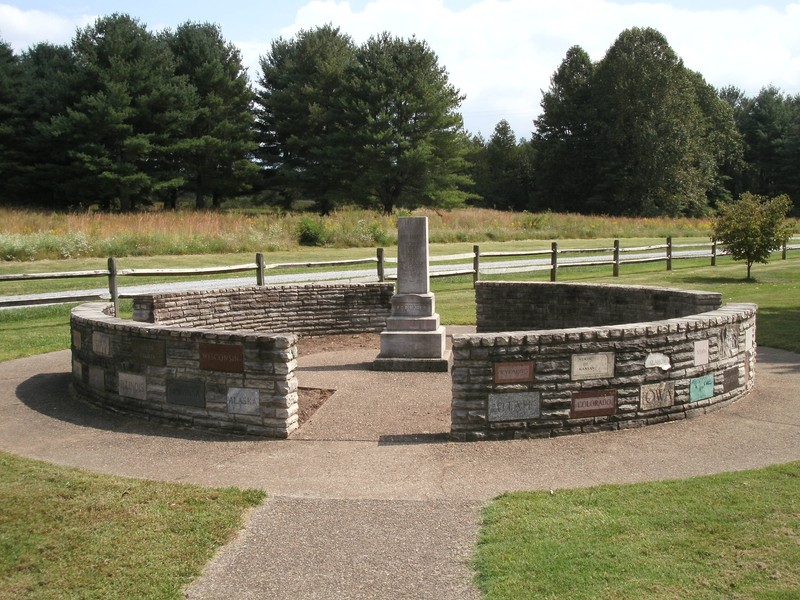 Backstory and Context
The life and times of Davy Crockett. Born in 1786 to John and Rebecca Crockett who owned a tavern on the road between Abingdon, VA and Knoxville, TN. Davy started school when he was 13 years old and quit soon after. He ran away from home for a period of 2 1/2 years working at various jobs to earn a living; he returned home in 1802. In 1806 he married his first wife, Mary Finely, and had three children. Mary died in 1815; shortly thereafter Crockett remarried to Elizabeth Patton who had two children. Between the years of 1811 and 1813, the Crockett family moved twice eventually settling in Franklin County near what is now Alabama.
In 1813, Crockett started his military career when he joined the army as a scout and fought in the Creek Indian War. Crockett reenlisted in 1814 and remained in service until 1815. After marring his second wife, Crockett set out to explore and possibly settle Alabama, but he contracted Malaria and nearly died. After returning home, the Crockett family again moved to Lawrence County, TN, where he got his start in politics by serving as Justice of the Peace. Crockett served in the Tennessee State House for two terms, 1821 and 1823, but lost reelection in 1825. In 1826, he won his first seat in the 20th US Congress, and was reelected in 1829. He lost the next election but won again in 1833, which would be the last of his political career. On November 1, 1835, Crockett set out for Texas to explore and eventually settle the area. Soon he was caught up in the battle for Texas independence. On March 6, 1836, Davy Crockett was killed in action at the Battle of the Alamo. Although it is not known how he actually died, his body was reported to have been found surrounded by multiple dead Mexican soldiers.1 & 2
Davy Crockett Birthplace State Park is a 105 acre park that was established in 1973 as a memorial to Tennessee's greatest frontiersman. The park has 88 camp sites, most with full hookups, a swimming pool, three picnic shelters, hiking trails, museum and gift shop, a replica of the cabin that Davy was raised in, and a monument to Crockett: The monument contains native stones from all fifty states in the country. With all of the activities the park has to offer, it makes a great place for families to visit.
Sources
1) "CROCKETT, DAVID." The Handbook of Texas Online. http://www.tsha.utexas.edu/handbook/online/articles/print/CC/fcr24.html 2) David Crockett. (2014). The Biography.com website. Retrieved 11:16, Sep 30, 2014, from http://www.biography.com/people/davy-crockett-9261693.
Additional Information