Eleanor Roosevelt Monument
Introduction
Author-Uploaded Audio
Located in New York City's Riverside Park, the Eleanor Roosevelt Monument stands tall surrounded by the park's floral scenery. Said to be the first memorial to be dedicated to a first lady, the statue was unveiled under oak trees at 72nd Street on October 5, 1996 with the then first lady, Hilary Rodham Clinton, attending. Designed by sculptor Penelope Jencks, Eleanor Roosevelt is shown half-seated against a boulder. The circular landscape that is surrounding was designed by architects Bruce Kelly and David Varnell. Inscribed throughout the surrounding pavement are quotes from Eleanor Roosevelt and Adlai Stevenson, showcasing the former first lady's dedication to human rights and social justice.
Images
The Eleanor Roosevelt Monument in Riverside Park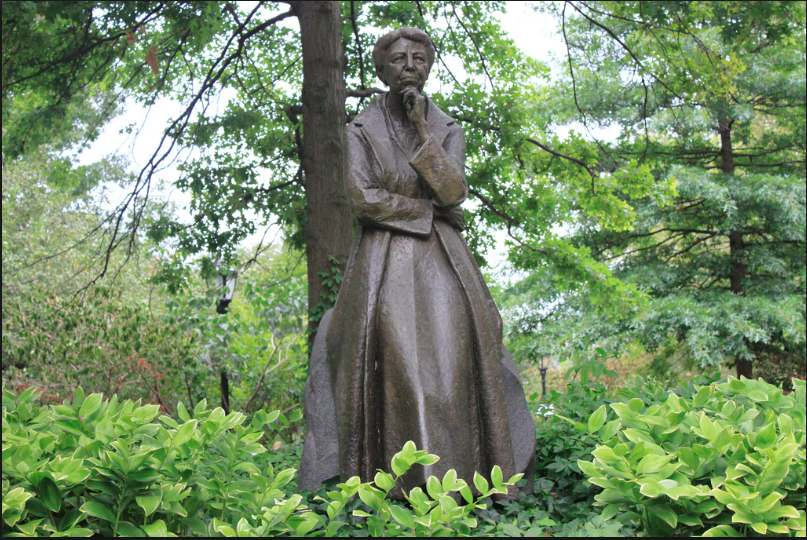 Eleanor Roosevelt Attending a Session at the United Nations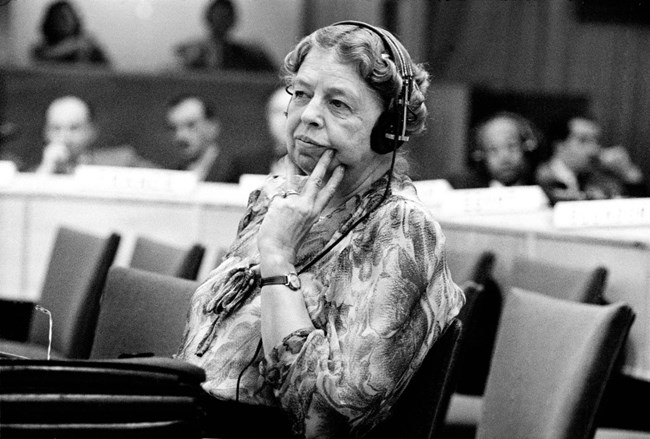 President Franklin D. Roosevelt and First Lady Eleanor Roosevelt, 1934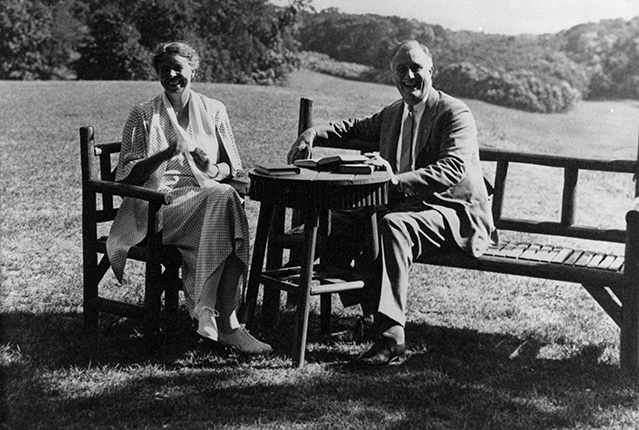 First Lady Hillary Rodham Clinton Attending the Dedication of the Eleanor Roosevelt Monument, October 5, 1996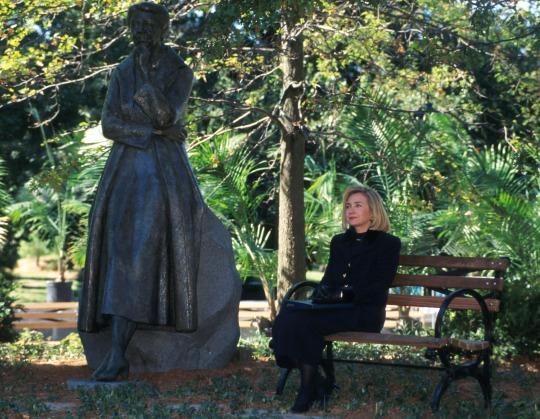 An Adlai Stevenson Quote that Surrounds the Monument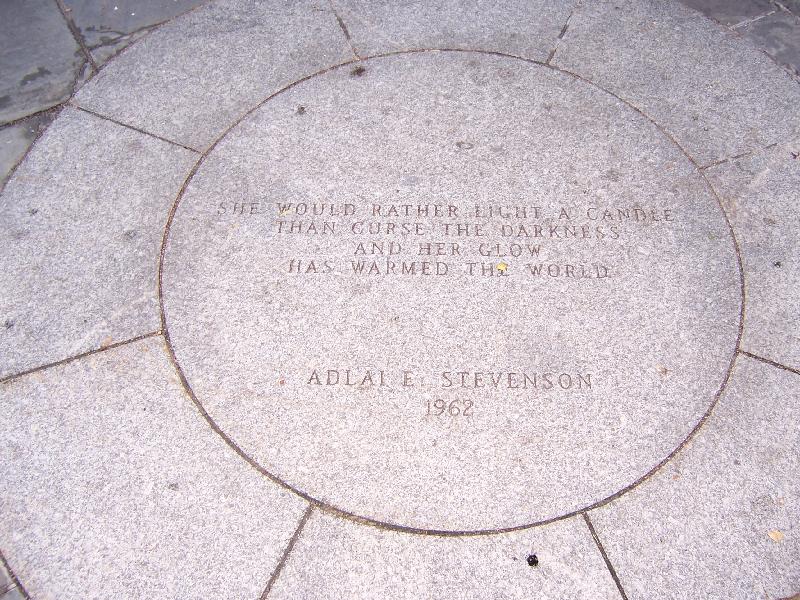 Backstory and Context
Author-Uploaded Audio
The woman who would come to be known as the "First Lady of the World" was born Anna Eleanor Roosevelt in New York City on October 11, 1884 to Elliott Roosevelt and Anna Hall Roosevelt. The Roosevelts and Halls were both affluent families and Eleanor was held to a high standard by her mother, who was one of New York's most beautiful socialites. Her father, on the other hand, adored his only daughter. Sadly, by the time Eleanor turned ten, both of her parents had passed away and she was raised primarily by her maternal grandmother. As a teenager, Eleanor was sent to England to attend an all-girls school called Allenswood. At 18, she returned home to make her societal debut and became active in the Junior League, often volunteering in New York's tenement houses. This experience introduced Eleanor first hand to the plight of the poor.
In March of 1905, Eleanor, the niece of President Theodore Roosevelt, married her distant cousin Franklin D. Roosevelt (FDR). Over the next ten years they had six children, one of whom died in infancy. As FDR followed in the footsteps of Theodore Roosevelt and entered the world of politics, Eleanor became active in social and political organizations such as the League of Women Voters and the Women's Trade Union League. After her husband contracted polio in 1921, Eleanor became more involved in Democratic circles and became known as his "eyes, ears, and legs."
Once she became first lady in 1932, Eleanor rapidly began redefining the role. Almost immediately, she began holding weekly press conferences for female journalists and traveled the country promoting the Roosevelt Administration's New Deal programs. She was also outspoken on topics such as civil rights and human rights, often drawing intense criticism and even receiving death threats. Eleanor Roosevelt set a high standard for first ladies to follow her.
After FDR's death in 1945, Eleanor had planned to live a life outside of the public eye. Her plans for a private life did not last long; at the end of 1945, President Harry Truman appointed her as a delegate to the United Nations General Assembly. She served on the assembly for almost seven years and chaired the United Nations Human Rights Commission, drafting the Universal Declaration of Human Rights. Until her death in 1962, Eleanor remained an an active humanitarian, public servant, and a prolific author.
A beloved and revered New Yorker, the state honored Eleanor with a memorial located in New York City's Riverside Park, the former site of the West Side Highway and the old Henry Hudson Monument. Funding for the monument was provided by the City of New York, New York State, and the Eleanor Roosevelt Monument Fund. The statue portrays an elegant Eleanor leaning against a rock, thinking, with her hand on her chin. The sculpture of Eleanor was created by artist Penelope Jencks and Bruce Kelly and David Varnell served as the landscape artists. Placed throughout the surrounding pavement are quotations from Eleanor Roosevelt and Adlai Stevenson. The Eleanor Roosevelt Monument is just one monument of many along Riverside Drive that pays tribute to prominent historic figures.
Sources
Eleanor Roosevelt Memorial. NYC Parks. . Accessed December 09, 2018. https://www.nycgovparks.org/parks/riverside-park/monuments/1788.
First Lady Biography: Eleanor Roosevelt. National First Ladies Library. Accessed December 08, 2018. http://www.firstladies.org/biographies/firstladies.aspx?biography=33.
Eleanor Roosevelt Biography. Biography. Accessed December 08, 2018. https://www.biography.com/people/eleanor-roosevelt-9463366.
Image Sources
Riverside Park Conservancy

National Park Service

National Park Service

The Franklin Delano Roosevelt Foundation

NYC Parks

Additional Information