Liberty Tower (Mutual Home and Savings Association Building)
Introduction
Liberty Tower was originally constructed as the Mutual Home and Savings Association Building in 1931. It was designed to appear modern and professional, with touches such as marble, steel, and some of the latest technology. At 285 feet tall, the building was the tallest in Dayton until 1969. Though it has changed hands and even names since its erection, Liberty Tower still stands as an office space today.
Images
Some scenes from "The Old Man & the Gun" starring Robert Redford were shot at the Liberty Tower in 2017. Photo by Greg Hume.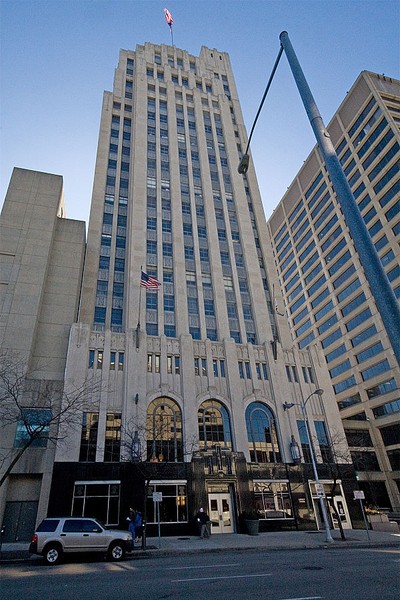 Backstory and Context
The Mutual Home and Savings Association, which was established in 1873, aimed to raise money to loan to its members. Mutual initially raised one million dollars capital, but by 1888, that number increased to ten million. In 1931, the company built the Mutual Home Building, which was the tallest edifice in Dayton until 1969 when it was replaced by the Grant-Deneau Tower. The building featured Italian marble, 30-foot high plaster ceilings, and detailed metalwork. It was constructed with limestone, Black marble, concrete, and steel. The Mutual Home Building was designed by architects Schenk & Williams, who also designed Hawthorn Hill (home of Orville Wright and his family) and the Engineers Club of Dayton.
The interior of the twenty-three-story building was just as impressive as the outside. It featured a humidification system that would cool the office space. The elevators were top-of-the-line and could travel up to 750 feet per minute. The elevator operators were held to strict codes of conduct to keep an atmosphere of professionalism. Underneath the structure was a two-story underground garage where attendants could fill up a car with gas or give it a wash while its owner worked upstairs.
Because the Mutual Home Building was the tallest in the city, it was used as an air raid lookout in World War II. Men from the United States Army Signal Corps patrolled the rooftop all day. After the war, the Hulman family bought the building. In the 1970s, it was purchased by the Cen-Day Office Company. The building became known as the Liberty Tower after it was taken over and renovated by Liberty Savings Bank in 1998. Today, Liberty Tower is still mostly occupied, faring better than some other office buildings in downtown Dayton.
Sources
Powell, Lisa. The history of downtown's Liberty Tower, soon-to-be movie star in a Robert Redford film. Dayton Daily News. June 27, 2017. Accessed December 08, 2018. https://www.mydaytondailynews.com/news/the-history-downtown-liberty-tower-soon-movie-star-robert-redford-film/3VUhJmw0uji4GxfR1ZIDzM/.
Crew, Harvey W. History of Dayton, Ohio 1889 Chapter Seventeen. Dayton History Books Online. Accessed December 08, 2018. http://www.daytonhistorybooks.com/page/page/3432215.htm.
Photo from Wiki Commons user Greg Hume.

Additional Information