Washinton Iron Works
Introduction
Established in 1876, Washington Iron Work's has lasted for over five generations and is Sherman's oldest operating industry. With a total square footage of 137,840 between two facilities, this business is in the services of oil, natural gas, wind energy, mining, agri-business, forestry, maritime, aviation and air compression industries.
Images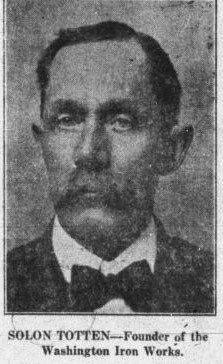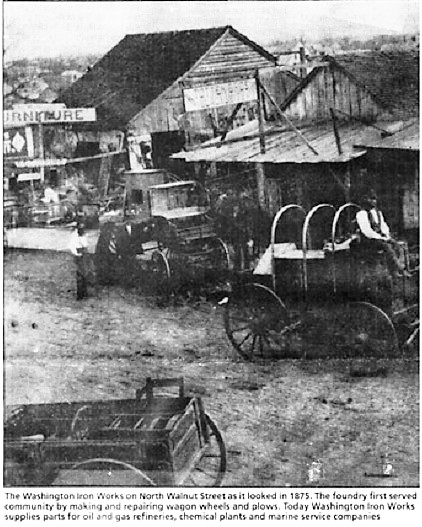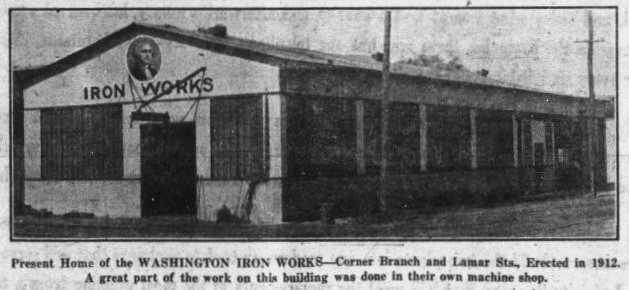 Backstory and Context
In 1875, Solon Totten (1847-1932) made the long horseback trip from Quincy, Illinois to Texas looking for "better conditions for his family Blacksmith business." .1 Totten found an opportunity with stage companies located in Sherman that required Blacksmith services. After persuading his father Joseph (1821-1906) to move to Sherman, Solon and his brother Levi Totten (1844-1915) opened 'Totten Bros. Blacksmith' on Cherry Street. As businesses opened and industries flourished, the Totten Bros found success producing "wheels for freight wagons and stagecoaches and repaired vehicles." .2 The original stockholders of the business were Levi and Solon Totten, Noah Swain, Adolph and Max Seisfield and L.L. Roussell.
In 1881, Totten Bros. Blacksmith changed its name to 'Washington Iron Works' and relocated in 1890 to its current location on East Lamar Street. In 1888, the company had a capital stock of "$20,000." .3 By 1893 Solon, Levi and Joseph had "gained full ownership".1 of Washington Iron Works and it remained in the family for generations.
Solon Totten had two sons named Harry (1877-1964) and Jesse (1880-1946) with his wife Ida Mae Wells. Solon, Harry and Jesse operated the company by 1904 until Solon "retired in 1922". While Harry and Jesse were in ownership, they made "gun barrel molds".2 during World War II. After Jesse Solon's death in 1946, his brother Harry operated the company with his son Harold Totten (1900-1969).
Today, the "state-of-the-art".4 facility has expanded to include turbine engines, petrochemical plants, power generation, gas processing and compressors. On Sep 15th, 2015 the 'Washington Iron Works' was purchased by The PROS Co. based in Lubbock, Texas. The legendary brand continues to operate under the name Washington Iron Works despite its purchase.
Sources
1. Washington Iron Works, "About Us", 2016, http://www.washingtonironworks.com/about.html

2. Washington Iron Works, Inc., Marker [122], http://www.co.grayson.tx.us/upload/common/Historical/Markers/Mark122.htm

3. Fort Worth daily gazette., March 25, 1888, Page 6, Image 6

4. SEDCO, "The PROS Co. Acquires Historic Washington Iron Works", Sep, 15. 2015, https://sedco.org/pros-co-acquires-historic-washington-iron-works/