Percy Brown's
Introduction
Percy Brown's was Wilkes-Barre's very own grocery store and cafeteria that was the brainchild of Percy A. Brown, who took over the family butcher shop in 1907. Located at the corner of East Northampton St. and South Washington St. Percy Brown's was a testament to Brown's belief in affordable goods and fresh quality, going as far to change his delivery service to ensure that his products maintained the same quality as the ones in his store. Locals frequented the store for their groceries and enjoyed home cooked meals in Brown's air conditioned lunch counter turned cafeteria. Percy's Browns officially closed in 1981 after nine years of attempted recovery from the 1972 Agnes flood that devastated the Wyoming Valley, but is remembered fondly by older Wyoming Valley residents and the tourists who visited the area in the prime of Percy Brown's.
Images
A photo of Percy Brown's as it looked on East Northampton Street in Wilkes-Barre; a popular movie theater now inhabits this space where the renowned grocery store and cafeteria once stood. Source: "Percy Brown's on East Northampton Street in Wilkes-Bar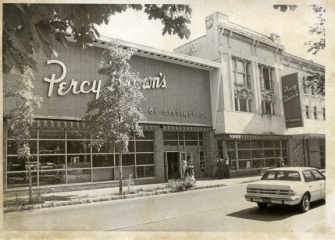 An advertisement for Percy Brown's from November 3rd, 1976. Source: John. "Percy Browns Ad 11-03-76." Flickr. https://www.flickr.com/photos/42444189@N04/8548427521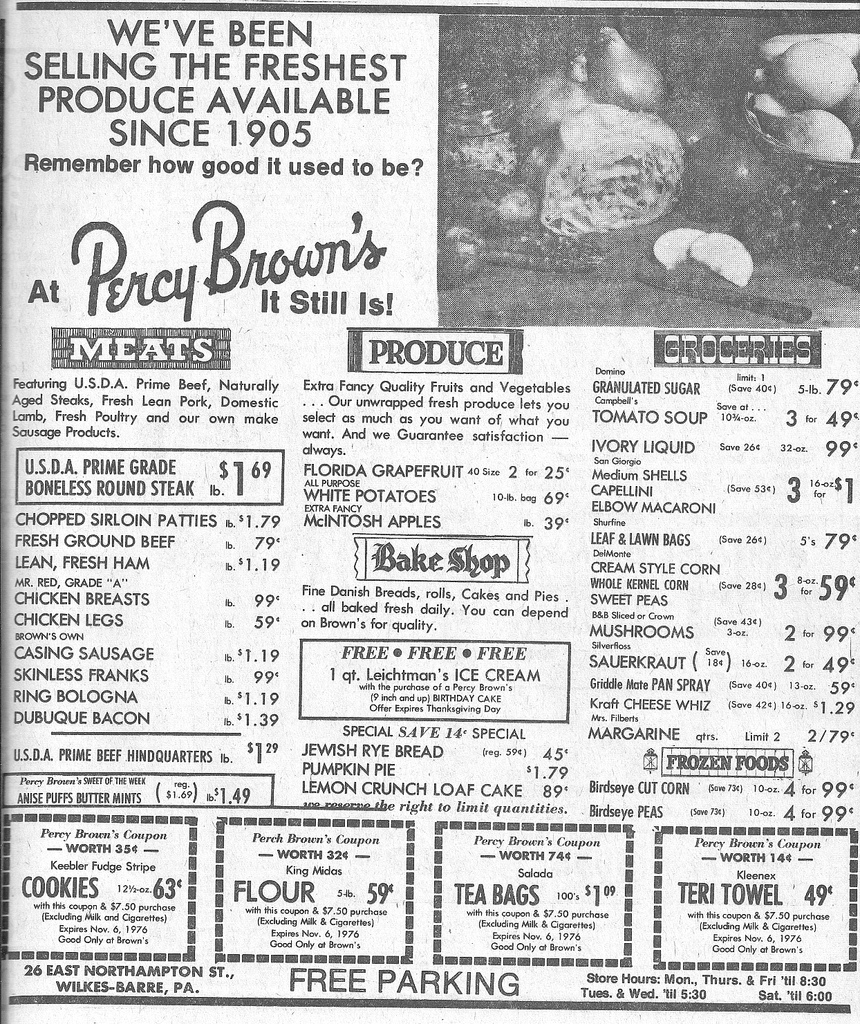 Backstory and Context
At 26 East Northampton Street, in Wilkes-Barre, Pennsylvania, today, one visiting the town may find a large movie theater that the locals frequent for half-price ticket Tuesdays, but what most people don't realize is that a rather successful grocery store and cafeteria lived at that corner of East Northampton and S Washington streets in the city of Wilkes-Barre for almost 80 years. Percy Brown's is remembered fondly by older Wilkes-Barre natives for its reasonable prices and the delicious meals offered there. Percy Brown's ads were in almost every Times Leader and Wilkes-Barre Record newspapers, from the 1940s through the early 1980s, filling the page entirely with its promise of affordable groceries for all families to enjoy, and a cafeteria menu like no other in the Wyoming Valley. However, something that even the Pennsylvanians of that region may not realize is that Percy Brown's had its beginnings as a butcher shop.
Percy A. Brown, born to Franklin J. Brown and Mary C. Wenner Brown, was born in 1883, in Butler Township, PA, a township neighboring Hazleton and about 25 minutes from Wilkes-Barre. The Brown family moved to Wilkes-Barre in 1889, where Percy attended public school and worked as a delivery boy for the Boston Store, which is where present day Boscov's is in downtown Wilkes-Barre. By 13, Percy was already employed in the meat business; in 1905, at 22 years old, Percy and his father bought out a local meat business on the corner of Northampton and Washington streets. Two years later, Percy bought out his father and continued the business ("Somewhere in Time: Percy Brown, grocer extraordinare", 2010).
Percy A. Brown & Company, with Percy and his two partners, B.F. Williams and Robert C. Smith, formed the infamous Percy Brown's in 1910 ("Somewhere in Time: Percy Brown, grocer extraordinare", 2010). Brown was consistent in his strategies, putting emphasis on quality, freshness, and reasonable prices, even going as far to change his previous strategy of delivering with a peddler wagon three times a week, since the goods were being swarmed with flies throughout their delivery route (Skrapits, 2015). Brown is quoted in his testimony before the U.S. Senate in 1919 in regards to a bill to stimulate livestock sales, that, "Later on, we commenced going around to houses and taking orders, and delivering the goods ordered, in order to give better service and to deliver the goods in better condition" (Skrapits, 2015).
Most people are familiar with the Wyoming Valley being the most important anthracite area in the 1900s, with Wilkes-Barre even being nicknamed "The Coal City" on local welcome signs. This small region in the middle of the tri-state region was home to many coal miners from Europe; the area pulled in many Europeans from Italy, Poland, and Ireland, and the people who live here today are still proud of their ethnic heritage. Brown liked these people and appreciated their support as his customers, going as far to say, in front of senators, that the miners were more appreciative of a good meal than the man who works in an office (Skrapits, 2015). He is quoted as saying, "And they really appreciate it more than he ['the fellow who works in an office or in a bank'] does, because I have found that the man who is in an office does not have an appetite" (Skrapits, 2015). Brown's business blossomed into a complex, stretching from 18-32 East Northampton Street due to his philosophies and hard work through 15 hour days (Skrapits, 2015).
In 1916, Brown had instilled a sandwich counter in his grocery store, thus marking the beginning of his successful cafeteria that would flourish for years to come. In 1920, the small sandwich counter had blossomed into a 108-seat cafeteria; by 1930, the cafeteria was seating 325 diners (Skrapits, 2015). In an ad from the Wilkes-Barre Times Leader, circa June 26, 1947, Percy Brown's advertises their cafeteria menu features for that Friday, with entrees such as deviled crab cutlet with tartar sauce for 40 cents, and roast leg of pork with brown gravy for just 50 cents. Advertised in the newspaper were also Percy Brown's "Own Make Salads", like pepper hash, an Eastern Pennsylvania specialty, for 25 cents a pound, and creamed cabbage, a European side dish, for 32 cents a pound (Advertisement for Percy Brown's, p. 12). Brown was always making sure that his products and service were top notch for his customers, and reading the types of food Brown offered further strengthens the argument that Brown was a caring businessman, recognizing the ethnic backgrounds of his loyal customers.
Even during the Great Depression Brown was consistent in keeping his loyalty to his consumers, and even his staff; he made it a point to hire more people and keep the prices low for those struggling during that difficult period in American history. He installed an automatic air conditioning system when he remodeled his dining room in 1935 in order to keep his customers cool in the heat while they enjoyed their meals and Brown's "Perfect" homemade ice cream on those extra hot days (Skrapits, 2015). Another concept as new as the automatic air conditioning system that Brown instilled in his store was "vapor vacuum-sealed" foods, like mayonnaise and tartar sauce, that he and his staff made fresh in the kitchen in 1937; Brown also promoted the bringing in of fresh vegetables during the middle of winter, or "June in January", when most business were using canned or preserved vegetables in the cold winter months (Skrapits, 2015).
Brown was a loved figure in the Wyoming Valley, known for opening his establishment during the aftermath of the 1936 flood for patrons who did not have gas or electricity at home due to the destructive storm, and for serving on local committees, such as the Wilkes-Barre Chamber of Commerce and the Wyoming Valley Merchants' Association (Skrapits, 2015). Percy Brown's had expanded delivery services into Harvey's Lake by the 1940s, to serve locals and vacationers that were not near Percy Brown's store in downtown Wilkes-Barre (Skrapits, 2015). As the years went on, Brown kept up with times by adding more modern touches to his humble establishment, and even began offering frozen TV dinners in the 1950s for the hard working folk (Skrapits, 2015).
On March 4th, 1962, Percy Brown had passed away, and was greatly mourned by the entire Wyoming Valley. Brown's daughter, Orceil, took over the family business and continued the tradition up until the Agnes flood of 1972, a disaster that shook the entire Valley. For 9 years, after restoring the establishment, Percy Brown's attempted to make a comeback after the flood, but in 1981, Percy Brown's was closed for good; the building was demolished in 1993 (Skrapits, 2015).
There are very few Wyoming Valley residents who remember Percy Brown's; a few older residents who were around before Percy Brown's closed in 1981 have fond memories of visiting the cafeteria for dinner and grocery shopping with their family. There is no current physical memory of Percy Brown's on the 20-30 block of East Northampton Street today, with the large RC Movies 14 standing proudly in Percy Brown's former foundation. However, through newspaper archive websites and the stories told by older Northeastern Pennsylvanians, Percy Brown's lives on as the "Local Institution of National Distinction" (Skrapits, 2015).
Sources
Advertisement for Percy Brown's. Wilkes-Barre Times-Leader. 26 June 1947, p. 12.
https://www.newspapers.com/image/153273391/
Skrapits, Elizabeth. "Percy Brown Found a New Market at Harveys Lake." Citizens' Voice,
Citizens' Voice, 29 Nov. 2015, www.citizensvoice.com/arts-living/percy-brown-found-a-new-market-at-harveys-lake-1.1974892.
"Somewhere in Time: Percy Brown, Grocer Extraordinaire." Citizens' Voice, Citizens' Voice, 3
Aug. 2010, www.citizensvoice.com/arts-living/somewhere-in-time-percy-brown-grocer-extraordinaire-1.917121.