Spatz's Ice Cream Parlor
Introduction
320 East State Street, Jacksonville IL was once home to Spatz's Ice Cream Parlor, opened by Edwin Spatz in the late 1930s. The shop was very popular in the community and often would have lines down the street. During the 1960s, Edwin Spatz had a court case over racial discrimination brought against him for not serving an African American student, Chauncey Whitaker. He pleaded guilty to the charges. After passing the business on to his son in 1965, Edwin opened a second location on Greenwood Avenue and worked there, semi-retired, until his death at the age of 90.
Images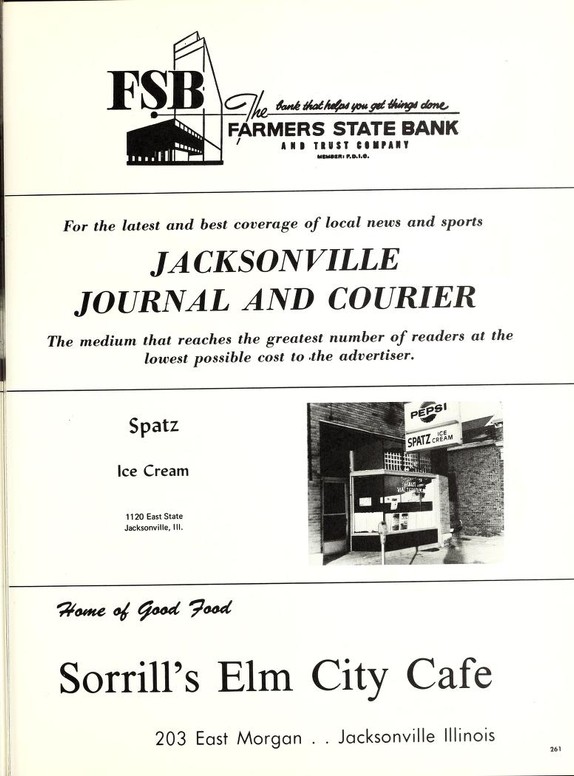 Spatz's obituary newspaper article


Backstory and Context
Edwin Spatz, also known as "Spatzie", arrived in Jacksonville in 1936 (with $90 in his pocket as the family story goes). Once he opened Spatz's Ice Cream Parlor, he became a very busy man. Edwin would arrive at the store as early as 7:30 a.m., and wouldn't leave until 10:30 p.m. due to the popularity of his products. He traveled to Mount Sterling for the milk for his ice cream, dragging back as much as 200 gallons in a trailer behind his car. People around the community loved his ice cream so much that he would often have lines down the street of impatient customers.
In later years, Spatz's had a reputation with certain parts of the community to have segregated practices going on in the shop. In 1961, Chauncey Whitaker, who is African American, walked into Spatz's with a group of white students. While Whitaker's friends were served, Whitaker was not. When he asked Edwin Spatz why he wasn't being served, he was told to leave. Whitaker then consulted a lawyer and brought a civil suit against Spatz, stating his civil rights were violated because the color of his skin. Edwin Spatz pleaded guilty to these charges and was fined $100 and costs by Judge John B. Wright. Reverend Kenneth Dobson writes that himself, along with the MacMurray College Wesley Fellowship, were the ones who organized this event by planning an integrated group to be in Spatz's to see if they'd be served. As a result of this case, many businesses around town, like the movie theatre, also stopped certain segregation practices they had been using.
After the case, Edwin Spatz continued to work at Spatz's for a short time before leaving the business to his son James. He opened a second location on Greenwood Avenue in order to work semi-retired for the remainder of his life. Edwin Spatz died at the age of 90.
Sources
Dobson, Ken. "Freedom." Ken Dobson's Queer Ruminations from Thailand. January 15, 2018. Accessed October 05, 2018. http://www.kendobson.asia/blog/freedom.
"Jacksonville Journal Courier, March 26, 1999: Front P." NewspaperArchive. March 26, 1999. Accessed October 05, 2018. https://newspaperarchive.com/jacksonville-journal-courier-mar-26-1999-p-1/.
Additional Information