Glenn H. Curtiss Museum
Introduction
This museum honors the accomplishments of Glenn H. Curtiss, one of the early pioneers of aviation who was a native of Hammondsport. The museum features permanent and temporary exhibits, which include numerous aircraft, vintage automobiles, motorcycles, wooden boats, and old bicycles on display. Highlights include a replica of the "June Bug," the airplane Curtiss used to fly the first officially recorded flight in the country, and a replica of the motorcycle he used to become the "fastest man in America," reaching a speed of 136.4 mph. Other topics explored include winemaking in the region, women in aviation, and the local company Mercury Aircraft Inc., which was founded in 1920. The museum also has a 75-seat theater and a restoration shop where visitors can watch craftsman restore aircraft.
Images
This is the "Curtiss JN-4D Jenny," which solidified Curtiss' status as the best airplane manufacturer in the country. As a result, the U.S. military bought around 7,000 of them for WWI.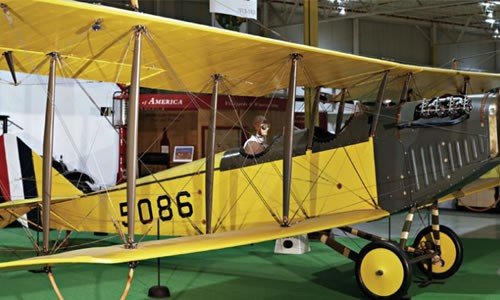 Glenn Curtiss (1878-1930)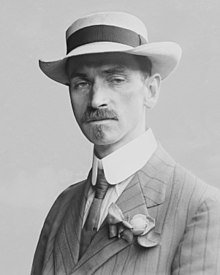 Backstory and Context
Glenn Curtiss was born in 1878. From an early age showed an interest in mechanics. He started to build bicycles and then, in his early 20s, motorcycles. It was in 1907 that he became "the fastest man on earth" and he earned a reputation for building high-performance engines.

At some point during these years, Curtiss gained an interest in airplanes. He built "June Bug" sometime in 1907-1908 and flew it on July 4th, 1908. This event, as noted above, was the first officially recorded airplane flight in America. He won the Gordon Bennet Trophy in 1909 for speed at a tournament in France. Then in 1910, Curtiss made the first long-distance flight (with one stop) in the country between two cities (Albany, NY to New York City). His next feat came in 1911 when he developed the first seaplane. The U.S. Navy took notice of Curtiss' skill and notoriety and hired him to build their first plane, the "A-1," and train their pilots. He went on to build a number of other planes in the next few decades. He died in 1930.
Sources
"About." Glenn H. Curtiss Museum. Accessed December 4, 2018. https://www.glennhcurtissmuseum.org/about.php.
Additional Information