Alley Spring & Mill
Introduction
Alley Mill is powered by Alley Spring, one of the largest freshwater springs in the state. George Washington McCaskill replaced a mill built in 1868 with the now-historic structure in 1894, intending to use it as a merchant mill. It stood larger than most mills in the Jacks Fork area. John Knotts purchased eighty acres in 1902 and diversified the enterprises to include a well-stocked store and Blacksmith shop. As a result, Alley Mill evolved into an economic, communications, and social hub, home to a school, dances, baseball games, and roller skating. Indeed, Alley Mill was the only mill available to farmers and residents in a 500-square-mile area. 
Images
Alley Spring & Mill was built in 1893-1894 and has been well maintained. It is one of numerous historic sites in the Riverway.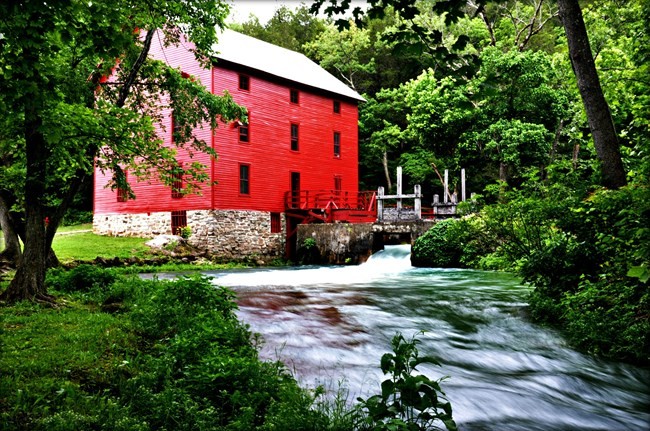 Ozark National Scenic Riverways: Alley Spring and Mill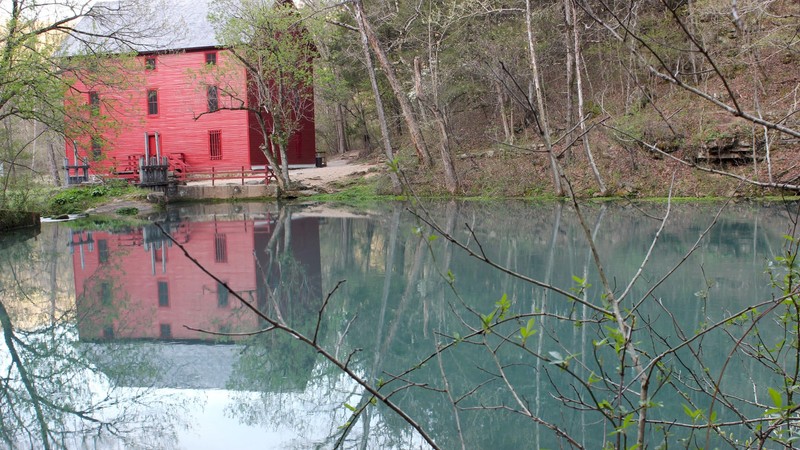 Backstory and Context
The eastward flowing Jack's Fork River depends primarily on underground springs for water, including Alley Spring, the tenth largest spring in Missouri. Alley Spring, which remains at a near constant 57 or 58 degrees throughout the year, attributes its deep dark blue hue to the mineral content from dissolved dolomite bedstone. The spring pours an average of 90 million gallons of water daily, helping power Alley Spring Roller Mill.
Migrants and immigrants, notably from the American South and Germany slowly populated the Missouri Ozark region during the first half of the nineteenth century. Most developed farms in valleys between Ozark hills, leaving them largely isolated from each other. They grew such crops as corn, wheat, rye, and oats and then traveled great distances to process their crops at water-powered mills established near streams such as the Alley Mill. One German immigrant, Charles Klepzig, bought the mill together with 240 acres of land in 1881. He applied for a post office in 1884, which took the name Alley. 
A severe flood washed much of the dam away in the spring of 1890 and forced Klepzig to close the mill and move the post office to his home. Unable to repair the damage, he sold the mill to McCaskill in 1893. McCaskill took over a useless mill with a broken dam, dilapidated building, and an unworkable wheel. Thus, McCaskill set forth a plan to construct a new mill. (He and his brother James had experience building several mills, including the roller mill at Summersville, fifteen miles west of Alley.) 
The Alley Mill proved much larger than the mill it replaced, rising 2 1/2 stories and housing five steel flour rollers, scourers, and a separator, powered by a metal turbine. The new dam extended across the spring branch nearly two hundred feet, creating a pond more than forty feet deep and a hundred yards across.McCaskill ultimately built one of the most modern mills in the Ozarks. Turbines proved far more efficient than waterwheels and steel rollers were exceedingly faster and cleaner than stone burrs. The mill was completed by early 1895 when McCaskill advertised he could grind up to fifty barrels of grain per day.
Farmers visited the mill several times a year to have their grain ground and sometimes spent several days there waiting for their turn. This time was used for visiting, exchanging news and gossiping, and buying supplies in a general store or having work done at a Blacksmith shop, both of which were operated adjacent to the mill. Alley Spring Roller Mill also supported a school with roughly two dozen students. McCaskill also built a picnic area beside the pond; many visitors used the area to enjoy some leisure time. 
In 1897 McCaskill sold the mill for a substantial profit to Ellen J. Boyd. Ownership changed hands several times until the mid-1920s when the mill largely became obsolete. The mill fell victim to modern industrialization, making it too small to compete in the twentieth century. Giant mills of Minneapolis could process tons of wheat in the time it required Alley Mill to grind a few hundred bushels. And, the dawn of the automobile era allowed for easy transportation of flour. Indeed, local residents that used to go to Alley Mill chose instead to go to stores in Eminence and Summersville. Consumers could buy flour cheaper in stores than it could be ground at the mill.
In 1924, the state of Missouri took control of the mill site and turned it into a park. Federal work programs of the 1930s provided the impetus needed to fully develop the park. In 1970, the state ceded the mill and park to the U.S. Government as part of the Ozark National Scenic Riverways in 1970. 
Sources
"Alley Spring Roller Mill." LandmarkHunter.com. Accessed July 19, 2022. http://landmarkhunter.com/125540-alley-spring-roller-mill/.
"Ozark: Alley Mill." National Park Service. nps.gov. December 18, 2017. https://www.nps.gov/ozar/learn/historyculture/alley-mill.htm.
Perry, Milton F. "Nomination Form: Alley Spring Roller Mill." National Register of Historic Places. npshistory.com. 1981. http://npshistory.com/publications/ozar/nr-alley-spring-roller-mill.pdf.
Von Halle, Cindy. "Grand Setting...Alley Spring." Ozark National Scenic Riverway - National Park Service. Accessed November 25, 2018. https://www.nps.gov/ozar/learn/historyculture/alley-mill.htm.
Image Sources
https://www.nps.gov/ozar/learn/historyculture/alley-mill.htm

https://www.nps.gov/places/alley-spring-and-mill.htm

Additional Information