Collinwood School Fire Memorial
Introduction
In 1908, building codes were in place but they had not yet shown their importance in such a way that they did on March 4th. This elementary school went up in flames because of its mostly wooden structure, resulting in the death of 172 children.
Images
Newspaper article from the school fire.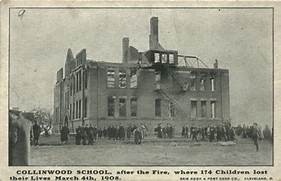 School's historical marker.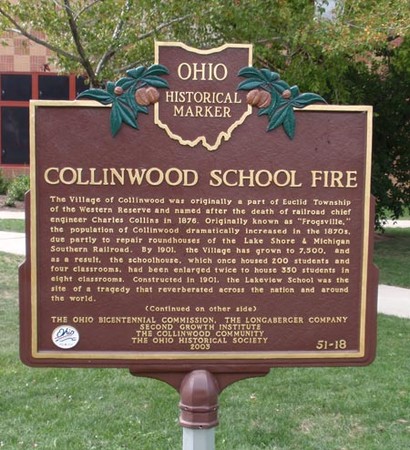 Memorial to all of the victims of the fire located in the Lakeview Cemetery.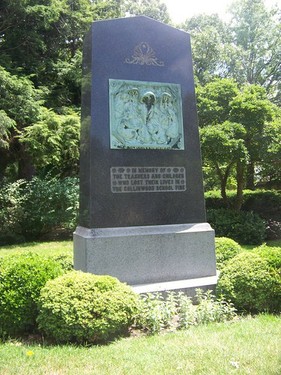 Lakeview Elementary engulfed in flames and smoke.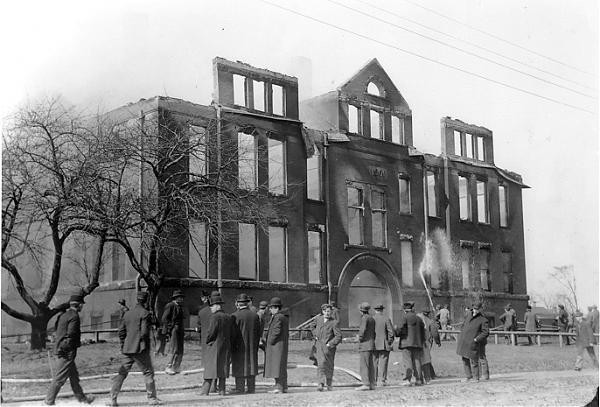 Backstory and Context
On March 4, 1908 children arrived at Lakeview Elementary School like it was a regular day, but soon it turned into a horrible day for the town. An overheated steam pipe was exposed to wooden joists in the basement underneath the wooden stairs in the front of the school. 194 children were able to escape the resulting fire, but unfortunately the rest of the children were trapped because of their own panic, as the doors were able to open and the building did follow fire hazard precautions. This means the rear doors of the building opened outward, therefore there was no obstruction to the doors. The panic of the children resulted in 172 children and 2 teachers losing their lives that day, though the narrow stairways and the highly flammable materials used to build the school were also to blame for the unfortunate event. By the time the firefighters had arrived it was too late to enter the falling building. Nineteen bodies were unable to be identified, and were all buried together in a common grave along with all of the other victims in the Lakeview Cemetery.

The following weekend all of the funerals took place, and it is said that there was a funeral procession almost constantly going through the town. The surviving students were usually the pall bearers for the children's funerals. Businesses and schools closed for the following Monday out of respect for the deceased. Now there is a memorial with all 172 names on it in the Lakeview Cemetery in Cleveland, Ohio.
Sources
Busta- Peck , Chistopher. "In Memory of the Teachers and Children Who Lost Their Lives in the Collinwood School Fire Historical Marker." Historical Marker, 16 June 2016, www.hmdb.org/marker.asp?marker=60759&Result=1.

"COLLINWOOD SCHOOL FIRE." Encyclopedia of Cleveland History | Case Western Reserve University, 22 May 2018, case.edu/ech/articles/c/collinwood-school-fire.

Fearing, Heidi. "Collinwood School Fire." Cleveland Historical, www.clevelandhistorical.org/items/show/394.





Additional Information