Crescent Hotel & Spa
Introduction
The Crescent Hotel & Spa is one of the more memorable landmarks in the South and one of the most historic hotels in the country. The five-story building was constructed in 1886 and designed by architect Isaac S. Taylor, who successfully oversaw the design and construction of buildings at the St. Louis World's Fair (1904). The design of the hotel combines French Renaissance and Richardsonian Romanesque architectural styles, giving it a distinct appearance. The hotel is also the last 19th-century resort still standing in northeast Arkansas and is considered the most haunted hotel in the America. It is listed on the National Register of Historic Places and is a contributing property to the Eureka Springs Historic District, which is also on the register.
Images
Crescent Hotel was built in 1886 and is one of the most historic hotels in the country.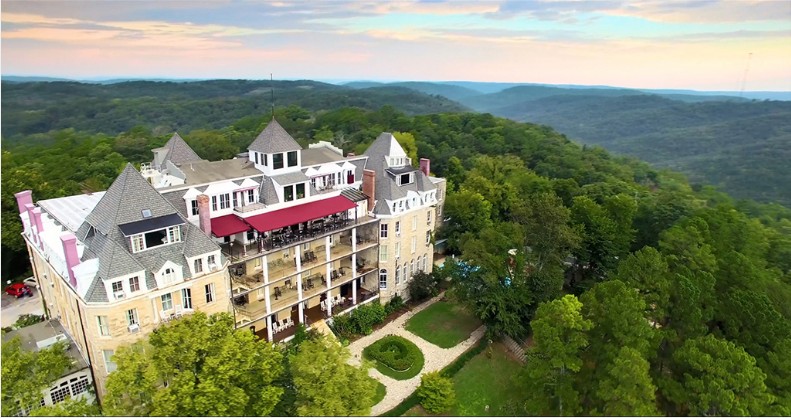 Backstory and Context
The hotel was built because of the 60 springs that attracted many people from afar, who believed that the water had healing properties. The springs became famous after a Civil War doctor, Alvah Jackson, who had been living in Eureka Springs since 1854, suggested to a judge he knew to visit the springs to treat a sore leg. The judge's leg was healed and he quickly spread the news, which prompted others to come to the area, hoping to be cured of all kinds of ailments—both real and not real (for example, trouble with women and baldness). Jackson began to incorporate the spring water in his practice after the water apparently healed his son's eye injury.

Tourism got its official start here when, in c.1881, General Powell Clayton and former Arkansas governor founded Eureka Springs Improvement Company to attract railroads to Eureka Springs. With the help of investor Richard Kerens, a line of the Frisco Railroad was eventually built, reaching the town in November 1881. Now, instead of traveling on winding roads on wagons, visitors could get to Eureka Springs much faster. The hotel was built to accommodate this influx of visitors. Clayton didn't just want to build a hotel, he also developed Eureka Springs into a full-fledged town, complete with new houses, streets, water and sewer lines, and even an electric trolley.

Clayton went on to become U.S. Minister to Mexico (1897-1905, when he died) and Kerens eventually became U.S. Ambassador to Austria-Hungary 1909.
Sources
"Crescent Hotel History." Crescent Hotel. Accessed November 8, 2018.
https://crescent-hotel.com/history.shtml.

"Eureka Springs History." EurekaSprings.com. Accessed November 8, 2018. https://www.eurekasprings.com/historical.

Moyer, Jack & Constant, Tess. "Crescent Hotel." National Register of Historic Places Nomination Form. December 18, 1970.
http://www.arkansaspreservation.com/National-Register-Listings/PDF/CR0679_nr.pdf.

Photo: Crescent Hotel
Additional Information