Wild Bill Hickok in Abilene
Introduction
James Butler Hickok, better known as Wild Bill, was a living legend in the days of the Old West. Abilene, KS was the first cowtown, and with the cattle trade came the lawlessness that characterized the West. In 1871, Hickok became Marshal of Abilene where he had his final shootout with Phil Coe in front of the infamous Alamo Saloon. The Alamo Saloon was torn down after the cattle drive days were brought to an end, but a commemorative sign hangs on the building currently on that site, and a replica of the Alamo Saloon stands in Old Abilene Town.
Images
A sepia photo of Hickok, date unknown.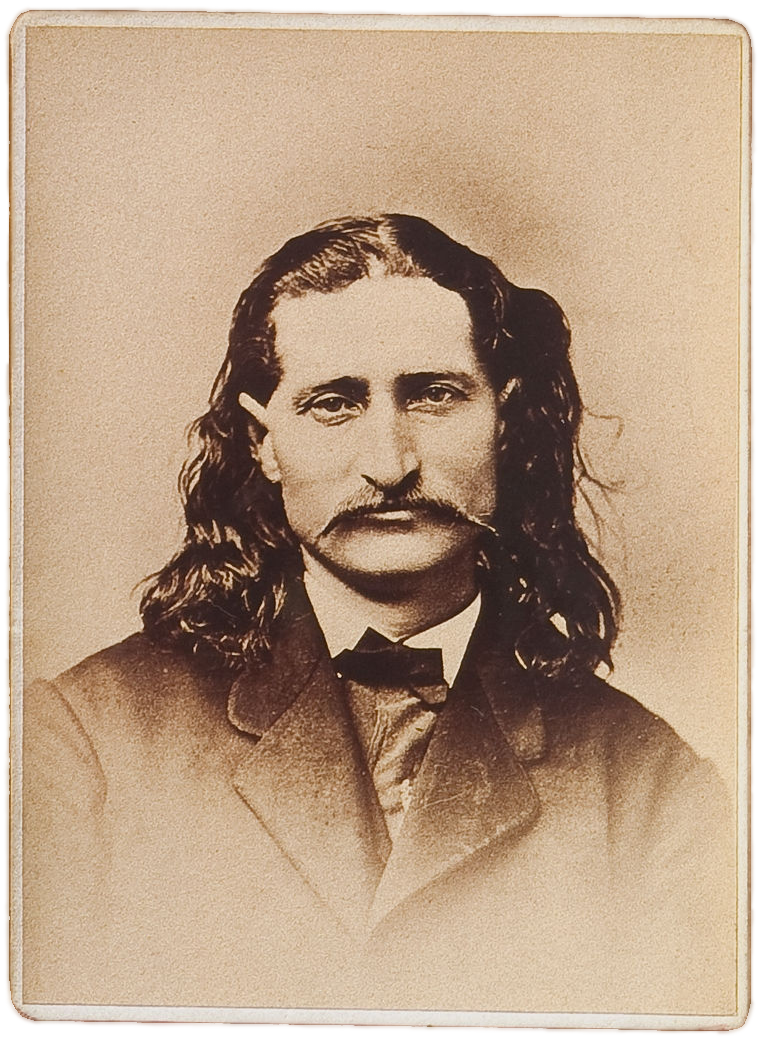 Mural of Hickok on the side of a building on Buckeye Ave. near Cottage Ave.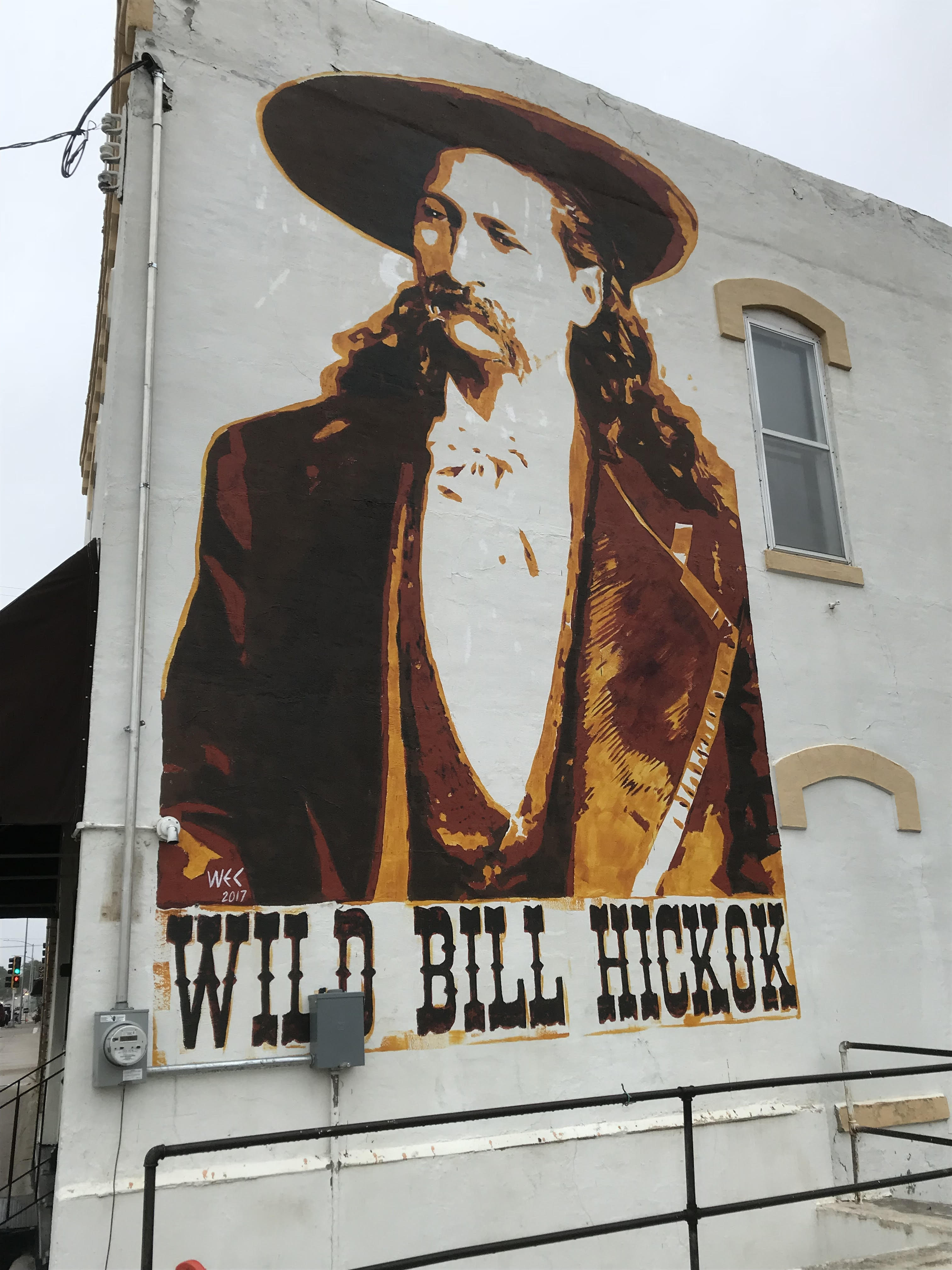 Commemorative sign at the original site of the Alamo Saloon on the corner of N Cedar St. and W 1st St.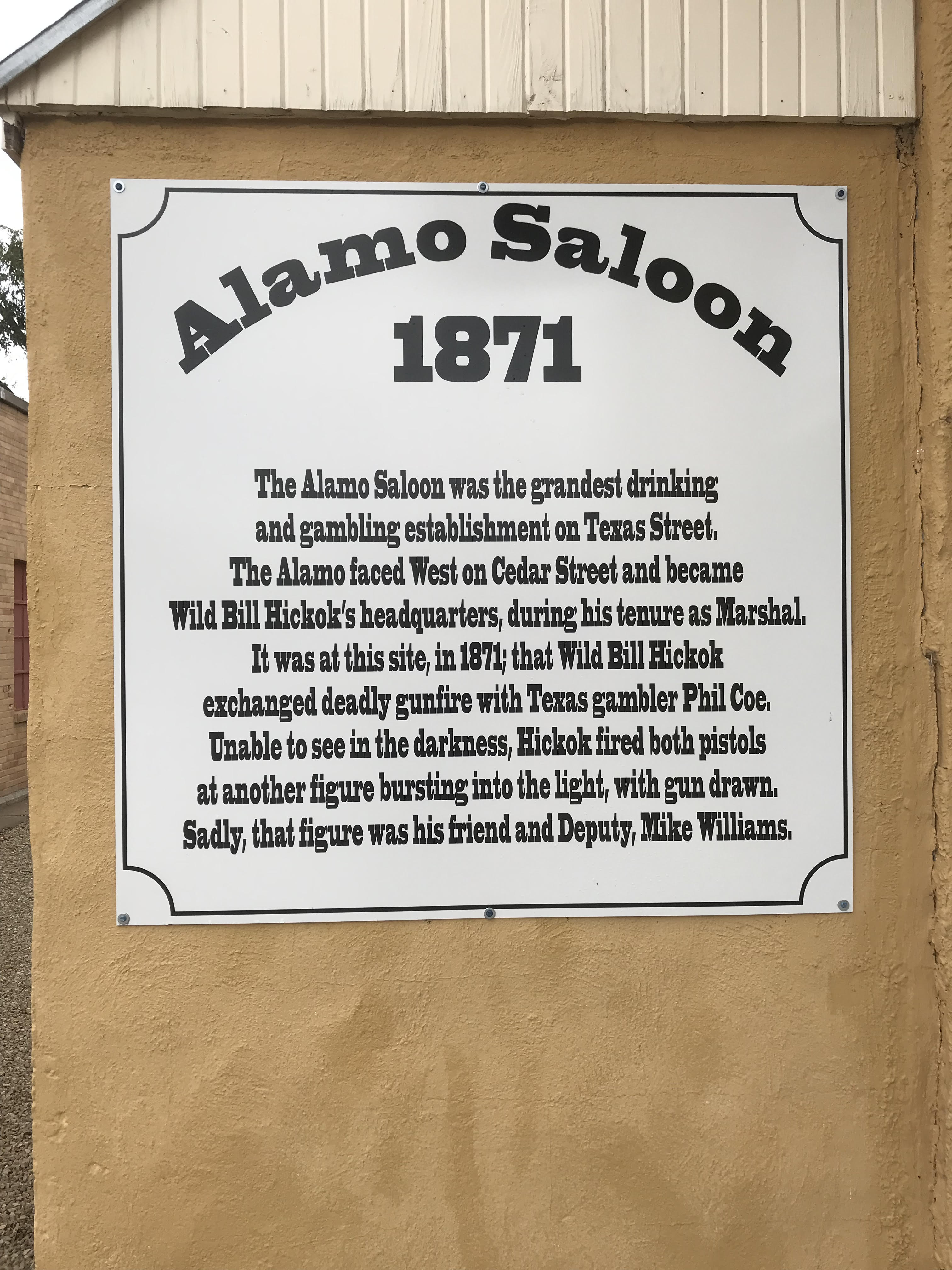 A plaque commemorating the original town site on the corner of Buckeye Ave. and Texas St.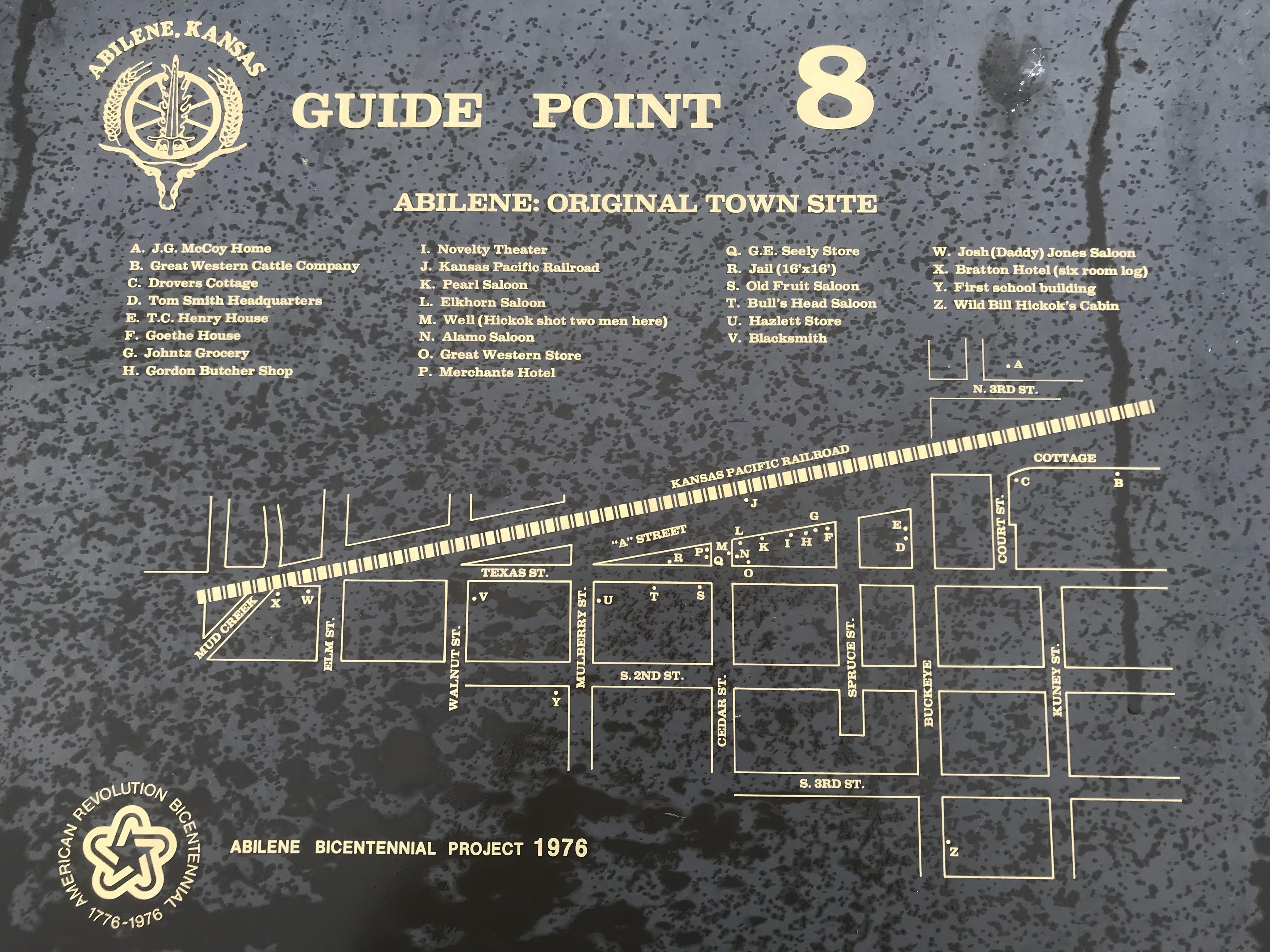 Backstory and Context
Abilene was founded by Timothy Hersey in 1857 when he built the first house along Mud Creek, where the Lebold Mansion currently stands. The town slowly grew until 1867 when Joseph McCoy had the idea to make Abilene a shipping point for Longhorns coming out of Texas going back east. Abilene became the first Cowtown and with that came the lawlessness of the cattle season. Lawless Texans and cowboys flooded Abilene during the summers, and saloons and brothels started popping up everywhere to accommodate these men. James Butler Hickok was the son of a Harvard graduate and Presbyterian Minister from Illinois, and was born on May 27, 1837. Hickok made a reputation for himself during the Civil War as a Union scout, and earning the name Wild Bill for his zealous approach to tracking bushwhackers in Kansas and Missouri. He wore two revolvers and was a dead shot, even earing the title of "fastest draw" in the West. He was reputed to have killed hundreds of men, though he had only killed four before his time as Abilene Marshal. The Alamo Saloon was one of many saloons located on Texas Street (later officially named "A" Street, but currently named Texas St.). It was described as "palatial" and was the first saloon in the west with live music in the form of a string orchestra. Women, including prostitutes, were not allowed in the saloons as they were solely a place for men to drink and gamble.
Before Wild Bill came along as Marshal, the stage was set for him by Marshal Tom Smith. Smith was 5'11" and weighed 170lbs. He was a former New York police officer and amateur fighter. Smith was a gentleman and always tried to settle disputes first through talking, and when that didn't work he used his fists, preferring not to use his guns. Abilene had been attempting to enforce a new ordinance that banned the carrying of guns in the town limits, but had given up on it as they were having great trouble enforcing it. Smith told Mayor T. C. Henry to repost the ordinance and that he would be able to enforce it, and that he did. Smith left the Abilene Marshal position in 1870 to become a Deputy US Marshal, and was killed when trying to bring in two cattle rustling homesteaders. Abilene mourned his death and he was buried in the local cemetery, where a large granite marker memorializes him.
Hickok's appearance was interesting to say the least. He was 6'1" and 175 lbs. with brown hair down to his shoulders, and was always wearing expensive clothes such as silk shirts and checked trousers. With the cattle season approaching in 1871, Abilene was in need of a new Marshal. Hickok applied for the job and received it. Hickok had his fair share of trouble as Marshal of Abilene, dealing with the cowboys and those rogues who traveled to Abilene to try to kill him for reward. Whereas Smith had been feared and respected by the Texans, Hickok had been feared and hated. Hickok continued the work of Smith by enacting the gun ordinance, but unlike Smith, Hickok did not patrol the town. He made the Alamo Saloon his base of operations and sat there waiting for something to happen that he had to go deal with. His reputation as a man killer and a fast draw helped to keep the Texans in line, but Hickok was still a fair and honest man.
On October 5, 1871, Hickok had his last ever shoot out. Phil Coe, owner of the Bull's Head Saloon, was drunk and walking the street of Abilene with a bunch of Texans. By 9 p.m., the group had reached the Alamo Saloon, and at that point a shot was heard. Hickok ran out of the saloon and confronted Coe, who said he had just been shooting at a dog and that if the Marshal wanted his guns he would have to take it. Coe then reached for his gun and Hickok drew his. Shots were exchanged and Coe was struck in the stomach. In the middle of the fight, another armed man had ran up, and Hickok not being able to tell who it was shot him too. The man was Mike Williams, a friend of Hickok's and one of his deputies. Williams died that night, and Coe died a few days later. Hickok was distraught over the death of Williams. Coe's mother who lived in Texas put up a $10,000 bounty for Hickok's head, and many Texans traveled to Abilene in hopes of cashing the bounty. Most notably were the 3-5 Texans who tried to get the drop on Hickok on a train bound for Topeka. Hickok got off the train, pointed his gun at them, and told them to stay on the train till it reached Kansas City.
The towns people had never truly liked Hickok as much as they had Smith, some thinking of him as more of a desperado than a lawman. By December of 1871 though, Abilene had decided that they no longer wanted the cattle trade and the lawlessness it brought. With that decision made, the shootout with Coe, and the tension between Hickok and the townspeople, Hickok was released from his position as Marshal of Abilene, though his reason for release was never officially stated. With Abilene, and all of Dickinson county, having banned the cattle trade, the town quickly calmed down. In doing so though, Abilene also lost many businesses and a large source of its income. The saloons and brothels were torn down and Abilene once again became a quiet farming community. The town survived though, and eventually reached fame again with the election of President Dwight D. Eisenhower.
After leaving Abilene, Hickok never again took a job as a lawman. Some speculate it was due to his failing sight, others believe that it was due to the grief of accidently killing his friend Mike Williams. Eventually he traveled to Kansas City where he married a woman named Agnes Thatcher Lake. Hickok, true to his nature though, could not stay in one place long and once again set off for the frontier. He ended up in Deadwood, South Dakota, a mining boomtown and gambled in the saloons. On August 2, 1876, Hickok was playing cards in the Bell Saloon and made the mistake of sitting with his back to the door. Jack McCall, a Texan who had been trailing Hickok for reward and revenge, walked into the saloon and shot Hickok in the back of the head. As Hickok had predicted, he'd died with his boots on. McCall was hanged, but before was asked why he hadn't given Hickok a fair chance. McCall stated, "I didn't want to commit suicide."
Hickok had multiple reputations, being both a gunslinger and a lawman. Today many think of him as both. Though Hickok wasn't very popular in Abilene in his time, he certainly is now. Though Tom Smith was the one who mostly turned the town around, Hickok's prior fame and reputation has made him more memorable to town citizens. Presently, Hickok has a sign hung on a building currently located where the Alamo once stood commemorating his shootout with Coe, a mural of him on Buckeye, a rodeo named after him, and a street named in his honor. Old Abilene Town was also built to commemorate the Cowtown days and a replica of the Alamo Saloon was built there, with gunfight reenactments taking place on the weekends.
Sources
1867-1871. Old Abilene Town. . . http://oldabilenecowtown.com/history/1867-1871/.

Rosa, Joseph G.. "Hickok's Last Gunfight." Wild West. Wild West. .

"Attempt to Kill Marshal Hickok." The Daily Commonwealth(Topeka)November 25, 1871. .

Jameson, Henry B.. Miracle of the Chisholm Trail.

Jameson, Henry B.. Early Days In Abilene Kansas "Where It All Started". Abilene, KS. Reflector-Chronicle Publishing Corporation.


Additional Information