Washington Railroad Heritage Park
Introduction
The Pacific Railroad reached Washington, Missouri in February of 1855. The original goal was to connect St. Louis to the Pacific Coast, but this goal was never achieved. The railroad did endure multiple hardships and financial troubles, eventually growing into a sizable railroad. Several merges were made and the Union Pacific Railroad was born. Over the years the Union Pacific Railroad donated several caboose cars to townships that the railroad ran through, one of which sits on the grounds of the Heritage Park.
Images
One of the Union Pacific's Big Boy locomotives.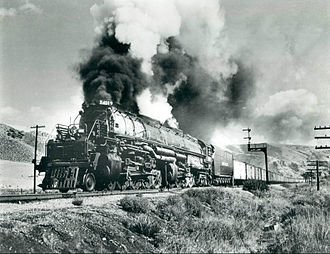 A diesel engine approaching Multnomah Falls bridge.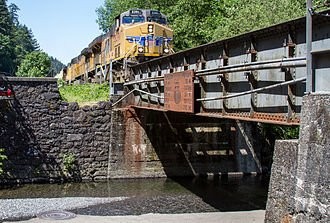 Backstory and Context
In 1849, the state of Missouri charted the Pacific Railroad with the hope of connecting St. Louis to the Pacific Ocean. Unfortunately, this goal was never achieved. The outbreak of cholera caused a severe delay in the initial construction of the railroad. Work had just begun on July 4, 1951 with the official groundbreaking. The railroad started with the short term goal of reaching all the way to Kansas City.

On December 9, 1852 the first train ran on the Missouri Pacific Railroad in between St. Louis and Cheltenham. The locomotive arrived at the railroad from the Taunton Locomotive Manufacturing Company of Taunton, Massachusetts August 20, 1852. Expansion of the railroad continued, but in 1853, during the construction of an extension to Franklin, Missouri, the company ran out of funds and stopped construction. An effort to overcome the problem succeeded by incorporating the Southwest Branch in 1853, and was completed in 1860, connecting the town of Rolla to the railroad. Jefferson City was connected to the railroad in 1855, then came the Civil War. After the war, the railroad changed ownership several times as it continued to expand.

After several mergers, in 1997 the Missouri Pacific Railroad finally merged into the Union Pacific Railroad, which still survives as one of the largest railroads in the nation and serves 23 states in the western United States. The railroad mostly serves industry and agriculture as would be expected for the Midwest. Also, the railroad connects into Canada and is the only railroad to serve all six ports of entry from the United States and Mexico.

Sources
Jones, Devry. Washington's Railroad History. HMdb.org. October 08, 2018. Accessed November 04, 2018. https://www.hmdb.org/marker.asp?marker=124372.

Pacific Railroad. Wikipedia. . Accessed November 12, 2018. https://en.wikipedia.org/wiki/Pacific_Railroad.

Missouri Pacific, Route of the Eagles. American-Rails. . Accessed November 12, 2018. https://www.american-rails.com/missouri-pacific.html.

Union Pacific. . Accessed November 12, 2018. https://www.up.com/aboutup/history/index.htm.


Additional Information