Walk of Champions, University of Alabama
Introduction
The University of Alabama created the Walk of Champions in 2006 to celebrate the athletic prowess and success of their many national championship teams. The walk includes plaques commemorating each SEC and national championship team that includes the names of players and coaches, as well as five bronze statues of each coach that has won a national championship. Prior to each home football game, Alabama fans line both sides of this brick and cement plaza to cheer for the current team as they walk to the stadium.
Images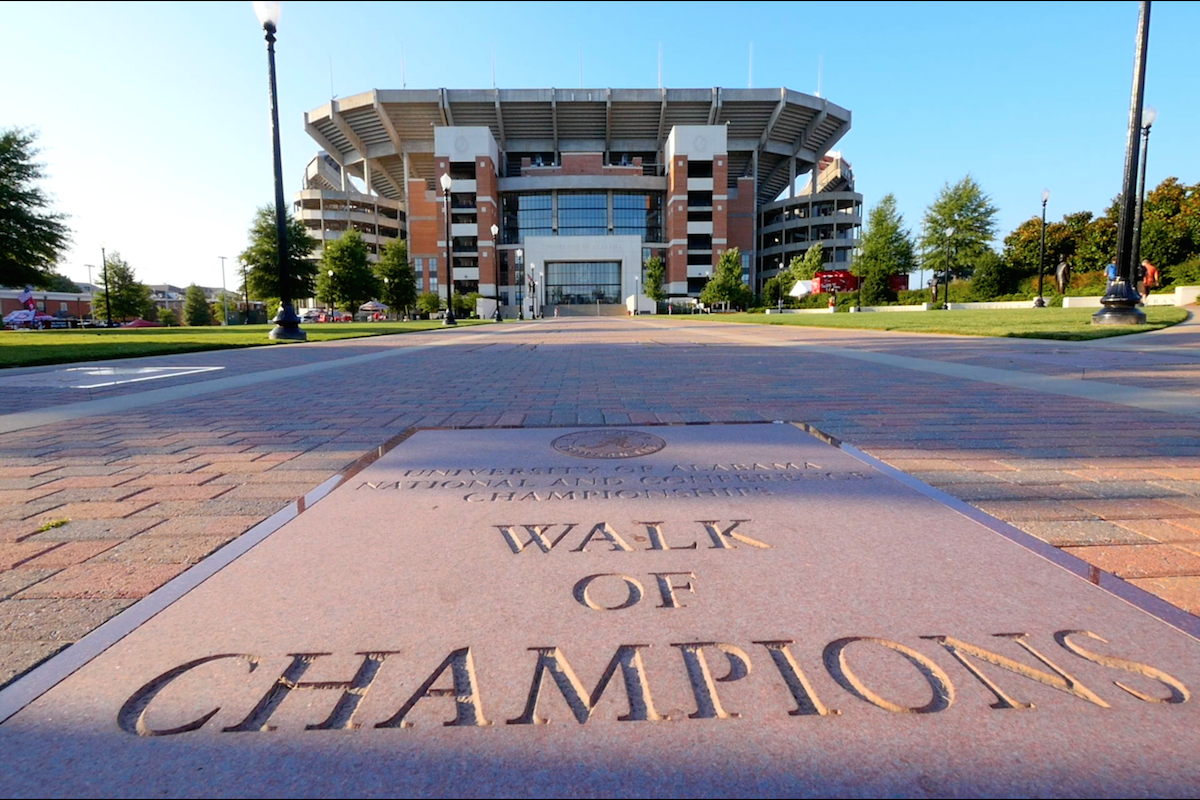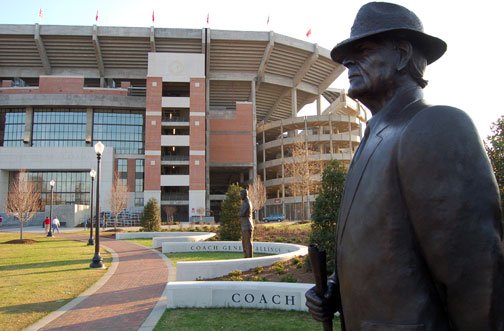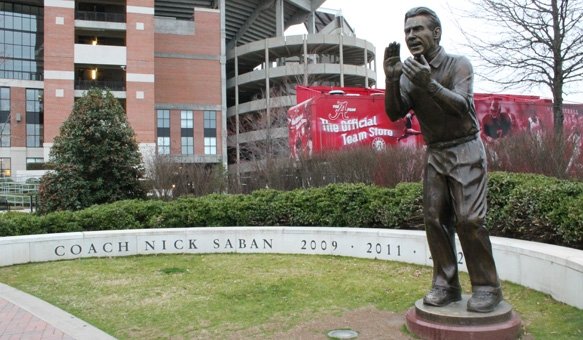 Backstory and Context
While most statues in the sporting world honor a former player or coach, the University of Alabama's Walk of Champions includes a statue of current coach Nick Saban. As of 2019, Saban has led the team to five national championships and is still actively employed at the University of Alabama. The statue of Saban is located among former Alabama coaching legends such as Gene Stallings and Paul "Bear" Bryant. The nine-foot statue of Bryant was designed by Jeremy Davis, an art student at the University of Alabama.

Nick Saban was born in West Virginia and played defensive back for Kent State University where he graduated in 1973. Saban worked his way up the coaching ladder eventually landing his first head coaching job at Toledo. He spent two seasons in the NFL as head coach for the Miami Dolphins compiling a 15-17 record. This was the first losing season Saban had experienced in his coaching career.
Sources
Augustyn, A. (2018, October 27). Nick Saban. Retrieved from https://www.britannica.com/biography/Nick-Saban

Learn about Nick Saban. (n.d.). Retrieved from https://www.famousbirthdays.com/people/nick-saban.html

Nick Saban. (2018, February 21). Retrieved from https://www.saturdaydownsouth.com/coaches/nick-saban/

How Nick Saban Keeps Alabama Football Rolling. (n.d.). Retrieved from http://fortune.com/2018/04/23/nick-saban-coach-university-of-alabama-football/Saban, N., & Curtis, B. (2004, December 28).

How Good Do You Want to Be? by Nick Saban & Brian Curtis on Apple Books. Retrieved from https://itunes.apple.com/us/book/how-good-do-you-want-to-be/id420765797?mt=11

Additional Information