Hough Riots
Introduction
The Hough Riots were a period of civil unrest occurring from July 18-24, 1966, in Cleveland, Ohio. They were sparked by an incident occurring at a bar called the 79ers Club on the corner of East 79th Street and Hough Avenue. The owner refused to serve a Black patron a glass of water. A racial slur was uttered to the Black man during the encounter. The man left the bar, but the neighborhood soon became engulfed in violence, leading to the worst outbreak of civil disorder in the city's history. Firebombing and looting began shortly afterward, and during the several days of the riots, 2,100 police officers and more than 1,700 National Guardsmen were called to the area. Rampant gunfire and full-scale rioting soon erupted. After six days of violence, four African-Americans had been killed, 50 people were injured, and at least 341 arrests were made.
Images
Police viewing Hough Avenue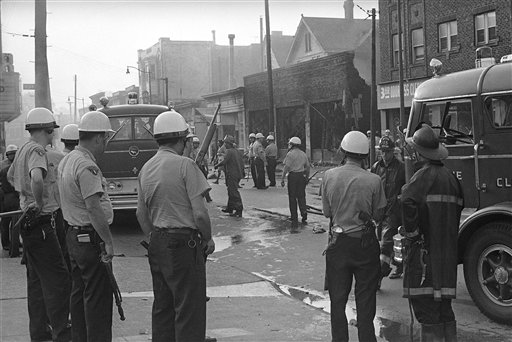 79ers Bar, where the first incident occurred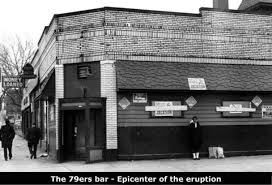 Backstory and Context
Background:
For more than a decade, poor housing conditions and a double standard of police protection developed in this part of town. Police presence and response times were high for white neighborhoods but low in Black areas. The city of Cleveland was comprised of numerous immigrant neighborhoods that kept to themselves. Many groups did not intermingle with other groups. All of these groups excluded Blacks. The political power was largely concentrated in these white areas, helping their own residents achieve and maintain a decent standard of living.
For African Americans living in isolation, tough economic times led property owners to break single-family homes into multi-unit dwellings, which they would rent out for additional income. Their tight budgets limited these landlords' ability to properly maintain the units, and living conditions deteriorated. City authorities failed to enforce urban renewal codes. As time went by, there were fewer livable spaces, and overcrowding turned these properties into a ghetto.
As many inner-city residents left for better living arrangements in the growing suburbs, those who remained in the older parts of town fell into a sense of hopelessness. As government assistance began to wane, many of these people felt abandoned and alone. By the time of the incident at the 79ers Club, tensions between Blacks and whites (including the predominately white Cleveland Police Department) was at an all-time high. 
Time Line of the Riots:
July 18 — After the 79ers incident, crowds of people came to the bar. Brick throwing began as police arrived; looting and arson followed. The CPD shot out street lights to decrease the visibility of potential sniper targets.
July 19 — The first fatality was reported. Joyce Arnet, age 26, was shot as she called to her children from her apartment window. Snipers prevented Cleveland firefighters from getting to burning buildings. Mayor Ralph Locher ordered all bars to close for the evening. Governor James Rhodes sent over 1,600 Ohio National Guardsmen to Cleveland to maintain order. A second victim, Percy Giles, died in a nearby hospital after being shot while helping a friend board up his business. Troops patrol neighborhoods armed with machine guns and bayonet-tipped rifles.
July 20 — All traffic was blockaded, and only business and residents' vehicles were permitted into the Hough Area. More fires were started and spread through surrounding neighborhoods. Fifty people were arrested. Mayor Locher requested that more National Guardsmen be brought in.
July 21 — Troops, now numbering over 1,700, patrolled a 10-square-mile area around the epicenter of the violence. Firebombs destroyed an apartment building at the corner of East 73rd and Hough Avenue. More people were wounded by CPD in attempts to control the population. Many more arrests were made.
July 22 — Sam Winchester, 59, was shot while walking to a bus stop at East 116th and Kinsman Road, some two miles from the core of the riots. Before he died, he tells police he was shot by two white men in a passing car.
July 23 — Benoris Toney died of gunshot wounds received when he was attacked by three white men as he sat in his car, parked in a lumber yard on Euclid Avenue. His killers were later acquitted on grounds of self-defense.
July 24 — The disturbance in the area calmed down and a withdrawal of National Guardsmen began.
Investigators' Conclusions:
Less than a month after the riots, an initial grand jury investigation determined that the violence had been instigated and aided by a communist who wanted to promote instability and unrest among the American population. Because of the prevailing Cold War mindset of the time, many people in Cleveland and elsewhere in the nation were inclined to accept this explanation.
This view seemed to agree with J. Edgar Hoover's belief that there was a direct link between Communist infiltrators and the Civil Rights Movement. Deeper investigation, however, revealed that the true cause of the disturbance was the poverty and deplorable social conditions of the crumbling neighborhoods in which these people were forced to live. Also cited was the city's failure to more fully integrate the police department, sparking many unpleasant encounters between a mainly white police force and the nearly all-Black community.
Sources
"Cleveland Civil Disorders (1966-1968)." Ohio History Central. Accessed September 11, 2014. http://www.ohiohistorycentral.org/w/Cleveland_Civil_Disorders_(1966_-_1968).
Dunlop, Beth. "A Summer of Violence." Supplement. February 14, 1968. http://newspaperarchives.vassar.edu/cgi-bin/vassar?a=d&d=miscellany19680214-02.2.2#
"Hough Riots." Ohio History Central. Accessed September 11, 2014. http://www.ohiohistorycentral.org/w/Hough_Riots.
Additional Information