Old Trooper Monument
Introduction
The Old Trooper Monument is a statue of a Calvary soldier riding his faithful horse. It is located in Fort Riley, Kansas directly in front of the Calvary Museum. It was dedicated on July 14th, 1961 as the highlight of the Kansas Centennial celebration in Junction City and Fort Riley. It is a monument that marks a bygone era of horses and Calvary soldiers who rode primarily in the age of the Wild West. Old Trooper is based off a painting by Frederick Remington, a famous western artist, and this is the final resting place for Chief, the last Calvary horse.
Images
This is a picture of the moment with Chief's grave directly in front of it.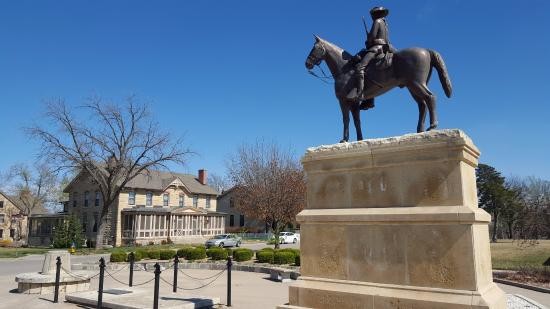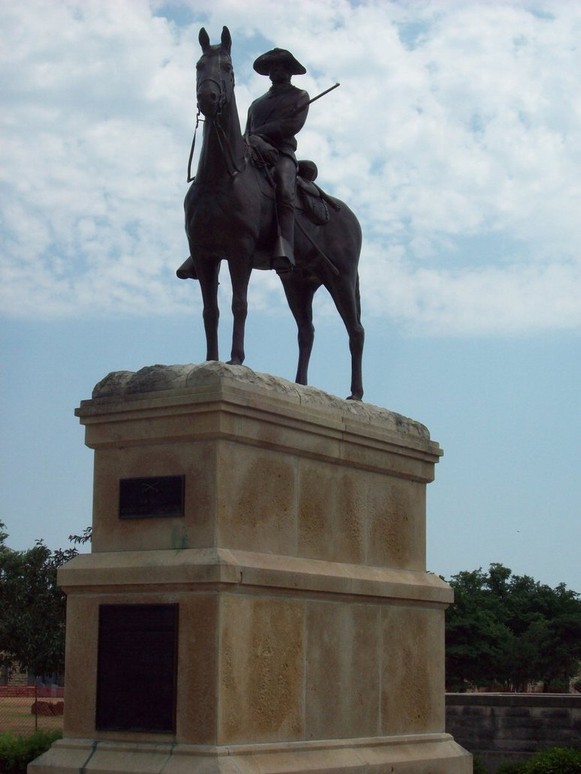 Backstory and Context
In 1852, Colonel T. T. Fauntleroy recommended that there be a fort built to keep settlers safe from attacks by Native Americans. One year later, Congress gave $65,000 towards the construction of a new fort which was would be called Fort Riley, named after a recently deceased Major General Bennett Riley. Shortly after Fort Riley was built, it was determined that this fort would have a permanent Calvary post. For the next 96 years, the Calvary would take part in three wars, open one of the finest Calvary schools in the US and would have some of the biggest names come through such as Lt. Col. George A. Custer, General George S. Patton and the sole survivor on the US side of the Battle of Little Big Horn, a horse named Comanche. Old Trooper was erected to remember all of these things and many more.
The Old Trooper Monument main objective is to show just a glimpse of what a typical Calvary soldier would have looked like and serve as a reminder of how important the Calvary was at one time. The Calvary played an important part in three wars, but one of Fort Riley's biggest additions to the advancement of the Calvary was in 1887 when the Calvary and Light Artillery School opened. Later this would become three separate schools, the Calvary School, Artillery School, and the Mounted Service School. This helped trained thousands of soldiers and horses for the wars to come. The Calvary and these three schools came to an end in 1949, when it was decided that the Calvary was no longer needed for modern warfare.
Specialist 4/C Robert Greene and Pfc. Richard Donda designed this statue based off a painting by the famous western artist, Frederick Remington. Although many statues and sculptures are made of bronze or stone, Old Trooper is built on a steel frame with fiberglass frame with a bronze epoxy resin covering it. After making a small clay model, then a life-size clay model, they finally finished the fiberglass frame with the bronze epoxy in only about a year. When it finally was finished, it shows a life-size Calvary soldier with a rifle laying across his arm, mounted on his horse who is alert, looking into the distance. It was dedicated on July 14th, 1961 to the Calvary in front of a military and civilian audience as a reminder of the old days when both men and horses fought together.
Chief was foaled in 1932 and eventually bought by the United States government. He soon became a Calvary horse and was transferred to Fort Riley. He served in the 9th and 10th Calvary until 1949, when he was put into semi-retirement and then full retirement in 1953. He was the last of the Calvary horses to be on the army rolls. He died on May 24, 1968, aging 36 years. When he died, he was given a full military funeral with full honors in Fort Riley with the commanding General of the US Army in attendance. The engineers in Fort Riley designed a special casket for Chief that would allow him to be buried standing up, right in front of the Old Trooper Monument.
This monument is a reminder of the Calvary's historical past and how the many men and horses served our country. It reminds us of the three main schools at Fort Riley, and how they played a vital role in the shaping of the west and three major wars. It represents the world as seen through Frederic Remington's eyes as he painted the Calvary soldier. It is a place where we can remember the beginnings of a fort and, also, those who served there including Chief, the last Calvary horse.
Sources
Unknown. Fort Riley: its historical past. Washington, D.C.: Army Dept., 1984. Book.
Unknown. US Calvary Museum Walking Tour: 45 min-2km. Washington, D.C.: Dept. of the Army, 1986. Book.
Unknown. Welcome to Fort Riley. Ft. Riley, Kansas, 1974. Book.
"Old Trooper Monument | Fort Riley, KS 66442." Kansas Hotels, Events, Things to Do, Restaurants & Travel Tools, www.travelks.com/listing/old-trooper-monument/15932/.
"OLD TROOPER RIDES AGAIN." Chicago Daily Tribune, 30 July 1961, pp. B32.
"30-Year-Old Horse Is the Last of the Cavalry Mounts." New York Times, 25 Nov. 1962, p. 134.